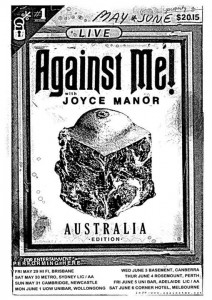 Against Me! have announced they will embark on a nationwide Australian tour this May, their first since unveiling their powerful and critically acclaimed sixth studio album, Transgender Dysphoria Blues.  Against Me!'s roots lie in an anarchist solo act launched in Gainesville, Florida in 1997. After transforming into a traditional four-piece a few years later with the addition of guitarist James Bowman, they quickly became a driving force in the punk scene, unleashing a steady stream of acclaimed LPs.
In 2014, the band released Transgender Dysphoria Blues, one of their most talked-about releases to date. The album was the first release from the band since front woman Laura Jane Grace came out as transgender and was a fiery testament to the band's ability to process the highs and lows of life through music. These will be shows not to miss!
Joining Against Me! will be pop-punk outfit Joyce Manor in support of their recent, critically acclaimed album Never Hungover Again.  Joyce Manor is a band from Torrance, CA. They released their third album and first with Epitaph, Never Hungover Again to much critical acclaim. If there's a feeling to Never Hungover Again it's a feeling he can't quite pin down—some complex thing that's part anger and part sadness. It's the loneliness when you're surrounded by people and that lostness when everything you've wanted seems to be right in front of you.
Listen to Never Hungover Again in its entirety now HERE
Tour Dates
Friday May 29 Hi Fi, Brisbane
Tickets from www.thehifi.com.au, 1300-THEHIFI (843 443) and Oztix outlets.
Saturday May 30 Metro, Sydney Lic / AA
Tickets from Ticketek outlets, www.ticketek.com.au
Sunday May 31 Cambridge Hotel, Newcastle
Tickets from Oztix outlets, www.oztix.com.au and bigtix.com.au
Monday June 1 UOW UniBar, Wollongong
Tickets from www.yoursandowls.com.au, unicentre.uow.edu.au and Uni Bookshop.
Wednesday June 3 Basement, Canberra
Tickets from Oztix outlets and www.oztix.com.au
Thursday June 4 Rosemount, Perth
Tickets from Oztix outlets and www.oztix.com.au
Friday June 5 Uni Bar, Adelaide Lic / AA
Tickets from Oztix outlets and www.oztix.com.au
Saturday June 6 Corner Hotel, Melbourne
Tickets from the venue 1300 724 867 and cornerhotel.com