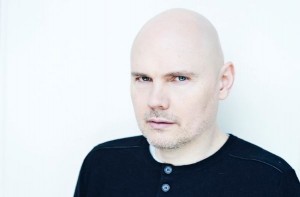 THE SMASHING PUMPKINS reveal their newest recruited touring band. Billy Corgan re-unites with mainstay Jeff Schroeder on guitars, alongside Brad Wilk from Rage Against the Machine on drums and Mark Stoermer from The Killers on bass. In a recent statement, Billy Corgan says, "We're absolutely thrilled and humbled to have Brad and Mark helping us out…and if our rehearsals are any indication, they should be one-of-a-kind."
THE SMASHING PUMPKINS have already kicked off their live debut with 4 sold out shows in support of their new album. Here's what the punter and critics have had to say:
"The Smashing Pumpkins were on top form. Drumming and Vocals were excellent, guitars too. One of the best live bands." – Koko, London show
"Thalia Hall had, in all likelihood, its most rousing performance in its storied history as The Smashing Pumpkins (Corgan-Schroeder-Wilk-Stoermer) 2014 vintage live show made its debut…a classic show" – alternativenation.net
"…The group's continuing contributors continue to honor the Pumpkins' back catalogue, like Wilk and Stoermer did on Wednesday night. And, even more importantly, that Corgan continue building out the band's future, always looking more ahead than behind. As Wednesday's set demonstrated, that's where the Pumpkins' future lies." – Illinois Entertainer
"The group has opened each show of this brief album-launch tour with the Monuments tracks 'One and All' and 'Being Beige'… they're tight and punchy proof of Corgan's undiminished, unrivaled gift for dropping soul-shaking grunge-pop bombs" – Billboard
"They faithfully executed the Pumpkins sound, new and old." – NY Times
"Excellent performance and sound…the touring band sounds great and Brad Wilk was mesmerizing…" – The Dan Sheehan Conspiracy
THE SMASHING PUMPKINS have created one of the most acclaimed bodies of work in musical history having sold more than 30 million albums, and won multiple Grammy Awards in the process. Having recently released the first of 2 new albums (Monuments to an Elegy), fans can anticipate the release of the second album (Day For Night) in 2015, according to singer/guitarist Billy Corgan.
FULL ARTIST LINEUP
Slipknot / Faith No More / Soundgarden / The Smashing Pumpkins / Slash (featuring Myles Kennedy and The Conspirators) / Marilyn Manson / Fall Out Boy / Steel Panther / Incubus / Judas Priest / Millencolin / All Time Low / Lamb Of God / Ministry / Falling In Reverse / Godsmack / Killer Be Killed / Exodus / New Found Glory / Tonight Alive / Gerard Way / The Vandals / Lagwagon / Fear Factory / Antemasque / Papa Roach / Of Mice & Men / Dragonforce / Escape the Fate / Hollywood Undead / One Ok Rock / Atreyu / The Devil Wears Prada / Godflesh / The Aquabats / The Wonder Years / Area 7 / Twin Atlantic / Ne Obliviscaris / Animals as Leaders / Mayhem / Apocalyptica / Lower Than Atlantis / Bayside / Nothing More / Fucked Up / Evergreen Terrace / He Is Legend / Nonpoint / Crossfaith / Fireworks / King Parrot / Crown the Empire / Icon For Hire / Butcher Babies / Emily's Army / Rival Sons / The Interrupters / King 810 / Monuments / The Color Morale / The Swellers / Conditions / Confession / Sleepwave / Coldrain / Le Butcherettes / Patent Pending / Dayshell / This Wild Life / The Bennies / Raglans / Deathstars /
The Treatment
__________________________________________________________________________
SATURDAY 21 FEBRUARY & SUNDAY 22 FEBRUARY, 2015
BONYTHON PARK, ADELAIDE
SATURDAY 21 FEBRUARY & SUNDAY 22 FEBRUARY, 2015
MELBOURNE SHOWGROUNDS, MELBOURNE
SATURDAY 28 FEBRUARY & SUNDAY 1 MARCH, 2015
OLYMPIC PARK, SYDNEY
SATURDAY 28 FEBRUARY & SUNDAY 1 MARCH, 2015
BRISBANE SHOWGROUNDS, BRISBANE
1 DAY FESTIVAL TICKET $132.00 + BOOKING FEES / 2 DAY FESTIVAL TICKET $188.00 + BOOKING FEES
For tickets and more information head to
soundwavefestival.com / facebook.com/soundwavefestival / twitter.com/soundwavefest
*All shows are licensed and all ages *Venue and lineup subject to change