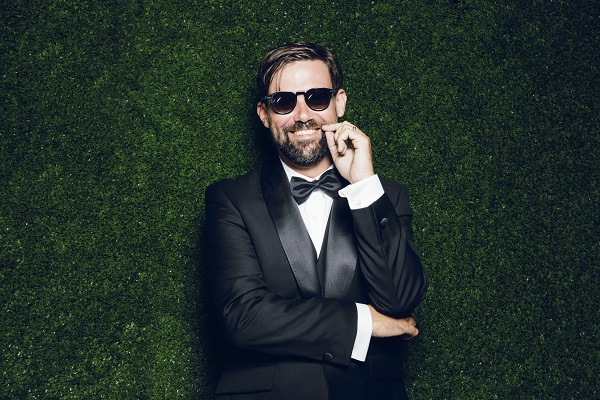 From release: They joined forces earlier this year for two SOLD OUT shows in Sydney and Melbourne, and now the rest of Australia will get the chance to experience Phil Jamieson and Scott Russo's live show. The two front men will be giving fans an early Christmas present as they hit the road for their national tour this December, starting in Adelaide and making their way through Tasmania, Victoria and New South Wales.
Grinspoon front man Phil Jamieson has spent much of the past year taking to stages around the country establishing his own successful solo career after the band announced its hiatus last year. As the lead vocalist of one of the world's most discernible pop-punk bands, which gained traction in the  early 90's, Unwritten Law's Scott Russo hit it off with Jamieson during the Vans Warped tour in 1999.
After jamming together in hotel rooms and tour buses over the years, the pair of rock identities developed a sound that has manifested itself into a unique, stripped-back set, which has been screaming for the presence of a live audience.
We had Phil Jamieson answer some questions for us about the upcoming tour with him and Scott Russo, so here we go…
Thanks for your time today, Phil! To start us off, can you tell us your take on the story of how this amazing partnership of yourself and Scott came to be?
Good morning and hello, salutations and all the rest. UL & Grinspoon first toured together in 1998? I think… Both bands got along quite well and we ended up sharing many a hotel room after party playing tunes on the acoustic guitar. We thought it was time we charged people to come to our hotel room parties.
After playing a couple of sold out shows together earlier this year, was it a no brainer to come back and do it again?
Well… the Hits & Pits festival that UL were on during those shows didn't work out to well for those involved so it was a no-brainer in terms of getting Scott back so he can try and recoup… but also to have a wonderful time as well.
For those that missed the shows previously, can you give us an insight as to the structure of the shows and what people can expect?
I start. Solo. Scott plays 2nd. Solo. Then we play together. And it is usually excellent. Sometimes hilarious.
Now, if you had to sum the show up in one word though, what would it be?
Amazing.
What does this tour allow you to do that you aren't / weren't able to do with your previous musical adventures?
Errrrrr…. I'm unsure.
Has there been any talk of an actual recorded collaboration between you both?
Nawp. It's a possibility though.
Over the years you've both done a lot, more than a lot, what stands out for you as your perfect moment within your time making music?
Ahhh, perfect moments. It's funny reflecting. I get perfect moments a lot. And they still happen? But I try and avoid carrying on "in my day" type narrative. Always looking forward.
Again, in being around for a long time, what's been the most notable change you've witnessed throughout the musical horizons within your time of making music?
There seems to be a theme! HAHA>>>> sheesh… Notable change? The way people consume music I suppose. I started listening to music on vinyl and recording on to cassette tape… I now stream most of my entertainment.
Other than this tour, can you give us an update of where things are with you musically and what we can expect coming up..
Expect the unexpected.
Lastly, let's look ahead and predict the future and have some fun, so finish this sentence for us, in 2015… 
I will turn 38 years old.
Catch Phil and Scott Russo at the following TOUR DATES
Tickets on sale NOW!
Friday 12 December 2014 – Sol Bar, Sunshine Coast, QLD
Tickets from http://philjamieson.oztix.com.au and all Oztix Outlets, PH 1300 762 545 and
http://philjamieson.nwaevents.net
Saturday 13 December – Brightside, Brisbane QLD
Tickets from http://philjamieson.oztix.com.au and all Oztix Outlets, PH 1300 762 545 and
http://philjamieson.nwaevents.net
Wednesday, 17 December 2014 – The Gov, Adelaide, SA
Tickets from http://philjamieson.oztix.com.au  and all Oztix Outlets, PH 1300 762 545 and
http://philjamieson.nwaevents.net
Thursday, 18 December 2014 – Republic Bar, Hobart, TAS
Tickets from http://philjamieson.oztix.com.au and all Oztix Outlets, PH 1300 762 545 and
http://philjamieson.nwaevents.net
Friday, 19 December 2014 – The Corner, Melbourne, VIC
Tickets from http://cornerhotel.com/  and Corner Box Office, PH 1300 724 867 and
http://philjamieson.oztix.com.au
Saturday, 20 December 2014 – Oxford Art Factory, Sydney, NSW
Tickets from http://moshtix.com.au  and all Moshtix Outlets, PH 1300 438 849 and
http://philjamieson.nwaevents.net
Sunday, 21 December 2014 – Cambridge Hotel, Newcastle, NSW
Tickets from http://philjamieson.oztix.com.au  and all Oztix Outlets, PH 1300 762 545 and
http://philjamieson.nwaevents.net
Monday, 22 December 2014 – Leagues Club, Entrance, NSW
Tickets from http://philjamieson.oztix.com.au  and all Oztix Outlets, PH 1300 762 545 and
http://philjamieson.nwaevents.net
Tuesday, 23 December 2014 – Waves, Wollongong, NSW
Tickets from http://philjamieson.oztix.com.au  and all Oztix Outlets, PH 1300 762 545 and
http://philjamieson.nwaevents.net
Essential Information
From: Australia
Website:  https://www.facebook.com/philjamiesonmusic