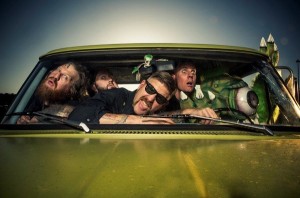 Heavy music is typically a battlefield upon which the uninitiated dare not tread, but MASTODON unifies the tribes unlike anyone else.
Album after album, MASTODON set the pace for modern heavy metal. They took pole position fresh out of Atlanta some 14 years ago, and with album number six, 'Once More Round the Sun', show no signs of giving it up. "MASTODON are obviously from another planet. Let's just be happy they're occupying ours for a while." – Blabbermouth
The band is so balls-out creative — in its zealous riffage, its metaphysical motifs, its visual components — that it energizes even the crustiest headbangers. MASTODON fans have never witnessed a full headline tour in Australia before and finally the long agonising wait is over! Tickets go on sale Thursday 11 December 9am local.
TICKETS ON SALE THURSDAY 11 DECEMBER, 9AM LOCAL TIME
FRIDAY 27 MARCH – MELBOURNE, FESTIVAL HALL Reduced Mode-
All Ages with 18+ patrons having access to a licensed bar
www.ticketmaster.com.au
SATURDAY 28 MARCH – SYDNEY, BIG TOP LUNA PARK – Licensed All Ages
www.oztix.com.au / www.eventopia.co / www.bigtopsydney.com
SUNDAY 29 MARCH – BRISBANE, EATONS HILL HOTEL – Licensed All Ages
www.oztix.com.au / www.eventopia.co