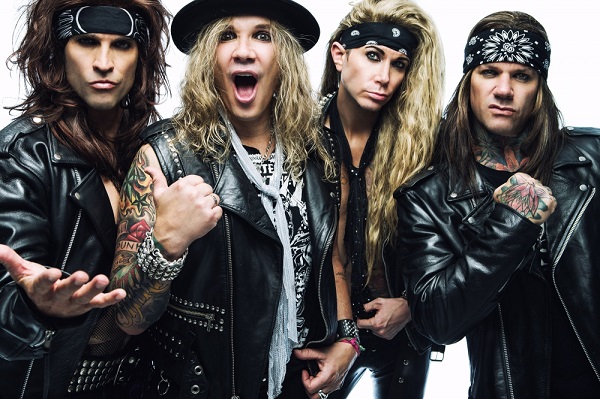 "…we have not been down under in a really long time, so it's going to be cool, and I can't wait to see them and all the cool new bands and see how hot their girlfriends are and I think it's fun for us as a band to figure out who we can hang out with and do, so we're all excited, let's just say that."
From release: STEEL PANTHER was, for a long time, rock's best-kept secret: a cult legend on the LA scene. But in recent years due to the success of their albums and live shows, the band has enjoyed huge acclaim from fans and peers alike. STEEL PANTHER has been joined on stage by rock and roll icons such as Steven Tyler of Aerosmith, Paul Stanley of KISS, Corey Taylor of Slipknot, Tom Morello of Rage Against The Machine, Chester Bennington of Linkin Park and Green Day to name a few (who knows who will join the lads on stage during Soundwave 2015!).
We got to have a great chat with Lexxi Foxx about the band's return to Australia for Soundwave, as well as changes from their beginnings, new music and the connection people have with this band… hide your girlfriends…
You've played Soundwave before, how pumped are you to be coming back to play the festival again?
I really feel like, I love doing Download, I really do, but doing this whole thing in Australia it's really cool to be doing these dates. When we found out we were going to do this it was a big deal for us, and this is our second time doing it and just to be around all the other bands and to be in Australia we're all excited, we really are. We've been touring a lot but it's been really cool and the thing that's really cool about it is that we get to hang out with all the chicks we met before when we were over there and we have not been down under in a really long time, so it's going to be cool, and I can't wait to see them and all the cool new bands and see how hot their girlfriends are and I think it's fun for us as a band to figure out who we can hang out with and do, so we're all excited, let's just say that.
Soundwave 2012 was your first time to Australia, do you have a great memory about that tour specifically?
I have a lot of good memories, I have one in Melbourne, one in Sydney, one in Perth… there was a bunch of good memories and that's what I'm saying, I hope those kinds of memories can happen again… they don't have to necessarily be the same girl, but I still want those same memories to happen again. Another cool memory was hanging out with the guys in Limp Bizkit, that was really cool and we went on just before they did last time and it was just really cool working with those dudes and the guys in Black Veil Brides, it was really cool to get to know those guys as well, and we're doing some touring with them in Europe and upcoming this year as well. So like I said, just being able to hang out with the other bands and getting to know new bands that are doing this we all look forward to doing it, we were talking about this yesterday so it's all very exciting for us.
Besides the gigs and the women what's your favourite thing to do in Australia?
To be totally honest with you, go to the zoo… I went to the zoo in Sydney and that's got to be the best zoo I've ever been to in my whole life, I love the zoo and it's badass, the Sydney one is amazing. So besides the drugs and girls that's tough, so I'd have to say the zoo is my favourite thing to do in Australia because I got to hang out with Kangaroos and Koala bears, all sorts of cool shit I got to do, so hopefully I can do that again. I got to feed a giraffe last time I was there and the view was just amazing, and Sydney is just one of the coolest places I've been and it's really cool just getting over there on the boat and all that kind of stuff.
So how much Aquanet does Australian customs allow in?
Well here's the thing… that is a good question… I can carry on, and sometimes Australian customs is very tough, now I can put mine in my own bottles, we have a factory where we can disguise it and we can make things look like another brand of whatever we have to get it past customs, like I know some places don't like the amount of hairspray I bring into certain countries. I have a whole bag full and a special part of my bag, as you can only bring so much hairspray into a country, but if we all have it in our bags, even our crew will carry some, I will never run out of Aquanet hairspray, ever.
Obviously Steel Panther has already achieved longevity with your residencies over the years playing covers, how have you seen this continue when you started making original music?
It was really, really cool. Doing the cover songs is where we just change everything up, but we were travelling and touring so much and people were excited to hear some of the songs, well all of the songs that we do, it's such a humbling and really cool situation that we're in to have so many people dig the songs that we do and love the fact that we're bringing metal back. We don't have to play other people's songs, Satchel comes up with these great ideas and we all get together and write them, were stoked that the whole world gets to enjoy them, from you guys, to Russia, to London, to Paris, so it's really cool to be able to see the world and do it with our songs is just really, really neat.
I've loved watching the band come up, I saw you for the first time at the Key Club when you were Metal Skool back in 2007, so just seeing where you are now is great.
Oh my god, that was a while ago huh?! Wow! It's been a trip for us man, every year it seems it just moves up and up and more that we do, the bigger it gets and that's a really cool thing to have happen to us, for us anyway. Not for other dudes that are bummed that we're hanging with their girlfriends, we don't mean to do any harm, it's just one of those things, being in new place and new girls, we just can't help it so it's one of those things where we're excited to go back to Australia and bring heavy metal back and get to hang out with the chicks we got to hang out with last time. That was bitchin'
Well I always make sure that I'm single when you're in town so when we do meet you can't steal my girlfriend…
Yeah I'd do that, and we never want anyone's feeling hurt and especially cool dudes, I mean you sound like a cool dude, we wouldn't want to do anything to you, but there are just some things you just can't help doing you know? I mean, again, it's a cool thing that we're bringing back metal and hairspray and eyeliner and all kinds of things that look bitchin' on dudes too…
'All You Can Eat' has been out for a little while now, have you already thought ahead to what or when the next album will be?
Well you know we've been so crazy with this tour with 'All You Can Eat' and Satchel will come up with some ideas here and there, we have a Christmas song out right now on iTunes called 'The Stocking Song' and we have another one called 'Sexy Santa' but Satchel wrote this when we were on tour with Priest, and that's the only thing he's brought to us because we've been so insanely busy wiuth this tour, and if there's any ideas he has, he hasn't brought them to the table yet and all of us can do some writing but for the most part Satchel came up with this Christmas song and he's been in the Christmas spirit with all the Ho Ho Ho's we've been around. Like I said with 'The Stocking Song' it's a really, really cool song and I get to play the kazoo on it so it's really fun.
Since you've stopped doing the cover gigs, how if in any way do you feel you've changed as a band?
Well there's not a lot that's changed for me, pretty much Satchel just says 'play this, play that' so it's the same thing it's just different songs now, but I do like the fact that they're our songs, and as far as things changing with doing our original stuff, I guess it's for the good, you can only go so far doing other people's music and I guess it's a great feeling seeing other people and fans sing our songs. It's always a humbling feeling to hear everyone in the whole place sing 'Community Property' or 'Gloryhole' or any of it, the newer stuff to the older stuff, it's just an amazing feeling, it's really cool actually.
Oh man, 'Community Property' is still hands down the best power ballad released in the longest time too…
Oh it is, it's a classic and that's what we usually encore with and it's amazing to see how many people sing along to it with Michael.
Now what I've noticed is that the Steel Panther community in Australia is tight. I see someone or I'm wearing a Panther shirt and there is just camaraderie. What do you think it is about the music of Steel Panther that brings people together?
I'd say that's a great question, and it's one of the things we're such a unique band and we're so different from any other band I think that's what's so cool about our fans is that they can identify with us, because there's so many other bands and I don't mean to say this in any negative way, well I don't know how it comes off, but so many bands sound alike. I think that we are very distinct, like you hear a heavy metal song you don't know, it isn't from Def Leppard, it isn't from Motley Crue or anything like that, it's from us and we have that new song, and people can go 'oh my God, I love Steel Panther' and we're bringing heavy metal back and I think it's a following that we have that is one of those things that it's such a fun, bitchin' time when you're at our show, and when you see anyone that has a T-Shirt on and you know it's metal and just goes up one more notch as us bringing it back. It's that, I don't know, 80's unity… I don't know what that means but where everyone understands and is fighting for the same thing, and that's to bring heavy metal back, so I think it's really, really cool and every time I see one I'm like 'Dude, bitchin' so it's really, really cool.
OK, I want to throw out some Quick Fire questions to you…
Favourite 80's hair band?
Danger Danger, or Whitesnake, you know what? That's tough… I'm gonna say Whitesnake because my favourite bass player is in Whitesnake, but I really like Danger Danger too, can I say two and include Danger Danger?
Yes, because I love Danger Danger…
Thank you dude. Thank You!
Besides Lexxi Foxx and Alec John Such, who's the greatest bass player that has ever lived?
Rudy Sarzo
Who is your favourite guest that's ever joined you on stage?
Steven Tyler, I would have to say Steven Tyler or let me think… let me see… I'm trying to think of really hot chicks… Pink was cool, Pink is hot, she got up and jammed with us, that was fun. Kelly Clarkson… yeah, I'll go with Steven Tyler because he's totally bitchin'
Speaking of hot chicks, I saw you in LA and Bobbie Brown got up on stage but wouldn't dance to 'Cherry Pie'…
Oh my god I remember that, how can you not dance to 'Cherry Pie'? But she was awesome…
What do you want for Christmas?
Cocaine… I just want to stay skinny over the holidays and it's one of those things between Thanksgiving and Christmas it's one of those things where I want it to be snowing outside and inside. So that's what I'll be asking for, just a little more snow on the inside would be great because everybody eats a little more during the holidays and I think that keeps you balanced, keeps you skinny, it makes you wanna walk more, makes you wanna talk more and rock more.
What's the most common misconception you've heard about Lexxi Foxx?
Sometimes people think I'm gay, and I'm not gay, it's because of my hair and the amount of makeup that I wear and how I dress, that's one of those things where chicks think I'm gay and sometime Satchel will mess with me just because I wear that much makeup, that would be it. There's nothing wrong with gay at all, I have a gay friend, but it's one of those things where I'm just not gay, I like chicks, I think chicks are awesome, they smell good, and I don't know if I can say what I like about them, it doesn't matter… anyway yeah, I think I answered your question.
Will we see any sideshows when you're down here?
I don't know that we have any sideshows booked down there, as of right now I don't know. It's one of those things, my tour manager gets me out of bed and tells me where to go, my brain just can't take that much information as it overloads and I just wanna go party.
Lastly, so let's try and predict the future, finish this sentence for me, in 2015 Steel Panther will…
I can answer that… will be the biggest band in the world! With all the shows that we're doing between Australia and Europe, I think we will dominate, the more people we get in front of which will happen in 2015 the more we will grow, and the next time we're at Soundwave we'll headline the main stage and we'll just be so cool that everyone will be wearing bright, bitchin' heavy metal colours, and everyone will start growing their hair out and it'll just turn into 1987 all over again, and that was the best time… people will start having sex with people and they don't know their names, people will be partying in the parking lots just getting hammered before the shows, just like it used to be back in the 80's, it'll be bitchin'
Catch Steel Panther as part of Soundwave 2015 at the following dates:
SATURDAY 21 FEBRUARY & SUNDAY 22 FEBRUARY, 2015
BONYTHON PARK, ADELAIDE & FLEMINGTON RACECOURSE, MELBOURNE
SATURDAY 28 FEBRUARY & SUNDAY 1 MARCH, 2015
OLYMPIC PARK, SYDNEY & BRISBANE SHOWGROUNDS, BRISBANE

Also catch Steel Panther at their Sidewaves with Slash
TUESDAY 24 FEBRUARY : SYDNEY, HORDERN PAVILION – Licensed All Ages
www.ticketek.com.au
THURSDAY 26 FEBRUARY: MELBOURNE, FESTIVAL HALL – Licensed and Unlicensed areas available.
www.ticketmaster.com.au
For tickets and more information head to
soundwavefestival.com / facebook.com/soundwavefestival / twitter.com/soundwavefest
Essential Information
From: Los Angeles, CA, USA
Band members: MICHAEL STARR – Lead Vocals, SATCHEL – Lead Guitar, LEXXI FOXX – Bass Guitar, STIX ZADINIA – Drums
Website: http://www.steelpantherrocks.com
Latest Release: 'The Stocking Song' (Out Now on iTunes)