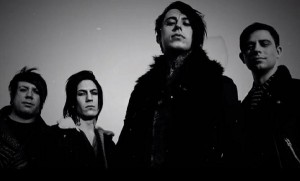 Listen now at www.fallinginreverse.com
Band To Tour Australia For The First Time, Appearing On Soundwave 2015
Falling In Reverse has released a new song God If You Are Above available for streaming at www.fallinginreverse.com. God If You Are Above is the first new song from the band since their 2013 release Fashionably Late.
Australia, be prepared! Ronnie Radke and co. will be bringing their powerful live show down under for the first time ever, appearing on the 2015 Soundwave Festival. Falling In Reverse headlined the main stage on the US Warped Tour this year followed by The Black Mass co-headline tour with Black Veil Brides in the US where over 55,000 tickets were sold with nearly every show selling out.
Soundwave 2015 Tour Dates
Saturday, 21st February & Sunday, 22nd February 2015
Bonython Park, Adelaide, South Australia
Saturday, 21st February & Sunday, 22nd February 2015
RAS Showgrounds, Melbourne, Victoria
Saturday, 28th February & Sunday, 1st March 2015
Olympic Park, Sydney, New South Wales
Saturday, 28th February & Sunday, 1st March 2015
RNA Showgrounds, Brisbane, Queensland
Stay tuned for more announcements from Falling In Reverse.
ABOUT FALLING IN REVERSE
Lead by the loved, hated, ridiculed, and admired frontman Ronnie Radke, Falling in Reverse is a Southern California based rock n' roll band. The group is the brainchild of Radke, with guitarists Derek Jones and Jacky Vincent, and drummer Ryan Seaman executing the vision. In 2011, Falling In Reverse released their first album The Drug in Me Is You (Epitaph) which debuted in the Billboard Top 20 and the ARIA Top 20. Their 2013 sophomore release, Fashionably Late, (named Album of The Week by Revolver) incorporated hip-hop and EDM elements to their sound while seeing the same chart success with a Top 20 ARIA debut. In 2012, Alternative Press gave Falling In Reverse the title of Artist of the Year. Collectively, Falling In Reverse has been on magazine covers between Hysteria Mag, Alternative Press, Kerrang!, and Rocksound. In 2014, Kerrang! named Ronnie one of the 50 Greatest Living Rockstars in the World, in the company of Lemmy, Slash, Steven Tyler, and Ozzy Osbourne.
FOLLOW FALLING IN REVERSE