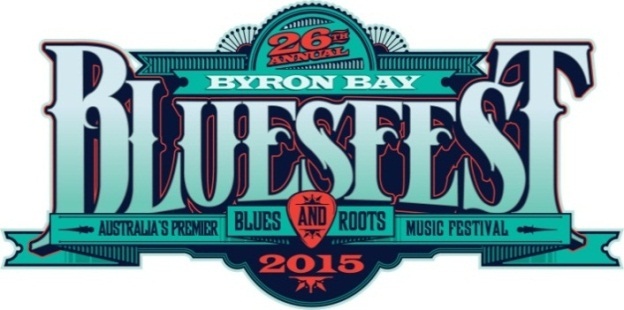 Today Bluesfest, the only Australian Festival to be included in Billboard's 2014 Top 10 Festivals list, adds more superb artists to its growing 2015 line up. Bluesfest is held over the 5 Day Easter Long Weekend from Thursday 2nd to Monday 6th of April 2015 at its custom built event site at Tyagarah Tea Tree Farm just outside Byron Bay.
Bluesfest Announce # 5 includes:
Charles Bradley & His Extraordinaires
Augie March
Donavon Frankenreiter
Melbourne Ska Orchestra
Justin Townes Earle
Declan Kelly Presents
Diesel n'Dub
Featuring Emma Donovan, Alex Lloyd, Pat Powell, Radical Son, Tony Hughes
Ash Grunwald
Blue King Brown
The Beautiful Girls
Steve Smyth
Karl S. Williams
Peter Noble, Festival Director shares his excitement about the latest artist release:
What an extraordinary Bluesfest the 26th version is going to be!
IN 2013 – We had THE BEST OF THE LEGENDS in Robert Plant, Paul Simon, Santana, Iggy Pop, Steve Miller Band and Rodriguez – and on our 25th Anniversary festival earlier this year – we presented so many of the artists who defined Bluesfest over the years from legends to contemporary. They included the Dave Matthews Band, John Mayer, Buddy Guy, Jack Johnson, Elvis Costello, Aaron Neville and Dr John.
With Bluesfest 2015 – not only are we presenting arena rockers Lenny Kravitz, Ben Harper and the Black Keys – we are presenting Bluesfest with a contemporary look to the superstars of Blues & Roots music of the future – featuring Paolo Nutini, David Gray, Ben Howard, The Alabama Shakes, and many more…..and now with our latest announcement containing a spicy mix of overseas and Aussie artists we add yet another layer of topping to what is beginning to look like our best Bluesberry cake yet.
All these artists are so great in their own way, but I would just like to point out a couple – Declan Kelly's Diesel n'Dub – delivering the songs of Midnight Oil in a Reggae dub style featuring some of the greats of Aussie Roots and Indigenous music includingEmma Donovan, Alex Lloyd, Pat Powell, Radical Son, Tony Hughes from King Tide – and many more to be announced – with a big band backing them up – it's going TO BE SOMETHING – a don't miss. If you have been listening to the album you'll know what I am talking about.
Karl S. Williams, for me, has delivered one of the great Aussie albums this year – every track is a knockout – an astonishing debut that has HUGE FUTURE written all over it – I love discovering artists who have that special IT – the Zeitgeist – watch out for Karl!
And Augie March in my opinion, have just delivered their best album of their career – we welcome this major Australian talent back to Bluesfest.
What a year it's going to be!
With this announcement Bluesfest is adding some real meat to each day of the festival. This one is all about our own Australian artists with a few Americans blended in. All up 11 new artists are added which means you now have 11 more reasons to not miss Bluesfest! Just in case you are wondering if this it….of course it isn't. True to Bluesfest fashion more amazing artists will be added in January and in the lead up to the festival.
On the note of tickets: They are selling fast and patrons are urged not to wait too long with their purchase and in the spirit of Christmas, Bluesfest tickets make the best presents.
Read on to hear why this announcement is a special one:
Easter Sunday & Easter Monday at Bluesfest have gotten even hotter with the addition of US Soul Legend Charles Bradley & His Extraordinaires. Charles Bradley will be bringing funk, soul and his remarkable story to Bluesfest for the very first time in 2015! Along for the ride will be his all-star band, comprising of members of The Dap Kings, The Menahan St Band, Budos Band and others. He puts on a more energetic show than most groups half his age and is showing no signs of slowing down anytime soon. He leaves his heart and soul out there on the stage and no surprise he is being named the world's latest soul sensation. Backed by His Extraordinaires this show will surely stick in your memory for quite some time.
Our own Augie March are bringing their forever rising star to Bluesfest on the Thursday. 2014 saw them win a Gold Record, Multiple ARIA nominations, two sold out national tours and a Triple J nomination for Double J Artist of the year. Augie March is one of the hottest Aussie bands around right now.They are that rare gem of a band that has both critical and commercial success, having their songs playing on almost every radio format in the country.
Hawaii-based singer/guitarist/songwriter Donavon Frankenreiter is bringing his infectious, acoustic bliss to Bluesfest 2015 for two superb performances – one on Friday and one on Saturday. Also an accomplished surfer, and renowned for his iconic moustache and quick-witted humour, Frankenreiter is a long-time friend of Jack Johnson, and former fellow Brushfire Records artist. A repeat Australian ARIA Top 40 artist, he has had tracks featured in several movies, and even recorded an Abbey Roads session. He is one perfect Bluesfest act.
Anyone out there who has not heard about the Melbourne Ska Orchestra? There can't be many people who haven't. They are a huge festival favourite and were nominated for the Best Live Artist at the recent ARIA Awards. When the mass of musicians hit stage with their dozens of horns, rhythm section, organists, singers fronted by the one and only charismatic Nicky Bomba and their music goes off; there is no one in the tent that can stand still. It's addictive, it's massive and this tent will be rocking like no other and not just on one occasion but two. MSA will bring the house down on Saturday and Sunday folks!
And this is just the half of it!
On Thursday and Sunday we welcome American Justin Townes Earle to the stage – this man is a musical magician, incredibly talented and an extremely generous performer. Considered the forefather of Contemporary Americana, Justin Townes Earle has a new album and is bringing it to Bluesfest! His unique style of playing old country, gospel, bluegrass and even a little rock n roll will make for a great show not to be missed! His accomplishments include Song of the Year at the
Americana Music Awards, 37 on Rolling Stone's list of the top 50 albums of 2012, and Production credits on the Queen of Rockabilly, Wanda Jackson's 2012 'Unfinished Business'.
Declan Kelly's Diesel n'Dub featuring Emma Donovon, Alex Lloyd, Pat Powell, Radical Son, Tony Hughes, is another story all together. These guys will be performing every day of Bluesfest apart from the Saturday, so you have plenty of chances to see them once, twice, even three times. Diesel n'Dub equals the reggae version of Midnight oil songs! The collection is infectious and is guaranteed to stay in your head for a long time. For all you Oil fans out there, this one is for you!
Ash Grunwald: Another absolutely talented musician from our shores with a swag of award wins is going to deliver his musical gifts on the Easter Sunday and Monday. Blistering live sets at sell-out shows throughout the world have had critics and fans raving about his inimitable blend of roots, blues, beats and a whole lotta groove, and after a two-year departure from Australian touring, Ash Grunwald is back to Bluesfest after too many years to share his new music and the love with local audiences.
Blue King Brown is Australia's premier urban Roots & Reggae powerhouse. Their cross-generational groove and socially conscious sound is led by the multi-talented, relentless energy of Nattali Rize. Powerful vocal & lyrical deliveries meet a roots, rock & afro groove mash-up built on an irrepressible percussive foundation. Fans will get to hear songs from the ARIA nominated artist's new album BORN FREE (2014)at Bluesfest on Easter Sunday and Monday.The second single 'All Nations' has been played on various Triple J programs in recent months.
The Beautiful Girls are returning to Bluesfest on Easter Sunday and Easter Monday with their pioneering Australian surf-roots-reggae sounds, that heart-on-the-sleeve voice of Mat McHugh, and brand new material.The Sydney-born collective have enjoyed glowing reviews, international tours, chart success and multiple award nominations since its formation a decade ago. SincePeriscopes became a certified Triple J radio hit in the summer of 2002, the band's accolades have continued to burgeon. The 2010 album peaked at number 18 on the ARIA charts, debuted at number 1 in the Australian Independent Chart, and number 7 in the US Billboard Reggae Albums Chart. The new album 'Dancehall Days' was released on McHugh's Separatista label in October 2014, preceding an international tour in 2015. The music is flowing, the band is in shape, and they are going to present the familiar and the soon-to-be-familiar songs of The Beautiful Girls at Bluesfest 2015.
Australian musician Steve Smyth has been touring hard and making a name for himself in Australia and abroad, recent feats include sell out shows in Spain, playing alongside the likes of The Killers and Massive Attack and back home a Triple J nomination for Double J Artist of the year (alongside Augie March). If you enjoyed Ben Caplan's howling vocals at Bluesfest in 2013, Steve Smyth is a don't miss in 2015.
Karl S. Williams desire to connect with the universal soul is clearly evident to those who see him live – an experience so emotionally charged that all are unavoidably drawn to it and uplifted. Having been compared to greats like Son House to Antony Hegarty and Nina Simone, it is surprising he came to music late, picking up the guitar in the evenings while working on a coffee plantation in Northern New South Wales. His 2013 debut Heartwood was heralded by Noel Mengel of The Courier Mail as "so good it might even save your life". A not to be missed show on Saturday, Saturday and Monday of Bluesfest! Peter Noble, Bluesfest's head honcho is saying this artist is destined for greatness.
Bluesfest playing schedule is available on
All festival and camping tickets are on sale through
www.bluesfest.com.au or by phoning the office on 02 6685 8310.
Tickets are also available through Moshtix
www.moshtix.com.auand Ticketmaster www.ticketmaster.com.au.