After an extensive tour of the US with KISS & Def Leppard, which finished with three shows on board the KISS Kruise IV, The Dead Daisies are ready to bring their show back to Australia and New Zealand on the upcoming 'Angel In Your Eyes' tour!
KISS & Def Leppard fans all around the world have rocked out to The Dead Daisies, and now it's time to bring the party back home to the mother land once again! Make sure you don't miss out on tickets to this tour as it will be the band's biggest and badest yet!
AUSTRALIA & NZ TOUR DATES
(Click the date for tickets)
# with Jimmy Barnes
Tue, Nov 25 – Hamilton – Claudelands Arena #
Wed, Nov 26 – Auckland – ASB Theatre #
Fri, Nov 28 – Christchurch – Horncastle Arena #
Sat, Nov 29 – Dunedin – Town Hall #
Sun, Nov 30 – Melbourne – The Corner
Wed, Dec 3 – Adelaide – Governor Hindmarsh
Thu, Dec 4 – Perth – Rosemount Hotel
Fri, Dec 5 – Brisbane – The Triffid Bar
Sun, Dec 7 – Sydney – Oxford Art Factory

The KISS Kruise!
After spending a month on the road with KISS and Def Leppard in August, it was an honour to be invited to play on board the prestigious KISS Kruise IV which sailed through the Caribbean.
From when we set sail in Miami on Oct 31st, until our last night on board playing in the Atrium, we had the chance to meet so many new fans and also catch up with Doc McGhee, Paul Stanley, Gene Simmons, Pat Travers, and more.
Here's what the band had to say:
Brian Tichy – "I had a great time on KISS Kruise IV!! Very cool to be a part of it with The Dead Daisies! Hanging round 3000 KISS fans, talking trivia, etc.. My kind of place! Great bands, great jams, but not so easy bowling on a ship, especially when Fireball/ Jäger and beer is involved! Haha! KISS sounded great! Both the acoustic and Dressed To Kill sets were; uh.. Killer! " CLICK HERE to read more!
Dizzy Reed – "Just got back from the Kiss Kruise and I gotta say, it was no Mayflower! Me and Jägermeister got to swab the poopdeck every night and the shows were off the hook!" CLICK HERE to read more!
Jon Stevens – "First of all, thanks KISS for inviting us on such a special cruise, It was such an awesome experience! The shows were great, the crew on board were really nice, we got see one of the most beautiful parts of the world, we made some new fans, and it was great to see KISS fans enjoying our music! Thanks again to all involved!" CLICK HERE to read more!
The YouTube ID of 0KtbxZhmbWI?list=UUoxkhyIxLwNc0cWaJkhbL6g is invalid.
CLICK BELOW TO REGISTER FOR EXCLUSIVE MUSIC WORKSHOPS HOSTED BY RICHARD FORTUS!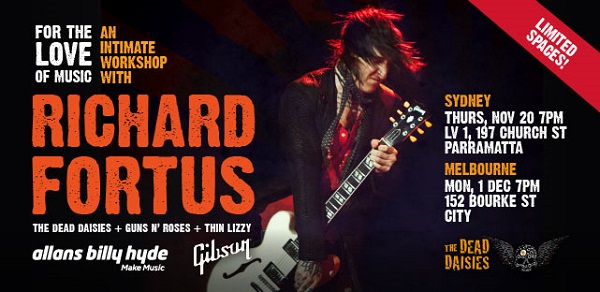 TO REGISTER FOR AN EXCLUSIVE MUSIC WORKSHOPS HOSTED BY  MARCO MENDOZA IN MELBOURNE – RSVP to guitars@ghmusic.com.au or call (03) 9372 6664 ASAP!