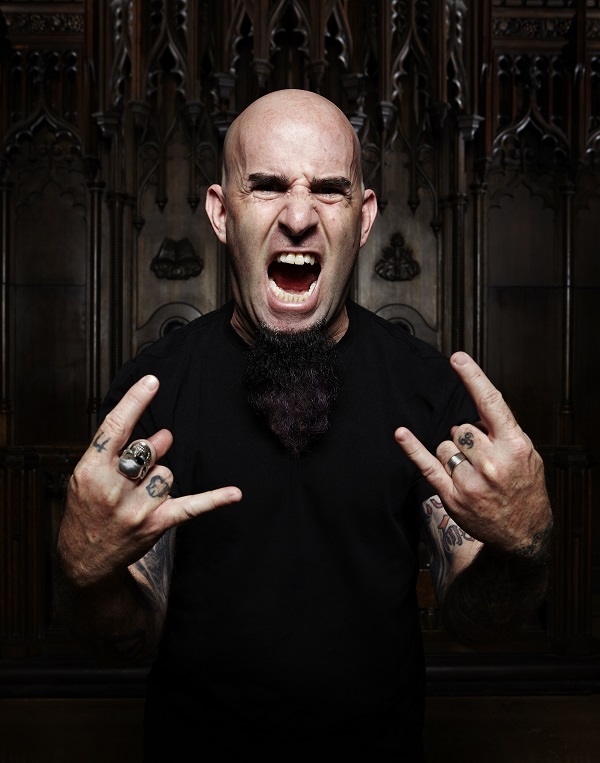 "…I just kind of winged it the first time, so had a lot of questions for myself, mainly what do I do? How do I start? It's not like with Anthrax, when I'm going on stage I don't have any questions, I know what I'm doing, whereas this I had never done it before…"
From release: Legendary heavy metal musician, author, and television personality SCOTT IAN had a lot to say on the European and United States legs of his ground breaking Speaking "Swearing Words" Tour. After decades-worth of international touring with Anthrax, bumping elbows with illustrious (and sometimes ridiculous) characters all over the media spectrum, and undergoing general "you won't believe this" experiences— SCOTT IAN certainly had some hilarious and surprisingly personal stories to share. "Swearing Words" is an honest look at the insane life that Scott has led for the last 31 years, the people he's met, and the events that coincide. Now, you can experience Scott's "Swearing Words" Tour by way of Swearing Words in Glasgow, available via Caroline Australia on November 28TH, 2014.
While he was in Los Angeles, we caught up with Scott Ian of Anthrax to talk about his new spoken word DVD 'Swearing Words' and how it all came about, as well as his book and more…
When did you decide that you wanted to get out there and tell these stories?
I didn't actually, I got asked to do a show in London two years ago, it was this thing called 'Rock Stars say the funniest things' and out of curiosity I decided to say yes and do it. It was basically out of that, then after than I enjoyed myself so much at that random one off thing that I did that then I decided that was really fun, I'd like to do more of this and that's how it all kind of snowballed.
What was it like the first time you got up there in front of a crowd without your guitar to tell these stories, was it a little daunting?
I never really thought of it in that context without a guitar because I have no problems speaking in front of people, unlike most people *laughs* I'm not afraid of public speaking, so that was never really an issue for me, I mean the only thing that made me nervous was just the idea of having never done it before and not having as they say 'an act', it's not like I had developed the show and put it together over a few months and showed up all professional with a proper act, I just kind of winged it the first time, so had a lot of questions for myself, mainly what do I do? How do I start? It's not like with Anthrax, when I'm going on stage I don't have any questions, I know what I'm doing, whereas this I had never done it before, so that was the only thing that was odd for me. Once people started laughing in the right places, just a couple of minutes in I realised well I must be doing something right and then it was all good from there.
Well when you start with the Lemmy story which incidentally is way better than mine, I met Lemmy at an airport souvenir store when he was looking at toy koalas…
*laughs* Lemmy looking at koalas is pretty good too…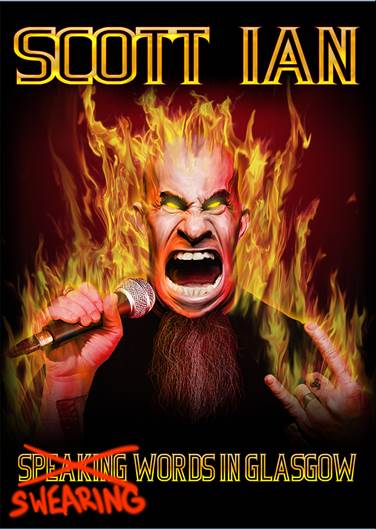 Watching the DVD, is there anything you left out that you wanted in or wished you'd added?
No, not that I can think of, I have hours and hours of stories I can tell and that's what I did that night, those are the ones I planned on telling that night to shoot, so no, I didn't, there was nothing I felt like I had left out.
I have to say I was in tears of laughter listening to the Dimebag / Sebastian Bach story, what was it like going back through your memories and reliving these stories?
Well, it's not kind of how it is, these stories have been part of my life for so long it's not like I was ever away from them for a long amount of time and then I came back to them. A lot of these are stories I've been telling just with my friends for years, hanging out trading stories in a bar or whatnot, so I feel like I've never really been too far away from them.
You said before you were happy that people laughed in the right places, were you worried at all that maybe some of the stories may not have worked or been received how you'd hoped?
I wasn't worried about them not being received well; if I worried about shit like that I wouldn't do anything in the first place. I approach this very much the same way I approach being in the band, I don't worry what anybody outside Anthrax thinks about what we do, we do what we do and it doesn't matter what anyone else thinks as it's never going to change what we do, and I felt the same way about this. They're my stories, I'm the guy on stage with a microphone, if the people don't like it, I don't care, then maybe this is something I'm not meant to be doing, but one way or another it's not going to affect what I do.
What was the experience like of working with the pledge music platform for the release of this DVD?
It worked out great for me, I wasn't too aware of crowd funding stuff beforehand, but my idea going in was I just wanted to be able to kind of cut out the middle man and produce this DVD and manufacture it and all that and at the same time own my own content, so it ended up working out really well.
Now, we saw you do your spoken word show in Australia but with Chris Jericho, do you think we can expect you to be bringing your show back down to us again anytime soon?
Yeah I'm hoping so, I would love to, I spoke to John Howarth about that already, so I'm hoping that at some point I'll get to come down and actually do some shows.
How was that experience of those shows with Chris down here?
Yeah they were both great, that was a shorter set because that was the two of us so we both got an hour, then we both got on stage and told some stories, so yeah I only did an hour when I was down there so it would definitely be fun to come back and do a full show that's for sure.
Now I know you're a massive fan and he's one of our musical legends, but do you have a Malcolm Young story you can share with us?
I've never met him, no, Angus and Malcolm are like the two guys I've never met, and I've met everybody *laughs* and yeah I've never met those guys. We've never played a show with them, we've never even been on the same festival on a different day, like we've never even come close to playing a show with AC/DC which is really odd *laughs*
I wanted to ask also about your book that's just been released, how was the experience of putting it on paper, was that much different to what you're doing in the spoken word telling the stories?
Yeah I mean it is, there is a bit of crossover between the two, but the book is obviously more a complete narrative of my life with some of these stories weaved into it. They're really two different animals, if you read the book and watched the DVD in the same week it wouldn't be like you were watching the same movie twice or reading the same book twice, they are two different things.
It would be remiss of me to not throw a sneaky music question in, what are you up to musically at the moment?
We're writing, we've just been writing an Anthrax record for a long time now, there will actually be an official announcement soon as to what's happening…
So what I do with everyone is try and get them to predict the future, so if you can finish this sentence for me, in 2015, Scott Ian will…
*laughs* In 2015 Scott Ian will, I don't know, play a whole bunch of shows *laughs*
Essential Information
From: USA
Website: http://www.scott-ian.com
Forthcoming Release: 'Swearing Words in Glasgow' DVD (28th November – Caroline Australia)