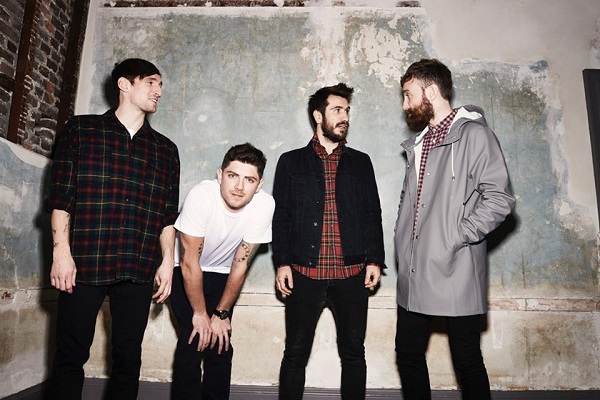 "…it's like a dream come true situation for us, we've been talking about trying to get to Australia to play some shows seriously for about the last three or four years and we've just been chasing it every opportunity and now that it's actually going to become a reality we're just kind of shocked but really, really excited man to finally make it."
From Bio: When Glasgow's Twin Atlantic released their 2009 mini-album, Vivarium, it immediately found an awestruck audience. The reviews were uniformly ecstatic. Grand, sweeping and eloquent, it was a collection of songs with a heart and soul, crafted by passion and informed by staunch lyrical and musical frankness. It set Twin Atlantic on a roller coaster; one that has led to the release of their full debut, Free, on Red Bull Records, an inspiring collection of songs full of ambition, pain, belief and soul. In a world of music dominated by talent show winners, mass-marketed bands and meaningless music, here, finally, is a band in which to invest your heart, and now with newest album 'The Great Divide' things can only continue to get bigger and better for these lads.
In transit in Germany we chatted to Sam of Twin Atlantic about the band's upcoming first trip Down Under for Soundwave, as well as their newest album 'Great Divide', and what he's learned from being in a band…
You've just been added to the Soundwave bill, how pumped are you to be heading down to be a part of this massive festival?
Oh man, it's like a dream come true situation for us, we've been talking about trying to get to Australia to play some shows seriously for about the last three or four years and we've just been chasing it every opportunity and now that it's actually going to become a reality we're just kind of shocked but really, really excited man to finally make it.
This will also be your first time to Australia, outside of the shows, what are you most looking forward to doing down here?
I think the people that I've met that are from Australia have either been really friendly or really cool and being up for a party and just a really good time, and if not that then I'm just interested in the weather and some sunshine, I don't get that every day of my life in Scotland, so that will be something to probably look forward to, and I know that the music scene for rock music in Australia, people are very passionate about it, and I'm just excited to see how all that works out there.
You're no strangers to a festival, playing the likes of Reading and Leeds a few times before, do you have a specific preparation for festivals compared to your own headline shows?
That's a good question, I don't think so, and if I do it's totally subconscious because I think you can't really plan for a festival because anything can happen as soon you walk on stage and you haven't had a sound check, some of the gear may not work as you only had five minutes to set up and that edginess sort of works if you just plan for nothing and that's what you have to do a lot. Deal with a lot of sketchy moments and just being ready for anything.
As it is your first trip, is there any talk of sideshows?
Yeah we've been trying to figure out if it's possible and like I was saying, we've been wanting to come for so many years that if we can make that happen, well definitely be doing it.
You released your newest album 'Great Divide' a few months back, are these songs now second nature to you on tour or are you still finding your feet with a couple of them?
Yeah I think there's a couple that we're still getting used to *laughs* because we made some crazy decisions in the recording sessions like a really high vocal or a really complicated guitar part, and we're still learning how to do things like the crazy time changes that we do like when the lights are flashing in your eyes, but we're getting there and it's all part of making the album come o life so we relish the challenge.
In the three years since 'Free' and with a relentless amount of touring, did this three years help shape the band for what then became the end result of 'Great Divide'?
A million percent man, definitely, and actually a lot of the record was written when we were touring for 'Free' as like you said, we did it for three years and song writing is just an extension of it in some ways and we just channel it through that and I think part of what became our life was adjusting to the size of the shows in the UK, and I guess we channelled that and tried to fill the gaps that we had with some bigger sounding songs or some with a bit more space, but a bit more extra for this record so it was all formed by the touring we did in America the last few times and stuff and those sort of life altering experiences *laughs* it's a crazy place.
'Heart and Soul' is one catchy song man, is there a story behind this one you can share with us?
I wish there was, I wish there was some wild story to go with it because it has that feel sometimes when you hear it, but it was really sort of born from a situation of our album felt real edgy and there was a lot of different political subjects and loads and loads of guitar playing and busy drum parts and we just felt like we needed a song that had a bit more space and that's sort of just what came out without really thinking. I don't know if maybe says that was in our thoughts at the time, but maybe we just wanted to have a bit more groove, not sure, but no, there's nothing too crazy to go with it. People lose their minds at that song, but no crazy story to go with it now…
Let's get a little insight into you with some quick fire questions:
First album you ever bought?
It was 'Enema of The State' by Blink182.
First concert you went to?
I'm going to sound like such a loser here because it was again, Blink182… I was thirteen.
A song you wish you'd written?
Oh, 'Imagine' by John Lennon or 'Thunder Road' by Bruce Springsteen.
If there was one song that the band could cover that no one would expect you to do, what would it be?
That's a good question… maybe… it would probably be something that was really fun and like overly melodic, ooh maybe like a Daft Punk song or something like that, something a little electronic.
In the seven years since the band formed, what's the biggest thing you've learned from being in the band you didn't expect was a part of it?
I can't believe no one has ever asked me that question, no one has ever, ever asked that… ooh… I guess maybe the responsibility of how much the music means to some people, and that's a thing that a lot of bands realty wish for and you want people to be that passionately connected to your music, but when you're connected with the human side of that, I meet a lot of the same people at some shows or people tell me a story about how one of our songs affected them, changed them or made them think differently about something, that is a really powerful thing and I don't think I was really ready for that. It's just a sign that your band is getting popular and stuff…  and it makes it feel so worthwhile, ultimately we make music to have a good time and just like be quite carefree but we try and put some messages in our songs, but you never truly think that will connect with anyone and it's great, but we feel really lucky that has happened.
Lastly let's look ahead to the future, finish this sentence for me. In 2015, Twin Atlantic will…
*laughs* headline a festival… just anywhere, somewhere, we've done one before in Scotland but it was only a small local one, so maybe we could move to a bigger one, that would be awesome.
Catch Twin Atlantic as part of Soundwave 2015 at the following dates:
SATURDAY 21 FEBRUARY & SUNDAY 22 FEBRUARY, 2015
BONYTHON PARK, ADELAIDE & FLEMINGTON RACECOURSE, MELBOURNE
SATURDAY 28 FEBRUARY & SUNDAY 1 MARCH, 2015
OLYMPIC PARK, SYDNEY & BRISBANE SHOWGROUNDS, BRISBANE
Or catch them at their sidewaves with Fall Out Boy & Emily's Army
TUESDAY 24 FEBRUARY: SYDNEY, UNSW ROUNDHOUSE – Licensed All Ages
www.ticketek.com.au
WEDNESDAY 25 FEBRUARY: BRISBANE, THE TIVOLI – 18+
www.ticketmaster.com.au
For tickets and more information head to
soundwavefestival.com / facebook.com/soundwavefestival /
twitter.com/soundwavefest
Essential Information
From: Glasgow, UK
Band members: Sam McTrusty, Barry McKenna, Ross McNae, Craig Kneale
Website: http://www.twinatlantic.com
Latest Release: 'Great Divide' (Out Now – Red Bull Records)