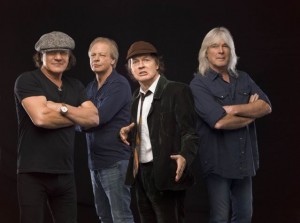 AC/DC's recently announced album ROCK OR BUST, available for pre-order now, will have its first Australian public playback at midday on Sunday November 23rd, 2014 at the small Riverina town of The Rock, population 860, 5 days ahead of its official release on Friday November 28th.
Sony Music and Alberts will be launching ROCK OR BUST at the Lockhart Shire's monthly The Rock Markets where the album will be played in full from 12pm midday on Sunday November 23rd.
AC/DC coming to The Rock? No, the band will not be in attendance, but if you want to be one of the first people in Australia to hear the new album ROCK OR BUST, be at the markets before 12 noon as the album will literally rock The Rock! So get to The Rock or bust!
8:00am The Rock Market will start
12 Noon album playback
Sony Music will have at the Rock Markets a dedicated AC/DC Truck that will be selling back catalogue vinyl on the day.
AC/DC will undertake a world tour in support of ROCK OR BUST in 2015, and fans that pre order the album on the day at The Rock Market have a chance to win 2 tickets.
The Rock is a town, with a population of 860, in the Riverina region of southern New South Wales, Australia, in Lockhart Shire. It is 32 kilometres south-west of Wagga Wagga on the Olympic Highway.
The first single, 'Play Ball,' is at Australian radio now.
ROCK OR BUST was recorded in Vancouver, Canada with producer Brendan O'Brien and mixer Mike Fraser. ROCK OR BUST is the band's first album of new material in six years, following their immensely successful BLACK ICE, which debuted at #1 in 31 countries and has sold nearly 8 million copies worldwide.
JB Hi-Fi – http://smarturl.it/ROCKorBUST.JB
Sanity – http://smarturl.it/ROCKorBUST.SN
iTunes – http://smarturl.it/ROCKorBUST.AU