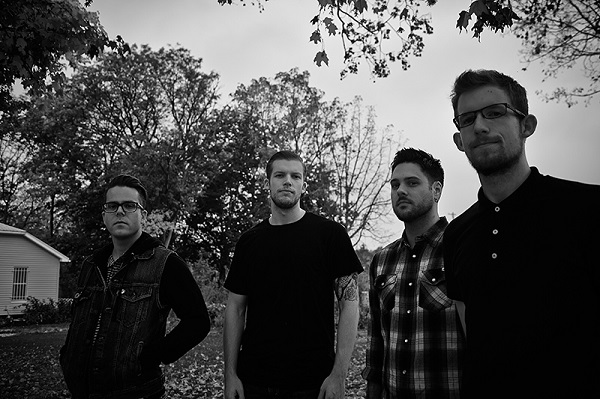 "…that's the thing, people are already talking about our legacy saying we deserved better or we deserved to be bigger or whatever, which is nice, but I would hate to be remembered that way because it makes us look like we were so shitty *laughs*"
From Bio: THE SWELLERS got their start in 2002 when brothers Nick and Jonathan Diener and a friend got together and recorded some demos in their basement. Next thing you know the band is playing shows around Flint and word of their performances starts spreading like wildfire around the the region and eventually the country.
After releasing 5 albums and 2 EPs, and touring countless worldwide, on their twelve-year anniversary the guys decided to call it a night. Friends and fans across the world were a major factor in keeping the creative juices flowing for so long. Having travelled to five continents and eighteen countries, the band felt it was the best time to go out with a bang. The final tours begin
Before the band leaves us forever, well, eventually… we chatted to Nick of The Swellers to fill us in on the reasons behind the breakup, their forthcoming Soundwave appearance and much more…
So to start, simple question… Why are you leaving us?
Oh man, that's one of the weirdest questions to answer because it was just time. It's like the weirdest thing it's like when you're a little kid and you have to explain like why did Grandpa die? It's like it was just time, it just happened, not saying we're as cool as Grandpas or anything, but I think we just wrote our last song, we just didn't really realise it and then yeah, everybody was on the same page and we were having a great time and I think we just wanted to end this streak on a high note instead of becoming one of those miserable bands that was just like 'hey we're doing a ten year anniversary of this record that no one cared about in the first place' and just keep playing and playing and playing and begging to get on tours. So yeah we were just kind of like let's just go out with a bang, the way we want to while we're still happy and loving it, because yeah, I feel like if I just kept it going for a little bit longer and things didn't go well I would just be super bitter and we might not even do a farewell tour and just fade into obscurity. So it's just kind of the way we wanted to do it I guess, luckily we left behind a lot of records so hopefully people can still dig 'em *laughs*. I just hope people can still appreciate it, and maybe some of the young people who don't know who we are can think we're some cool old man veteran rockers one day.
You're coming for Soundwave, how pumped are you to be heading back to Australia as part of this festival?
Oh it's gonna be amazing, we've always said it's one of our favourite tours to do, and if they'd ever have us back we would come, and we probably wouldn't be coming back to Australia if we didn't get that offer, just because it's so expensive and it's a lot of time and travel and plans and things like that, and we're just trying to make everything easy and stress free and thankfully Soundwave was one of those things, not to mention it's an awesome festival with some great bands, so yeah, it kind of worked out perfectly.
Anyone you're excited to be sharing the tour with?
Yeah I mean there's a bunch of friends we've toured with before, so it'll be good to just hang out with them, like the Fall Out Boy and All Time Low guys, can't wait to watch Lagwagon, they're one of my all-time favourites growing up. I mean it would be sweet to see Judas Priest and stuff like that and I don't really remember who's on the day 1 vs day 2, I don't really have it straight buy I'm sure there's a tonne of bands I'll want to catch even if they're doing a sidewave maybe we can go catch one of those, even if we're playing them, I don't know. We're still kind of waiting to figure it out, then King810, those guys are from Flint, MI, they're old friends of ours and it's kind of crazy to be playing on a festival with them across the world. So yeah, it'll be nice, I'm just looking forward to hanging out.
OK, so you've been here a few times before, what's your favourite thing about Australia?
I think my favourite thing about Australia is just the fact that it really does feel like home, so like going there it just feels like Bizarro America, everyone's just a little bit friendlier you know, and everything looks nicer and it's like, oh man if this place was just a little bit better, and unfortunately it's a little expensive too, that's the downside for us, but yeah, it's just super easy, love coming over there, we've made a lot of good friends over there so I love it.
Can we expect maybe a Sidewave show when you're here?
I'm hoping so, we asked if we can get on some sidewave stuff, we just might happen to be one some; we put our name in the hat for it though and said we're down for whatever. If we don't have any sidewave things then we're probably going to ask them if we could book some stuff on the side, just us. We want to play as much as we can, I think it's like five days between the first part of the festival and the second part, so hanging out for five days in Australia will be a lot of fun, just getting to hang out, but I'd rather play a show every night that we're there, get more bang for a buck I think.
Well you mentioned a couple of bands before that would be great, I think people would love a Fall Out Boy, All Time Low, Swellers show…
Oh yeah, I mean put us in front of as many people as possible, we'll be happy *laughs* that's totally cool, it would be totally awesome if they would put us with King810 because everybody would be super confused, but I'm pretty sure they're going to be out with Slipknot or something which will be pretty cool. Hopefully we'll be able to catch them if we can.
I have one request as it is your farewell so it can't hurt to ask, can you please play 'Inside My Head' when you're in Sydney as that's hands down my favourite track of yours…
Yeah pretty sure we can do that, we're going to try and play the big rockers and more of the sing along songs as those are much better for festivals, so yeah I'm thinking that will make it.
Now earlier you said you've written your last song, but you released B-Sides and Rarities earlier this year, can we expect any further releases or is that it? 
As of right now I think we're done. There's still stuff we've always wanted to do like acoustic records, live records things like that, but at the moment *laughs* as lame and as lazy as it sounds, we're just trying to put as little effort into it as we can to have the maximum amount of fun on our way out. Even just dealing with little things like the Australian immigration papers, renewing our passports, like that stuff is just stressing me out a little too much, like goddamn it, I don't want to be doing this but the cool thing is once I get it done then I'm like sweet, it's just smooth sailing. But, I don't know, there's could be something eventually but right now I don't think we have any plans to release anything.
Not even filming one of your farewell shows for a DVD or something?
I think if we do that it will probably just be something for free on YouTube, but yeah, I would love to document it somehow, it would be great, even if it's just footage that we put together ourselves, but yeah I think that would be a lot of fun, just having some kind of little keepsake to remember it.
Looking back over your career, is there one moment that stands out for you as something you'll never forget?
Oh man, I was actually just thinking about it, but pretty much anytime we've been in the same boat as one of our idols or a band we grew up listening to. There was one moment when The Swellers got to go on tour with Only Crime and Wilhelm Scream, Wilhelm Scream being one of our favourite bands and some of our best buds, this is in 2007. Only Crime is a band made up of Bill Stevenson from Blag Flag and Descendents, and Russ Rankin from Good Riddance and Arron from Bane, kind of a supergroup if you will, and we played a show that not many people came out to and the promoter handed us a handful of money and said here it is, split it up how you want. I'll never forget it because Bill from Descendents handed me $18, he took $18 and then he gave A Wilhelm Scream $18, like at that moment we were all equal and it was nuts, it was the most punk rock thing I've ever been a part of, like this veteran was like these three bands deserve to get equal pay and I was like, man that's so cool. Then later on we got to record a record with Bill Stevenson, he's kind of the mastermind behind 'Inside My Head' sounding so huge, so we kind of came full circle with that.  We've had some really cool moments, I like the full circle stuff, like getting to be friends with 'Saves The Day' because we kind of grew up and started the band listening to the band, then they made a record in our home town, so we made a record in the same studio, just crazy stuff. Like that's the stuff I live for, that's the stuff I really love about being in a band.
How do you want The Swellers to be remembered?
Oh man, that's the thing, people are already talking about our legacy saying we deserved better or we deserved to be bigger or whatever, which is nice, but I would hate to be remembered that way because it makes us look like we were so shitty *laughs*, like 'oh dude The Swellers, they were so great but everyone else thinks they sucked and ignored them' like I don't want that to be the legacy. I want it to be, that band loaded on stage and then loaded off stage really, really fast, like that would be a cool way to be remembered *laughs* just that punk band that didn't talk between songs sometimes, but you know, whatever, as long as we can be remembered as being part of it, just being part of the punk rock thing for as many years as we did it, that would be great.
So what's next for you?
I've got a bunch of stuff going on, I've got two puppies now, I'm married, got a house, making records in a studio for other bands I'm an engineer producer guy, I'm studying to be a personal fitness trainer, and watching a lot of pro wrestling and that's pretty much it. I've just got like nine things that I'm in to *laughs* playing in a cover band with my brother, that's kind of fun, but yeah just doing a little bit of everything that I can so I don't go insane just sitting at home doing nothing.
Lastly, let's go out with a prediction, so finish this sentence for me, in 2015, The Swellers will…
The Swellers will probably play way more shows than we should, and our fans will start saying, wait, are you actually breaking up, this is stupid… *laughs* so I think that's what's going to happen next year, we're just going to keep getting offers to come to different countries and just keep going, and going, and going, and then we're going to be like 'this is our last show ever' and then a week later it's going to be like 'actually no, we've got to go to Arkansas' and play there. So we'll probably just annoy people with the slowest breakup every, but hopefully someone out there enjoys it at least…
Catch The Swellers as part of Soundwave 2015 at the following dates:
SATURDAY 21 FEBRUARY & SUNDAY 22 FEBRUARY, 2015
BONYTHON PARK, ADELAIDE & FLEMINGTON RACECOURSE, MELBOURNE
SATURDAY 28 FEBRUARY & SUNDAY 1 MARCH, 2015
OLYMPIC PARK, SYDNEY & BRISBANE SHOWGROUNDS, BRISBANE
For tickets and more information head to
soundwavefestival.com / facebook.com/soundwavefestival / twitter.com/soundwavefest
Essential Information
From: Flint, MI, USA
Band members: Nick Diener – Guitar / Vocals, Jonathan Diener – Drums, Ryan Collins – Guitar, Anto Boros – Bass.
Website: http://www.theswellers.com