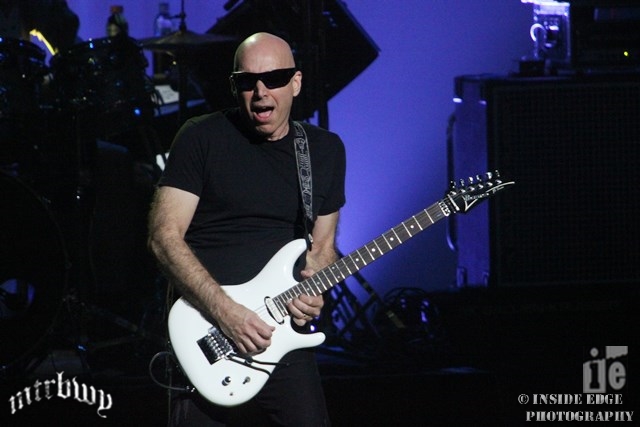 OK, so I've never had the opportunity to review an instrumental show so tonight, what better way to pop my cherry than with arguably one of, if not the best guitarists you'll ever hear. Joe Satriani.
Within seconds of taking the stage, the entire audience is mesmerised, this cat can play, and I mean play. If this first song is anything to go by then I have no idea how the rest of the show will keep up, with a title like 'Jump In' well, it's apt. I do need to say this straight up, as the band of Mike Keneally, Bryan Beller and  Marco Minnemann that share the stage with Joe deserve their own praise as they keep this so tight, and tone wise I mean you have to be kidding me as to how good this sounds. Wow, I'm 98% sure I just saw Joe yawn while playing about 974 notes a second right now, that's how much of a second nature this is for him. It's amazing to witness, I mean me personally as a guitar player was introduced to Joe as many were with 'Surfing With The Alien' and never looked back, and seeing him a number of times and also having the pleasure of being able to interview him twice made me truly appreciate what he does and tonight hopefully I can express it here.
Some big drums kick the beat in for 'Flying in a Blue Dream' and seriously how can anyone play guitar like this? To me it's almost not human… alien if you please. I think the whole thing comes down to that he doesn't just play these songs, he lives them, he feels them, he is them and what's better is, it's practically effortless. Addressing the crowd after the opening 3 songs, he launches into the title track from his newest album 'Unstoppable Momentum' and like every other piece of music he plays it's ridiculously technical and out of this world, but when 'Ice 9' kicks it into gear there is applause and plenty of love here for this song. I guess many here like me were introduced to Joe through 'Surfing With The Alien' so when a song from it comes up… Well you can imagine people get a little excited, especially when Joe and other guitarist Mike Keneally trade off in a little bit of a guitar battle that heard the crowd roar. The roar stays up for the band introductions as they deserve every piece of they're getting tonight as it's testament to Joe to have picked these amazing musicians.
As drummer Marco Minnemann takes a well-deserved breather, the very keyboard driven but oh so emotionally driven 'Crush of Love' just has a supreme uplifting feeling to it. This is a beautifully played and arranged song that allows you to feel every note, not no sooner has that finished, here comes 'I'll Put a Stone on your Cairn' and this to me is one of those songs thst come easily have words, if hits a groove and keeps hitting it as we go along. Oh holy shit, in a first, well for me at least, they just panned Satch's guitar along from left to right in the speakers, and that sounded amazing. Now it's time to for a little 'Satch Boogie' and well I don't even need to tell you how good that was. Just trust me.
'Shine on American Dreamer' takes us on a road trip and 'Three Sheets to the Wind' slows it right down for a truly soulful song. It's hard to understand how instrumental songs like this and the next one 'Cryin' can all be different, take on their own life, but they do and you feel every note. It's truly something special to be a part of. Ooh a drum solo. Fun. Oh my god. That was hands down, the best drum solo I have witnessed in my last ten years of seeing concerts. That was beyond outstanding. The standing ovation at the end said it all too, if I was wearing a hat, it would be tipped to you Mr Minnemann.
As the band returns to the stage and turns the volume up a little for 'Time Machine' but when 'Always With Me Always With You' takes its place in the set, you can tell everyone here is happy, this is THE song and it sounded amazing. I could ramble on about that for hours but I won't because 'Surfing With The Alien' is currently tearing us a new one! It's like I'm watching Wide World of Sports in the late 80's but in real life and without the sport! The volume seems to have been turned well up for this one and deservedly so, this man is a master. A true musical master.
The band leaves the stage to a standing ovation only to return… This time for a bit of a guitar sing along in a fun crowd chant, then one of my favourite things was watching as the guys ran to the front to rock the hell out with head banging a plenty and hair flying all over the place, the band belts out 'Summer Song' and with that, the show comes to an end.
Tonight, not one note was missed, nothing was wrong or bad about this show. To witness a show that is musically this good is an absolute pleasure. Satch. Thank you for making a guitar tell your stories, simply amazing.
Essential Information
Venue: The State Theatre – Sydney
Date: November 6, 2014
Website: http://www.satriani.com
Photo by: Inside Edge Photography – Check out our full gallery here
Set List:
Jumpin' In
Devil's Slide
Flying in a Blue Dream
Unstoppable Momentum
Weight of the world
Ice 9
Crush of Love
I'll Put a Stone on your Cairn
A Door Into Summer
Lies and Truths
Satch Boogie
Shine On American Dreamer
Three Sheets to the Wind
Cryin
Drum Solo
Time Machine
Always With Me Always With You
Surfing With The Alien
Crowd Chant
Summer Song