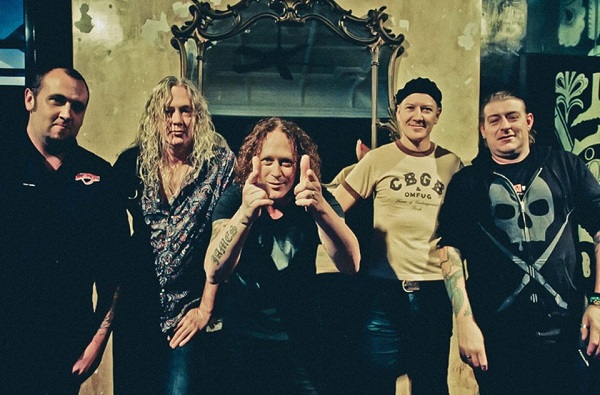 "…it's unreal, we kind of pin it on the fact that we spent probably the first at least ten years of the band constantly on the road and releasing stuff and building up a loyal legion of fans that have come to gigs and supported the band come hell or high water."
The upcoming national tour for The Screaming Jets is going to be something very special, for fans and the band alike. The iconic rock band, originally from Newcastle, will be celebrating 25 years – yes, a quarter of a century – of great Aussie rock. 25 years seems like a hell of a long time to stick at one job, but when your job is to rock out as much as you can – it can feel like it's flying by in the blink of an eye.
With 6 studio albums under their belt, and literally thousands of gigs throughout the world from one horse towns to global meccas, the Jets have been there and done that….when it comes to this crazy rock n roll circus. To celebrate this massive milestone The Screaming Jets are heading back on the road to celebrate with all their fans and friends round this big brown rocking land.
We chatted to Dave of The Screaming Jets about the band's 25th anniversary and the run of shows to celebrate it, as well as new music and much more… *tink*
First thing's first, twenty five years, congratulations, Happy Birthday, all that stuff…
*laughs* Thanks mate, it's a long way from calling ourselves the Love Bombs at the Mark Hotel in Newcastle, that was the very first gig we did, I think it was on a weekend. We called ourselves the Love Bombs because we just wanted to kind of have a crack and see how it went and that was the beginning of twenty five years of rock and roll mayhem… *laughs*
How does it feel to know that The Screaming Jets are still kicking after a quarter of a century?
Look, it's unreal, we kind of pin it on the fact that we spent probably the first at least ten years of the band constantly on the road and releasing stuff and building up a loyal legion of fans that have come to gigs and supported the band come hell or high water.
To celebrate you're hitting the road for a huge run of shows, have you figured out how these shows will come together set wise yet?
Yeah we're probably most of the way through it, all the boys have been trailing through the set but it's a fine line between what the band want to play and what the fans want to hear.
It's been a while since we had new Jets material, and there is talk of something new very soon, can you shed some light on when we may hear that?
Probably not until next year… we'll have some tracks available for the tour but we decided not to rush it. I've been off having an affair with The Angels, as our bass player says *laughs* and there's bee different commitments that's held us back from doing an album, because we worked out some timeframes that were just going to be too tight. So the new stuff that we've got out for the tour is a live DVD from last year's 'Real Deal Tour' and about four tracks that we're going to release so people can hear what's upcoming for The Jets.
How if in any way has the way you write songs changed over this past twenty five years?
Well I guess it's kind of a confidence thing, when you're a young band and you'll all living together and you get to bounce ideas off each other kind of instantaneously, or catch them mid coitus and say 'mate you've got to hear this thing I wrote' and there's kind of that instant energy with song writing that goes on. Obviously as you get older and have more commitments, you've got to make time to do it, you spend a lot of time writing on your own and then kind of bringing more fully formed ideas to the table and stuff like that. So I guess we've never had a formula in the past, it's just an ever evolving process.
Let's take a look back, so has there been a favourite moment The Jets has lived over the last 25 years?
Ohhh… there's been so many *laughs* obviously starting off in 1989 to I guess to 1996 was when we were just dead set constantly on the road. I think we had some time off in 1992 when I had a family tragedy and Grant Walmsley got married in that year, so we had a little bit of time off there. But pretty much until 2001 we're just kind of constantly on the road so the great moments come thick and fast, I've been on tour in Europe and not only seeing the sites and stuff but playing with some of the biggest bands in the world at the time, Faith No More and INXS and Jimmy Page and Robert Plant and standing on the side of stage and seeing Leonard Cohen and Michael Hutchence will always be a pretty big one, and playing at the Hollywood palladium… look there's heaps. One day I'll write a book but it'll have no true information about anyone's personal life in it *laughs* I'll stay right away from that minefield.
Now, 'Better' has been one of my favourite songs since 1991, when you released it then did you have any idea of the staying power it would end up having?
No look, it's overwhelming as you say that twenty three years on, if you go to a place that has a DJ anywhere in Australia, you're probably going to hear it sometime through the night, and yeah it's one of those things that obviously struck a chord and we always knew, that was the song that when we played it to our producer he just went "*excited noise* let's go with that" and the record company obviously very excited, but you never know if you're going to have a song be so enduring or not, so yeah, it's pretty amazing. I've seen everything from soloists to bands play it, some have killed it, some have butchered it *laughs* but yeah it's amazing to know that we've got what was called a standard back in the old days.
Not forgetting the amazing 'tink' bit in it…
*laughs* Yeah *laughs* that was the genius of Brad Heaney, he had this little German helmet cymbal that he used to love, it was a brass thing. That was Brad Heaney, he was a genius of a drummer and sadly had personal problems that made him have to leave the band early on.
This'll be hard to do, but is there one song from your entire catalogue that is your favourite?
*thinks* I guess 'Helping Hand' always sticks out because the record company said 'you're mad, you can never release that single' and it was kind of something that we did on the fly. The first two singles from the second album didn't do anything, they just came and went very quickly, the third single was 'Shivers' and that kind of kicked things back up again and by that stage we were over in Europe touring and they said we needed another single and we talked about it and talked about it and said 'Helping Hand' is what we have and they said 'What are you talking about? It sounds like reggae jazz and it's got a trumpet in it…' and we said well that's what we're going to do and there was big toing and froing between London and Australia offices and finally they let us do it. We got ten thousand pounds, went and made a video, blew heaps of stuff up and boom the album went on to sell 120,000 copies in the next six or eight months. So that'll always be a special song where we stood and fought for what we wanted.  Then of course 'F.R.C.' which we fought to have on the first album and I to this day say I don't think that a band prior to us releasing that particular song on a mainstream record had been done. To have not only us singing it but the guys out of Mortal Sin, The Choirboys, a couple of guys from The Angels and all of the Baby Animals screaming it at the top of their lungs, you can imagine it was a great time had by all. *laughs*
So Dave, after twenty five years, what do you know Better now than you did back then?
Engage your brain before you put your mouth into gear… I probably cost us a few opportunities overseas with my brazen views at times, so that would probably be… don't be a fence sitter, say what you say and what you believe in but make sure you have a well formed opinion before you start telling two thousand people or however many people how to live and what to do. There's ways to get your message across without spitting venom or hellfire like some type of mad television evangelist *laughs*.
What do you still enjoy about being part of The Screaming Jets?
Just the fact that we get to go on tour, record music and I guess one of the great things from it is that there's still expectations from not only us but our fans that want to see us go to the next level I guess where bands like Powderfinger and Cold Chisel and Midnight Oil and bands like that occupy and look, that's something that still drives me and still drives the rest of the band is that we wanna make an account of ourselves that make people go 'Ahh this is why those guys have been around so long' and that's just a side bar, the main thing is getting out there after twenty five years and pulling crowds and rockin' them, that's just as good as it gets.
OK, so you guys kicked off twenty five years ago, are there any bands out there now you're hearing that you could see sticking around for twenty five years?
Oh look there's bands that make the music that would definitely make them enduring, Tracer who are touring with us around the country, they're a great rock and roll band, fortunately the opportunities in Australia are very limited now to play lots and lots of gigs, it's like anything, the more cricket you play the better you get, the more houses you build the better you get, the more gigs you play the better you get, that's all there is to it. To not have those gigs under your belt, nowadays because there's fewer live venues, to not have those gigs under your belt yet at your disposal have the opportunity to go viral and have ten million people see you around the world but you can't even really pull off a whole gig, that's the hard part, the dichotomy if you will of young bands today.
Lastly, normally I'd have people predict the remainder of the year, but for you let's jump ahead, so finish this sentence for me… in 2015, The Screaming Jets will…
Release their eighth studio album to massive critical and mainstream applause and praise and go on a tour that will see them do bigger gigs than they're ever done.
Catch The Screaming Jets on tour at these dates:
Saturday 8th November 2014
Airlie Beach Music Festival, AIRLIE BEACH QLD
www.airliebeachmusicfestival.com.au
Friday 14th November 2014
Norths Leagues Club, KALLANGUR QLD
www.northsleagues.com  | (07) 3285 2733
Saturday 15th November 2014
Twin Towns, TWEED HEADS NSW
www.twintowns.com.au  | 1800 014 014
Friday 21st November 2014
Penrith Panthers, Evan Theatre, PENRITH NSW
www.penrith.panthers.com.au  | 1800 061 991
Saturday 22nd November 2014
The Factory Theatre, MARRICKVILLE NSW
www.factorytheatre.com.au
Friday 28th November 2014
Hallam Hotel, HALLAM VIC
www.ticketmaster.com.au  | (03) 8786 0200
Saturday 29th November 2014
Commercial Hotel, SOUTH MORANG VIC
www.ticketmaster.com.au  | (03) 9437 8444
Friday 5th December 2014
Revesby Workers Club, Whitlam Theatre, REVESBY NSW
www.rwc.org.au  | (02) 9772 2100
Friday 12th December 2014
Wyong Leagues Club, WYONG NSW
www.wrlc.wyongleagues.com.au  | (02) 4392 2799
Saturday 13th December 2014
Burwood Colliery Bowling Club, NEWCASTLE NSW
www.bigtix.com.au  | Rockshop (02) 4929 1856 | Venue (02) 4944 7146
Friday 19th December 2014
Ettamogah Hotel, ROUSE HILL NSW
www.ettamogahhotel.com.au  | (02) 9629 1130
Saturday 20th December 2014
Mounties, MT PRITCHARD NSW
www.mounties.com.au  | (02) 9822 3566
Essential information
From: Newcastle, NSW, Australia
Band members:  Dave Gleeson – Vocals, Scotty Kingman – Guitar, Jimi Hocking – Guitar/Backing Vocals, Paul Woseen – Bass/Backing Vocals, Mickl Sayers – Drums
Website:  http://www.thescreamingjets.com.au