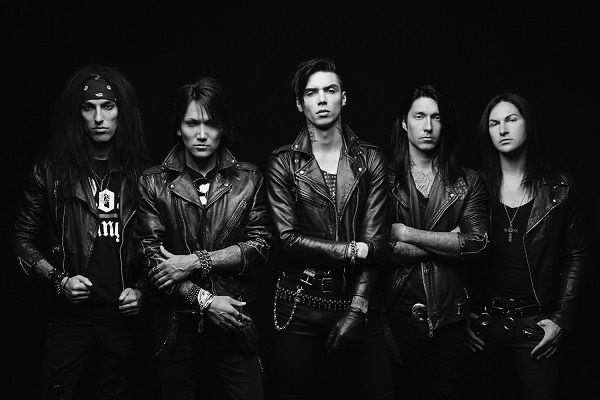 "…we're just five dudes playing in a band and we're just fortunate to be in a position to help somebody in a time of need or have a positive influence on somebody's life, but lyrically a lot of our message is positive and inner strength and to get through the hard times and stuff, so I think a lot of people relate to that and I think definitely in a time of need use that as a crutch so to speak."
From release: Black Veil Brides have been continually building momentum and expanding their ever growing 'BVB Army' since the release of their debut album 'We Stitch These Wounds' in 2010. Their debut video,' Knives and Pens' has been viewed over 100 million times on YouTube. The band has released three critically acclaimed albums to date. Their last release landed at #7 on the US Billboard 200 Chart, selling 42,000 copies its first week and it soared to the #1 Spot on the US iTunes Top Album Chart. The band recently scooped up an award for 'Most Dedicated Fans' at the inaugural Alternative Press Music Awards. That award will sit alongside Black Veil Brides numerous Kerrang awards and three Revolver Golden God Awards. Now Hollywood's ominous, ever entertaining Black Veil Brides have just released their self-titled fourth album…
In Philadelphia (after he remembered where he was) we chatted to CC from BVB about the band's new album and working with the legendary Bob Rock, as well as Australia, a dedicated fan base, evolution and more…
So your newest album has just been released, did you all go into making it with an idea of how you wanted it all to play out?
I mean we did and we didn't. We wanted to make a rock and roll album so that was first and foremost, like this is a rock record, let's bring some of the heavier stuff back, I mean I don't think we had every aspect and or detail written out exactly how we wanted it like under a microscope so it was kind of interesting to see where some of the songs began during pre-production and the writing process and where they finished when we were done with mixing. I think we're all very happy with the way it came out and we're getting an exceptional response to it.
Tell us about the experience of working with Bob Rock and what he brought to the band. 
Oh man, he brought Bob Rock, he approached us, he heard 'In The End' and said he was interested in working with us and we were absolutely honoured that he would even consider working with us, so he said 'Hey, would you want to do a record?' and we said, hell yeah, absolutely, as we're all huge fans of his work, stemming from all of our influences it was kind of a match made in heaven if you think about it, I mean like everyone we're influenced by he's recorded previously. Working with him was an absolute please and it was my favourite tracking session I've ever had with any kind of producer and collectively he has just a great disposition and he was more of an open orchestrator rather than a controlling producer or anything like that, so to have him coach us and guide us and let us get the heavy parts out that we wanted to and have the blistering guitar solos, he was kind of shooting for that and he would push us and guide us in a way without controlling it so much. So having such a laid back guy but still one that's so professional and gets the job done the way we wanted it to was an absolute pleasure to work with and I'm stocked with the way it came out. I actually miss him as a person, he was a great guy to be around and having his stories about the bands throughout the years was absolutely incredible.
I think one of my favourite things was he said 'wow, you're actually getting me excited about metal again' and coming from Bob Rock, that's something, and having him say that was kind of like, oh man, if the sixteen year old version of me heard that and knew I'd be here he'd pat me on the back, but you know, it was really cool working with him, one of the best times of my life. It was also really weird, we did guitars and vocals in Vancouver and we went to The Cult show and the Dwight Yoakam show with him, and he's a rock star in his own regard, people were coming up to him like 'Hey can I get your autograph?' and he's so cool, he doesn't try hard and he's so chilled and he's a Canadian that lives in Maui *laughs* so he's definitely laid back and an easy going guy, so I mean just being around a guy like that and having such a great knowledge, he just knows how to get things done with the tones I mean he used different recording techniques that we weren't familiar with on this like in particular, Andy, when he was tracking vocals instead of having him wear headphones to track vocals and have his voice go through the headphones for the studio music, he just set up studio monitors that he would set up behind the microphone which was a technique he used for Metallica and James Hetfield, so having that it gave Andy kind of a more live feel, kind of like he was performing more than recording and so I definitely thing that he got some great vocal tracks, some of the screaming stuff and even higher notes got a little adrenalin flowing in Andy that he wouldn't necessarily be using if he wasn't using studio monitors for his ears like headphones, so it was just interesting to be a part of the whole process.
This new album has come just under two years after 'Wretched and Divine' which is a pretty quick turnaround, was the goal to always have a record out so soon?
Yeah, I mean we pump records out, we've done one every year consecutively, one of the years releasing an EP which had a few songs, like five songs or so, but yeah, we don't have much time off between records if any time off. I mean this one flew by, it was like we've got plenty of time, we'll release an album, then all of a sudden it was like oh we go into the studio next week and start writing, then we fly to Vancouver to finish it after we track drums in North Hollywood. This one actually flew by, but time flies when you're having fun, we have a very busy touring schedule, and when we're not touring, we're either writing and when we're not writing we're recording so it's kind of nonstop for us, occasionally we'll have a month off, but it's good to stay busy and stay relevant I guess…
You mentioned touring and I have to ask, when can we expect to see you back in Australia?
Oh my god, I wish it was next week, I love Australia… next year we have January off, February we go to Canada and The US, then we're scheduling a world tour, we do Europe shortly after that, so I'm not exactly sure when we're going down to Australia but I know it's in the works and I'm very excited to go down there. It's going to be a good time as always, it's definitely my favourite place on Earth to be and perform, the crowds are great, just culturally I love Australia and I can't wait to come down there. I'm really excited to come down there just as long as my band members stay out of the ocean this time we'll be good…
Oh yeah, watch out for sharks…
Yeah, a couple of my dudes ended up on Bondi Rescue or something like that, probably should even mention that as they're really embarrassed about it, but we had a little too much fun at the beach one day out at Bondi Beach and we ended up making an appearance on there… *laughs*
I've noticed that your fan base is one dedicated bunch man, what do you think it is about the music of BVB that they attach to so fanatically?
I think it's everything, I think it's the music, I think it's the lyrical content and I think it's us as people, it's all of our personalities I think, and having each member, all five of us are different and for the fans to be able to relate to us personally via our online social media websites, that's one thing in addition to the music, we have people come up to us every single day and say 'oh your band saved my life' but we're just five dudes playing in a band and we're just fortunate to be in a position to help somebody in a time of need or have a positive influence on somebody's life, but lyrically a lot of our message is positive and inner strength and to get through the hard times and stuff, so I think a lot of people relate to that and I think definitely in a time of need use that as a crutch so to speak. To be in that position and to have fans that are that dedicated I feel very fortunate.
On evolution, what do you see as the most notable change that's occurred in your time with BVB?
Everybody says this and I'm not just saying it because everybody tells me, it's about the band visually, I mean visually we've had a lot of changes, we had makeup and wore more of a theatrical appearance and I think we've definitely toned that down a lot, and I think first off the bat is most noticeable difference, I mean musically I think our new album is the most mature we've ever had and I think it's advanced and progressed a lot and not one of our albums sounds like the other and that's kind of by design, we want them all to be a little bit different and offer the fans something different. You know, I think it's natural just to evolve and I think those two would be the biggest changes to be honest, I think we're just getting better at song writing and just visually evolving. We didn't stop for any particular reason, it was multiple things, it was just us evolving and now if you go on the internet you can see a bunch of bands that look like we did in 2012 and we're proud to be the forefathers and influences bands and such, but just getting ready every day we just ended up being cartoon characters of ourselves on stage, so I don't know, we're still theatrical, we're still wearing a little bit of make up in live stuff and photo shoots, it's still there and hasn't gone away completely but I think it was just us growing up a little bit.
OK, let's get a quick fire insight into you personally…
First album you ever bought?
Oh my god, I don't know it might have been 'Appetite for Destruction' either that or 'The Black Album' I don't know, I'd always just steal my sisters albums *laughs* but the first one I ever purchased might have been the Metallica 'Black Album' or Guns N Roses 'Appetite'…
Favourite 80's hair band?
I don't know, probably Crue for 80's hairbands, Motley Crue, yeah I'd go with them…
First concert you went to?
Oh my god I was just thinking about this the other day… first concert I went to, I think it was Spineshank, Mudvayne and Coal Chamber. I wasn't allowed to go to concerts so I snuck out of the house for that one, but yeah that was my first one.
Have you ever met CC Deville from Poison?
No, I thought I did but it was just some whacked out guy, it wasn't him. We thought it was him, we were in Hollywood and we kept going back and forth wondering if it was him but it turns out it wasn't but it looked exactly like him, but no I haven't met the real CC Deville.
And purely because the album is called IV, it made me think of the Rocky movies, so which is your favourite?
Oh man, you know what I haven't watched them in so long that I couldn't even tell you, however I will tell you this, a bunch of us ran up to the stairs because we're in Philadelphia and there's a big photo of Rocky at the top of them, so that happened last night, so funny you mention that one *laughs*
Lastly, let's look ahead to the future. Finish this sentence, in 2015, Black Veil Brides will…
Will be touring for the majority of the year, getting no rest and rockin' the house *laughs* because we are definitely not planning on getting any rest until Christmas next year, we're gonna be kicking ass every night.
Well let's see if we can get you here for Soundwave 2016…
Oh I wish, I want to get there before then, I love Soundwave and it's definitely my favourite festival tour to be on, besides that I would just like to come down and do a headlining tour of Australia. We haven't done that yet, so I think there's something in the works, I'm not giving anything away, I know I haven't seen any dates, but there has been some talks, but definitely next year, so hopefully something pans out and we get there sooner rather than later.
Essential Information
From: Hollywood, CA, USA
Band members: Andy Biersack – Vocals, Ashley Purdy – Bass, Jinxx – Guitar, Jake Pitts – Guitar, Christian 'CC' Coma – Drums
Website: http://www.blackveilbrides.net/
Latest release: IV – (Out Now – Universal Music Australia) – Check out our review HERE