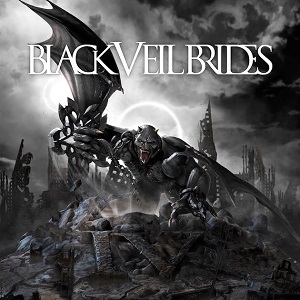 I like the works of Black Veil Brides. I like that they make rock and roll that has a major throwback feel to the metal of old, and by old I mean the 80's with the look, the hooks and the imagery. It's what I like and I've never had an issue with bands like this out there flying the flag. So here we are with a self-titled release and I'm pumped to hear what's in store, especially when I know that Bob Rock is at the producer helm, and if anyone knows this sound, it's Bob Fucking Rock!
'Heart of Fire' opens the album and it's a great start, it's short, sharp and sets up what you'd expect from BVB, it's just rock and roll. No sooner have I said that than 'Faithless' comes along and kicks it into another gear full of double kick drums, heavy riffs and giant bells, this one I instantly like. Oh shit, yeah, it takes a little turn as it hits the chorus and delivers a great progression that then steps it back up into the verses and bridge, I really dig this one. If it stays up like this then bring it on. What these guys are good at is song structure, they have it down in terms of what goes where and know that choruses have a hook and are there for fists to be thrust towards a stage, and they do it well. This one features some great harmony guitar work and ripping solo, something desperately missing from a lot of rock these days, so I happily champion this.
BVB you know my kryptonite… The big rock ballad. Here it is. 'Goodbye Agony' and KABLAMO. Power. Ahhh let me just take in this moment and reminisce about my love of power ballads… This one has a bit of an 'Unforgiven' feel about it too which I like, this is definitely a stand out. I'd only gotten up to bands starting with H on my walk down power ballad memory lane when I was snapped out of it by 'World of Sacrifice' and it just rocks along as the others have so I have no issue with this, nor with 'Last Rites' that is 3:32 of straight up rock, and I dig the pre chorus here, but just wish there was a tiny bit more bang in the chorus here as Andy's lower register type vocals take away the boom, now don't get me wrong, that's just personal opinion, I did like the song just felt it was missing a little something.
Ok now we have 'Stolen Omen' and we're cooking with gas. Marching band style drums, big heavy riffs and dark vocals make this one what it is, I like what they've done here, especially with the growl vocals, were they needed? Probably not, but it does work here and that's all that matters in the end. Now we have the six minute 'Walk Away' which is another ballad that starts very soft but of course catches the mushroom and powers up accordingly. I do love how it drops down in the verses but maintains the heavy feel throughout. The solo here sounds great, the tone on the guitar is perfect for this song and oh holy shit, a key change, are you spying on me BVB?! That right there is my other favourite thing in a song and they pull it out. As we get a little 'November Rain' type vibe going on in the build up at the end, a shredding solo pretty much takes this one out and I'm 100% OK with that. There's nothing wrong with an 'epic' type song and BVB just had theirs. Well played.
The piano just got rolled away and smashed into a million pieces as 'Drag Me to the Grave' turns the volume back up and as per your typical BVB song, it's riff laden, well composed and gives us a hook to sing along to, they know what they're doing here, and I dig it. With only a couple to go, 'The Shattered God' is such a good song this late in the piece, and that always makes it easy to listen to an album when you're not just overrun with filler late into an album. This one wins in terms of chord progression in the chorus, so here's gold star for you BVB, and you faded it out, you just keep winning, don't you?! The last track on the album is 'Crown of Thorns' and a great one to go out with, it has loud everything!! With that, the album is done.
Overall, this was a cool rock record, and an album I wish more bands could make theirs sound like (thanks Bob Rock, you genius), I mean musically it's awesome, lyrically, don't expect Shakespeare, just enjoy it for what you get. There are a few bands out there doing this, but let's make it truly happen bands, stand up for rock and roll, let's bring it back. With bands like BVB making records like this, well, we're on the way. I'd happily listen to this one again.
Essential Information
From: Hollywood, CA, USA
Produced By: Bob Rock
Release date: 27th October (Universal Music Australia)
Website:  https://www.blackveilbrides.net
Track Listing:
Heart of Fire
Faithless
Devil in the Mirror
Goodbye Agony
World of Sacrifice
Last Rites
Stolen Omen
Walk Away
Drag me to the Grave
The Shattered God
Crown of Thorns