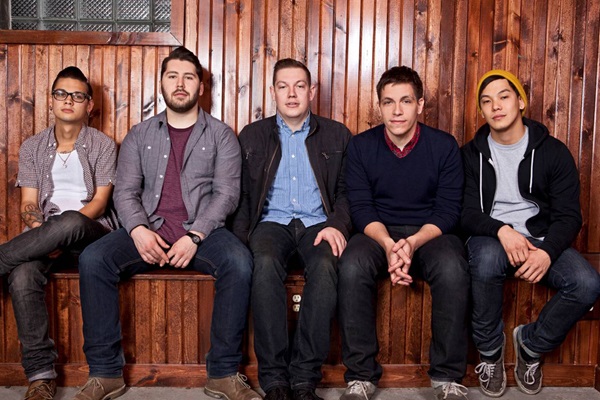 "…being in Australia is amazing. Definitely a place when you're a kid growing up in The States you're not sure if you're gonna go or if you just plan for it to be a place you wanna go, so being able to go there and see so many parts of it and actually tour is pretty special…"
From Bio: Since the May 2011 release of their debut album 'Gospel', the Detroit quintet FIREWORKS have been stretching boundaries in every way imaginable. The group have since matured musically, finding its own niche and exploring a creative atmosphere that felt more natural. The March 25 2014 release of 'Oh, Common Life' marked the official return to action of an adored rock band from Detroit. But what might be more celebratory is the triumph it represents for five men who weren't afraid to explore themselves when they needed to. Its proof that FIREWORKS has reached a point where it can do what it likes – and do it well.
Heading to Australia for Soundwave, we chatted to Fireworks guitarist Chris Mojan about their upcoming visit, their most recent album and Katy Perry…
You're headed back to Australia this time for Soundwave, how pumped are you to be a part of this festival?
Oh very excited, since we got done with it last time we've been looking forward to doing it again, so not just Soundwave, but being in Australia is amazing. Definitely a place when you're a kid growing up in The States you're not sure if you're gonna go or if you just plan for it to be a place you wanna go, so being able to go there and see so many parts of it and actually tour is pretty special, so really excited.
Who are you most excited to be sharing the tour with?
Friend wise, I know The Wonder Years have been added, so that will be cool, we've been friends with them for a long time, and New Found Glory's on there. Band wise, I'm really excited to see Faith No More play, excited to see Soundgarden *laughs* not sure what that will sound like but seems like that would be pretty cool, Ministry even for that matter will be fun and a little different for sure… I know I'm leaving out a bunch, there's just so many, but it should be exciting. We're on different days but watching Slipknot is always pretty amazing, so if we have a chance to do that one day that will be pretty incredible.
You've been to Australia before with upcoming Soundwave touring buddies New Found Glory, do you have a great memory or story from that tour you can share with us?
Probably, last Soundwave was obviously great and so many friends on it and such a great experience with how great Soundwave is to bands and things like that, but I'd have to say that truly my favourite Australian touring memory is that we did a van tour in Australia, more of a DIY think that Adrian Kelly had put together *laughs* and we actually got to drive around, I mean flying is very convenient but actually being able to drive around and even drive on the edge of the outback and see all these crazy things in between cities, that's pretty cool and I always think that's something that most people don't get a chance to see. So we feel very fortunate to be able to do that, as tough as it was in that little van and how far the drives are in Australia, it was definitely an awesome experience. Adrian made sure to not let us get away with not doing touristy Australian stuff *laughs* so he knew stuff in all these weird little cities and places and that was just really cool, was a really fun experience.
You released your third album 'Oh, common life' earlier this year, how do you feel you've grown as a band when looking back at your three albums to date?
Quite well I'd say, I think sometimes a lot of bands at times once they keep making records that kind of growth and progression kind of stops, and usually that works out for them, if that's what people like, that's cool. I think for us the growth in our three records and from record to record has been pretty substantial and something that has been really smooth and we've really been a fan of and each time it was a bit challenging to figure out what we were doing and what we were kind of heading towards, but once we did it was quite rewarding. That's something we've been really happy with and really proud about.
On the new album, I loved 'The Back Window's Down' if I can single that one out, is there a story behind that song you can share with us?
No, that's actually one of my favourite songs as well, not much of a story besides it being that we were kind of just going for the straight, simple, downstroke, kind of hazy, fuzzy catchy pop rock song, and it has a bigger chorus in it. It was a song I think that Dave and I demoed that with some fake drums *laughs* and I actually always attribute that to the kind of hole in the floor, simple vibe that goes with that song because when we did it originally it was just kind of a programmed kick and snare, just repeating, and I think that vibe went with that into the song. So it's one of my favourites, I think it has a cool sound to it.
With almost ten years under your belt, do you find that song writing has become somewhat of an easier task? 
I wouldn't say it's easier, I'd just say that it's everything for us; I mean we never try to forget that, writing and recording music is the most important thing. For us it's not about tours and what tours you do and how often, I mean the stuff that always remains in the end is your songs and your albums, so for us we're always writing, we're always throwing around ideas, I think we naturally spending time together and playing music together, I think we naturally start just falling into that next kind of stage in our band and what the sound is kind of going to be like and all that stuff. So yeah, it's not really easy, it's not really hard, it's just kind of what it is for us and kind of what we do I guess.
Watching your music videos, I was completely enthralled every time and couldn't stop watching as I needed to see what happened, in particular 'Arrows' which was so great… How important is the video aspect to the band?
To be honest with you, we don't ever think about it much, ever. That's kind of an afterthought because you know how timing turns out, you put all the hard work into the record and the writing of the recording and the recording of the record and by the time you're releasing the record that once you're all passed on that, the video aspect comes up and you're like 'oh shit, we have to do a video…' *laughs* and it's something we don't ever think of beforehand, but then for whatever reason we have a lot of people that work on our videos, so it's kind of just been something that naturally sort of happens. I think maybe we can also give credit to the record itself, we always get quite detailed with imagery and stuff on our albums, so I think that makes the video process a lot easier for us once we come to it, so what we've always used at least until this last video is that we're just not in them *laughs* and that just makes them a little more interesting.
Let's get a quick fire insight into you personally. 
What's your all-time favourite song:
*pauses* probably 'Bohemian Rhapsody' by Queen or 'Let It Be' by The Beatles
First album you bought
I think it was Bush 'Sixteen Stone'
First concert you went to?
Are we talking concert or show? First gig I guess would be Kill Your Idols, Saves The Day and H2O, just let me separate them, concert was probably something like The Village People or something *laughs* when I was young, but then first real rock show, actually one of the first real rock shows I went to was also Bush, so as funny as that is, then first show was the one I mentioned.
Do you like the Katy Perry song 'Firework'?
No not really, I do like the Katy Perry songs like 'California Gurls' and 'Teenage Dream' and stuff like that, I basically don't like Katy Perry when she tries to be serious *laughs* as shitty as that sounds, like if I'm being honest like when I hear the line about feeling like a plastic or paper bag floating in the wind I usually just kind of turn it off at that point *laughs*
What's next for the band?
We are done with this tour, we're actually going to drive straight home, which is Santa Cruz to Detroit which is a nice 35 hour drive and after we recover from that, start figuring out what we want to do in terms of holiday shows, we always do a couple of holiday shows each year. So we'll do that and that brings us into the new and with the new year comes getting ready to go to Soundwave, so really the next big thing that we're focused on is Australia and Soundwave, so quite exciting.
Lastly let's look forward, predict the future… In 2015, Fireworks will…
Oh man… Fireworks will… probably just keep gigging… I'm gonna say just keep ripping gigs… that's it man!
Catch Fireworks as part of Soundwave 2015 at the following dates:
SATURDAY 21 FEBRUARY & SUNDAY 22 FEBRUARY, 2015
BONYTHON PARK, ADELAIDE & FLEMINGTON RACECOURSE, MELBOURNE
SATURDAY 28 FEBRUARY & SUNDAY 1 MARCH, 2015
OLYMPIC PARK, SYDNEY & BRISBANE SHOWGROUNDS, BRISBANE
For tickets and more information head to
soundwavefestival.com / facebook.com/soundwavefestival / twitter.com/soundwavefest
Essential Information
From: Metro-Detroit, MI, USA
Band members: David Pest – Vocals, Chris Mojan – Rhythm Guitar, Kyle O'Punk – Bass, Brett Jones – Lead Guitar, Adam Mercer – Guitar / Keyboard / Percussion
Website: http://wearefireworks.net/
Latest Release: 'Oh, Common Life' (Out Now – Triple Crown Records)