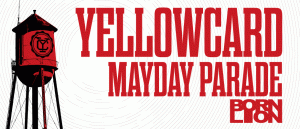 Fans have eagerly been awaiting the return of Yellowcard to Australia and Frontier Touring can now confirm that we will be bringing them back to tour Australia in July. This time the band will also be taking Mayday Parade on the road with them!
Back in action with their seventh studio album Lift A Sail (out through Cooking Vinyl Australia on 10 October 2014), Yellowcard have returned with what frontman Ryan Key acknowledges as a new challenge for the band but "still a massive rock record".
Formed in Jacksonville, Florida in 1997, Ryan Key, Sean Mackin, Ryan Mendez and Josh Portman have given us some of this generation's most resounding pop punk rock tunes including 'Ocean Avenue', 'Lights and Sounds' and 'Light Up The Sky'.
After a huge transitional time for the four members, the band's personal lives have become the driving force behind their latest record Lift A Sail. The album's lead single 'One Bedroom' is inspired by the tiny Denver apartment that front man Ryan Key shared with his wife Alyona Alekhina after the pair married in an intensive care unit in 2013.
Lift A Sail sees Yellowcard honour the nostalgic violin-infused rock, courtesy of Sean Mackin, and once again sees them growing bigger, louder and more fearless than their previous records – elements that will definitely satisfy loyal fans and draw in the music lovers of today.
"We are so excited to announce that we will be touring Australia in July of 2015 in support of our new album Lift A Sail. We will be sharing the stage with fellow Floridians, Mayday Parade! We are pumped to be able to perform in Australia again, and to share the stage with Mayday Parade!! Hope to see y'all there!!" – Ryan, Sean, Ryan & Josh (Yellowcard)
'Along with guitarist Ryan Mendez, violinist Sean Mackin and bassist Josh Portman and guest drummer Nate Young from Anberlin, the group has created a larger, more anthemic rock sound that draws inspiration from '90s acts like Nirvana, Smashing Pumpkins, Filter, Weezer, Foo Fighters – the bands that prompted the members of Yellowcard to pick up their instruments initially' – USA Today
Just last year Yellowcard toured Down Under in celebration of the tenth anniversary of Ocean Avenue, their most acclaimed album to date. The acoustic tour was met with rave reviews for a band that so many people grew up listening to and who are still able to recapture the familiar rock sounds many grew up loving.
'The electricity in the room was still alive as we filed out onto King Road, all amazed and content with one of the best shows I've seen for the year.' – The AU Review
'It's a fantastic thing when a band like Yellowcard can release a landmark album like Ocean Avenue, and still sell out a venue like the Palace ten years after its release. It's a testament to their showmanship, dedication as musicians and above all, their promises to their fans: if they keep coming to their shows, they'll keep coming to our shores.' – The 59th Sound
The excitement building around their upcoming album has definitely started rippling amongst the long-time Yellowcard fans, with 'One Bedroom' winning over many new ones.
The good news keeps rolling in with American rock quintet Mayday Parade confirmed as support on all Australian dates. The band who continue to provide fans with their iconic catchy, pop-punk style, which radiates real rock energy are back with their fourth studio album Monsters In The Closet (out now through Fearless Records). The album debuted at #10 on the Billboard 200 and #2 on the Independent Label Chart, with single 'Ghosts' emitting the perfect balance of rock and melodic and catchy pop sensibilities that Mayday Parade are known and loved for.
Furthermore, opening each show will be Sydney band Born Lion. Having been compared to bands like Fugazi, Future of the Left and The Bronx, the band played Bigsound last year and were featured as one of Rolling Stone Magazine's five most promising acts. Their track 'D for Danger' was not only quickly snapped up by triple j, who named them 2014's Next Crop Artist, but also scored plays on BBC Radio 1 in the UK.
This incredible pop-punk matchup is sure to be a nostalgic experience for many fans keen to revisit some of the most defining musical moments of the last decade. Competition for tickets is expected to be fierce, so don't miss out!
LIFT A SAIL IS AVAILABLE TO PRE-ORDER IMMEDIATELY via iTunes | JB Hi-Fi
NEW ALBUM WILL BE RELEASED ON FRIDAY 10 OCTOBER 2014 IN PHYSICAL AND DIGITAL EDITIONS
Frontier Members pre-sale:
Wed 8 Oct to Thu 9 Oct
(or ends earlier if pre-sale allocation exhausted)
CLICK FOR DETAILS
General public on sale from 10am, Fri 10 Oct

---

SAT 4 JUL
Metro City, Perth (18+)
oztix.com.au
Ph: 1300 762 545
MON 6 JUL
Thebarton Theatre, Adelaide (All ages)
ticketmaster.com.au
Ph: 136 100
WED 8 JUL
The Tivoli, Brisbane (18+)
ticketmaster.com.au
Ph: 136 100
FRI 10 JUL
Hordern Pavilion, Sydney (All ages)
ticketek.com.au
Ph: 132 849
SAT 11 JUL
Margaret Court Arena, Melbourne (All ages)
ticketek.com.au
Ph: 132 849