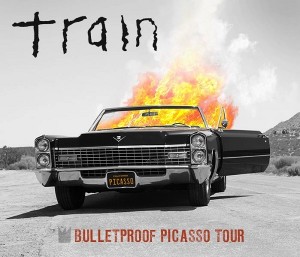 Following the announcement last week of TRAIN's Bulletproof Picasso Tour Australian dates, a last minute change to the band's international travel arrangements have required the rescheduling of dates for both the Sydney and Melbourne shows.
Train will perform now at the Sydney Opera House on Wednesday April 1 (originally scheduled for Sunday April 5 – no change of venue).
Sydney show tickets will go on pre-sale at 10am tomorrow, October 17, followed by the general public on-sale at 10am this Monday, October 20.
It has also become necessary to reschedule Train's Melbourne show.
Previously announced as Tuesday April 7, the Melbourne show will move one week earlier, playing on Tuesday March 31 at Arts Centre Melbourne, Hamer Hall (no change of venue).
Patrons who have purchased tickets for the Melbourne show and are unable to attend the new date, please contact your point of purchase before Friday November 21 to arrange a full refund (for tickets purchased through the Arts Centre Melbourne please call 1300 182 183 and for tickets purchased through Ticketmaster please call 136 100).
For complete tour and ticketing details, visit: www.livenation.com.au
Three-time Grammy award winners and perpetual hit makers, Train are returning to Australia as part of a world tour in support of their seventh studio album, Bulletproof Picasso.
Touring the four corners of the globe over the past 20 years, Train are a great live band, exemplified most recently when they rocked the 2014 NRL Grand Final in Sydney, playing to a record crowd of almost 84,000.
Already announced as a headliner at the 2015 East Coast Blues Festival (on Friday April 3), the San Francisco-based group have been responsible for some of the most successful and loved pop smash hits of the past two decades, including "Drops of Jupiter", "Meet Virginia", "Calling All Angels" and mega hit "Hey Soul Sister".
Smash hit "Drops of Jupiter" earned Train Grammys for Best Rock Song and Best Arrangement; the song remained in the US Top 40 for nearly 40 weeks. In 2011, the group won a Grammy for global hit "Hey Soul Sister", which cemented at the #1 spot in the ARIA charts for a month and becoming the most downloaded single of 2010.
The band has sold more than ten million albums worldwide and more than 30 million tracks over their 20-plus year career.
RESCHEDULED AUSTRALIAN TOUR DATES 2015:
HAMER HALL, MELBOURNE*
TUESDAY MARCH 31
previously Tuesday April 7; no change of venue
SYDNEY OPERA HOUSE, SYDNEY**
WEDNESDAY APRIL 1
previously Sunday April 5; no change of venue
MELBOURNE TICKETS ON SALE NOW*

SYDNEY TICKETS ON SALE 10AM MONDAY OCTOBER 20**

Sydney pre-sale tickets available from 10am tomorrow, October 17**
For complete tour and ticket information, visit: 
www.savemesanfrancisco.com     www.livenation.com.au