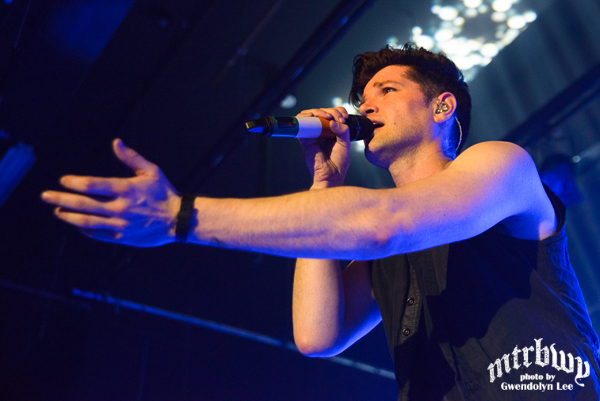 If there's one thing I love about these small exclusive type shows it's that the lucky 1,100 or so here are here as fans, they know these songs, they love this band and compared to an arena where you'll get the casual 'oh I'll go and check them out' type person, here we have fans who snapped up these tickets so quickly and tonight The Script are back at a sold out Metro Theatre where they have played once before and that was magic, but in my opinion the band just keep getting better, so let's see how tonight plays out…
Taylor Henderson warmed up the crowd with some great sing along songs and a smile on his face that looked like he was the luckiest kid in the world. The crowd enjoyed the set, his band were great and he left us all ready for The Script.
Ladies and Gentlemen, The Script… These fine Irish lads waste no time in starting the set with a track off their new album 'No Sound Without Silence' as they 'Paint the Town Green' and they know it, they love it and as the lyrics say they 'came to get down' and Danny did exactly that, as he jumps down to the front row and made some friends and you just know that this is gonna be one high energy show. The cheers got louder as the piano intro to 'Before The Worst' kicks in as did the song that came along with it. What I've enjoyed about this band in the maybe five times I've seen them is their musicianship, these guys are stellar players and each member truly makes this band what it is, and as much as Danny is the front man, it's hard to not watch the others with Mark on guitar and Glen on drums they are just as entertaining to watch. Oh my, they love the new single 'Superheroes' and with a reception like this I get the feeling they could sing anything tonight and the crowd will get louder with each song, but what I love about this show so far is the fact that the band's new album has been out for just under two weeks and to be able to hear these songs live tonight so soon after release is somewhat of a privilege. They keep the new ones coming as 'The Energy Never Dies' gets everyone involved with some 'oh ohs' but here we have a little known song called 'Breakeven' and stand by, I'm just gonna enjoy this one for a minute. Ok I'm back, and seriously that song is so well written, it's ridiculous, that was outstanding and gets better with each listen. Oh and to then follow that up with my new favourite song from The Script, we get 'Man on a Wire' and if I can use the word adore to describe a song, I'd do just that for this one, this song is a masterpiece in my opinion and I'm crossing my fingers that it gets to be a single. It sounded great live tonight and I thank them for playing it.
Throwing it back a little bit with 'Science & Faith' which did sound cool but 'Six Degrees of Separation' brought it back up with a sea of hands being pointed towards the stage and a highlight of the set so far, such a great song, but just as one kills it, the next does even better, it's a pattern tonight that's for sure, and the 'ooh oohs' everyone here knows from 'Good ol' Days' and didn't that kick ass. Back to the new album, and 'No Good In Goodbye' fits seamlessly into the set tonight, proving that as new as the new material is that it sounds like The Script, they are doing something right. This one incidentally is the next single and get ready to hear it a lot I for one welcome this onslaught. 'Nothing' is another one of those songs that The Script are amazing at writing, these lyrics mean something to people, and they sang it back like they meant it, and for a band it must be such a great feeling to hear a crowd sing your lyrics and when 'The Man Who Can't Be Moved' started acapella and everyone and I mean everyone joined in it was hard to wipe the smiles off the bands face. They tell us that this is the one where it all started for the band and the ovation it got afterwards was just wow, to the point where the band said they didn't know how they could top that and were ready to end the set. Thankfully they didn't and 'If You Could See Me Now' kept a level of love up as did 'For The First Time' which lets us know that the times are hard but don't give up… it's the perfect fade out song, that one where you know the end is near and got it in one as the band leaves the stage.
Of course only to return to a rockin' intro with 'You Won't Feel a Thing' that sees the crowd turn with amazement as Danny had made his way to the back of the venue only to walk back down through the crowd much the elation of those lucky enough to be close enough. Of course to close the show is 'Hall of Fame' and what a way to go out, they ask the place to light up with phones which is it, and special mention to the iPad, but they went out with a bang, with as much energy as they did from the first minute they hit the stage and the well-deserved ovation and bow at the end of the show had them smiling from ear to ear and a few days later, pretty sure those smiles may still be there…
I said it before and will say it again, make sure you go and see this band live, that's it, just do it. Oh and they're back in April, so there's your chance… we'll be there!
Photo by Gwendolyn Lee – check out our full gallery HERE
Essential Information
Venue: The Metro Theatre – Sydney
Presented By: Frontier Touring
Date: October 14, 2014
Supports: Taylor Henderson
Website: www.thescriptmusic.com
Set List:
Paint the Town Green
Before The Worst
Superheroes
The Energy Never Dies
Breakeven
Man on a Wire
Science & Faith
Six Degrees of Separation
Good ol' Days
No Good in Goodbye
Nothing
The Man Who Can't Be Moved
If You Could See Me Now
For The First Time
You Won't Feel a Thing
Hall of Fame