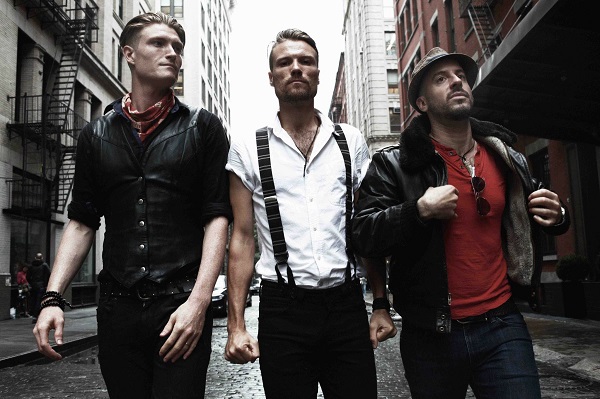 "I think the live shows and the energy of the crowd and everything has sort of driven the direction of the songs, things have sort of got a different heartbeat to it and yeah I think that the way the live shows has been going has directing our song writing a bit."
From Release: The Kin have established themselves as firm favourites with local audiences, given their unique New York/Australian blend and dedicated approach to live touring.  They will return to our shores and traverse the country again this October, playing all the favourites from their most recent EP 'Get On It' and previous album material, and have promised to throw in a few new tracks for fans!
The Kin have had a busy year so far. Fresh off their 2013 Australian and US tours supporting P!NK, the power trio enjoyed a two-month headlining tour which brought their explosive live shows to 33 cities across North America.  Following this tour they returned to Australia for a special one-off support slot for Coldplay's exclusive Enmore Theatre, Sydney show.
We had a fun chat with Thorald and the guys from The Kin while out on the road, literally… talking about their upcoming tour of Australia, new music and musical robberies. If you haven't heard these guys, you should check them out…
Welcome back to Australia or home if you like, where do we find you today?
On the way the Dubbo, and it's not every day you get to say that and we're all pretty stoked about it for some unknown reason, we're into going country at the moment. We thought that when we did go country that we'd have a tour bus, but yeah, it's just a van, it's fine.
You've visited our fine shores quite a lot over the last year, how have you seen your profile rise after each visit back?
Oh man I mean it's been amazing, the last time we came back for Coldplay, that was a huge treat, and the time before that with Pink, I think we played to something crazy like between 300,000 – 500,000 Aussies over the last year, so we're pretty stoked about it man.
The Pink tour would've been insane but how was the Coldplay show at the Enmore and how did you get the call for that exclusive show?
It has to be a combo of things, but… *Shakerleg chimes in "we're that good"* our manager really helped out with a little bit of a personal contact as well as just kind of a stroke of luck.
Ok let's talk highlights, what's been your standout moment over the last year?
Whoa… not counting the jail time? *laughs* Coldplay was amazing, but not withstanding that one, we did a big headline run this year, our own 'Get On It' tour in the United States and Canada, and we got a nice tour bus and it was just a great tour and a lot of sell out shows, and so yeah, we were just getting on a bus and living the dream. Having our own tour was ultimately the biggest win for us this year for sure.
Finally you are set to do a run of your own shows here in Australia and NZ, tell us what we can expect on the Thick as Thieves tour?
Lots of tomfoolery and shenanigans and lots of new songs… Basically since the 'Get On It' Ep we've been writing a lot ourselves and with some other talented songwriters around America and Australia and actually a guy from Ireland, so yeah, so just lots of new songs, we're performing a lot of them live and then we'll probably go back and record them in December and January. We're also about to put out a song as a free download, it's called 'So Emotional' which is about to come out as a free song for everyone, so that'll be fun to get that out.
I haven't had the chance to see you guys perform yet, will do in Sydney but can you give me one word that you think sums up your live show?
Tragic. *laughs * we love playing live for the most part which is when we're agreeing and getting along which is half the time, no, we actually get along fabulously, but a bit of outrage, just a taint of outrage that every live show needs to shackle people up and squash people into a ball and how many people can we squeeze at once. We have a lot of fun, we love serving people up and getting them involved, we love that part of it.
In terms of music, we had your 'Get on it' EP out last year, when can we expect to hear some new music from The Kin?
We're still just actually getting that part of it together, and what we're really hoping is early next year.
With a lot happening over the last year, has that been the main inspiration behind the new material?
Hmm… that's a really good question, I don't know where our current inspiration is coming from… our biggest inspiration is coming from for the songs we're writing is what do we want to bring people? What do we want people to leave with after a Kin show? That's probably the biggest piece of inspiration for the new chunk of writing. Instead of just waiting for something to come out for the first time we're maybe pointing ourselves in a direction. I think the live shows and the energy of the crowd and everything has sort of driven the direction of the songs, things have sort of got a different heartbeat to it and yeah I think that the way the live shows has been going has directing our song writing a bit.
Watching live videos of you guys there's that intensity and vibe, is it hard to capture that when recording?
Oh well you really hit the nail on the head, we're really looking to capture that sound and it's been the journey man, that's the thing… how do you squash it in to the section fifty one onto the tape, it's a good question.
You've been making music now for quite some time, was there a moment though when everything clicked into place and you knew this is what you'd have to do?
Two days ago… *laughs* we alternate days between this is it and this isn't it.
What's your favourite part about being in The Kin?
I like the laughter myself, I was crying with laughter today at least three times, that's always handy because if it wasn't fun we wouldn't be doing it, so it's definitely the fun.
Let's talk musical robberies…
Ok we can't really talk about it because we may have to capture you.
Do you have a favourite you've done yet?
Well the ones that haven't worked are always the best ones in hindsight because kind of what we started it for, we've definitely had ones that have gone south and we've been royally kicked out and you know, they're the ones that we look back and think that we should do that again. If there's too much applause and too much well received audience participation then some people might have thought it was a set up or something, but they are real. I've stolen food on occasion, we've robbed Sharon Stone's party in Los Angeles and got kicked out by the waiter and we had a getaway car, that was fun. People have told us that we're going to be sued and so forth, but just general nuisance making. For the most part it's a positive experience and people go from a small amount of fear to a great amount of relief and then especially relief when we leave…
Any plans for future instalments?
We are planning on doing one in Sydney and Melbourne as our shows are not all ages, so we have some angry younger fans that need us to be performing, so we're going to do a musical robbery in Sydney and Melbourne on the Thick As Thieves tour.
Lastly, let's predict the remainder of the year, if you can finish this sentence for me, by the end of 2014, The Kin will…
Finish our Thick As Thieves tour… The Kin will be massive in our own minds *laughs* The Kin will musically rob the Dubbo Zoo.
Catch The Kin on their 'Thick As Thieves' tour in Australia at the following dates:

WED 22 OCT – Newtown Social Club, NEWTOWN NSW (18 +)
www.newtownsocialclub.com  / 1300 724 867

THUR 23 OCT – Ding Dong Lounge, MELBOURNE VIC (18 +)
www.oztix.com.au  / 1300 762 545

FRI 24 OCT – Beavs Bar, GEELONG VIC (18 + or Under 18's with Guardian)
www.oztix.com.au / 1300 762 545

SAT 25 OCT – Old Museum, BRISBANE QLD (18 + or Under 18's with Guardian)
www.oldmuseum.org

THUR 30 OCT – Mojos, FREMANTLE WA (18 + or Under 18's with Guardian) **
www.oztix.com.au /   1300 762 545

FRI 31 OCT – The Rosemount, PERTH WA (18 +)
www.oztix.com.au /   1300 762 545

SAT 1 NOV – Fowlers Live, ADELAIDE SA (Licensed All Ages)
www.moshtix.com.au  / 1300 GET TIX
** 1 x legal guardian required for each under 18 ticket holder for Mojo's Fremantle show
Essential Information
From: New York City, USA
Sounds like: Grit Pop Rock
Band members: ISAAC (vocals, keyboards) / THORALD (vocals, guitar, keyboards) / SHAKERLEG (drums, percussion)
Current release: Get On It – EP
Website: https://www.thekin.com