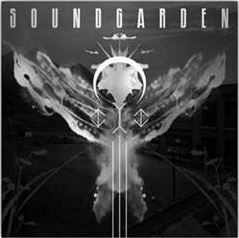 LONG AWAITED 3-CD RARITIES COLLECTION INCLUDES NEW AND UNRELEASED TRACKS.
Recognized as one of the world's most influential bands in rock music, Grammy-winning multi-platinum selling band Soundgarden started a musical transformation that inspired a generation in its record-breaking career, leaving an indelible mark by helping redefine alternative and hard rock. Hard on the heels of the 20th anniversary deluxe re-release of its chart-topping, five-times-platinum 1994 album, Superunknown, earlier this year, Soundgarden's latest release is a 3-CD rarities collection, Echo Of Miles: Scattered Tracks Across The Path, set to come out in a lavishly appointed box set, digitally and as a 14-track single CD. Among the seven unreleased tracks is a brand-new recording, "Storm," recorded in May with producer Jack Endino in Seattle.
The new collection was curated and hand-selected by guitarist Kim Thayil. Echo Of Miles: Scattered Tracks Across The Path is the first time an official Soundgarden release has included more than 26 years of rarities that have appeared as B-sides, album bonus tracks, EPs, soundtracks, compilations and live recordings, a must for any fan of the band.
Kim states, "Essentially this is a gathering together of "loose ends" from throughout our recording career. I believe "Scattered Tracks Across The Path" describes this album best. As album sets go, this one has been fun to collect and compile over the decades. I personally may have referenced this project a number of times over the years, going back almost twenty of them to the mid-nineties!"
The package features three separate thematic discs in a clear plastic slipcase with three separate mini-jackets, each sporting its own unique art, a booklet and inserts, allowing fans to mix and match, personalizing their own album graphic layout.
 Disc 1, dubbed "ORIGINALS", is filled with Soundgarden-written songs, mainly B-sides along with some soundtrack and compilation selections in addition to two unreleased songs, which go back as far as "Sub Pop Rock City," originally included as part of the 1988 compilation, Sub Pop 200. The two unreleased tracks on this disc are "Kristi," a 1996 outtake from the Down on the Upside sessions which is reportedly drummer Matt Cameron's favorite Soundgarden song, and "Storm," a brand-new track recorded earlier this year.
Disc 2, "COVERS", offers a stellar showcase of songs from bands who Soundgarden love and admire, from classic rockers The Beatles, the Rolling Stones, The Doors, Black Sabbath, Jimi Hendrix and Sly and the Family Stone to punk pioneers The Stooges, the Ramones, Fear and DEVO. Showing their sense of humor, Soundgarden also cover songs by Spinal Tap and Cheech & Chong. The two unreleased tracks include the Beatles' "Everybody's Got Something to Hide…" and the Sly Stone track "Thank You…", both of which were originally recorded for a BBC Radio 1 John Peel session in 1989.
Disc 3, "ODDITIES", offers a wide-ranging combination of instrumentals, remixes and demos. The unreleased tracks include "Twin Tower," penned by Matt Cameron, which was originally recorded at Seattle's London Bridge studio in December 1988 during the sessions for Louder Than Love. "Night Surf" is an instrumental performed by bassist Ben Shepherd which the band used to open their 1994 tour in conjunction with an introductory film which screened before they took the stage. Steve Fisk's unreleased remix of "The Telephantasm (Resurrection Remix)," will be featured as well.
Soundgarden recently headlined the first-ever US iTunes Festival at SXSW, performing all the tracks from Superunknown front-to-back in concert for the first time. Rolling Stone's review of the show summed up the night, "It was a lesson in grunge at its prime, delivered with swagger and Chris Cornell's perfectly unhinged wail, still as piercing and musical as ever."
SOUNDGARDEN 'ECHO OF MILES: SCATTERED TRACKS ACROSS THE PATH' IS RELEASED ON 28 NOVEMBER 2014 VIA UNIVERSAL MUSIC