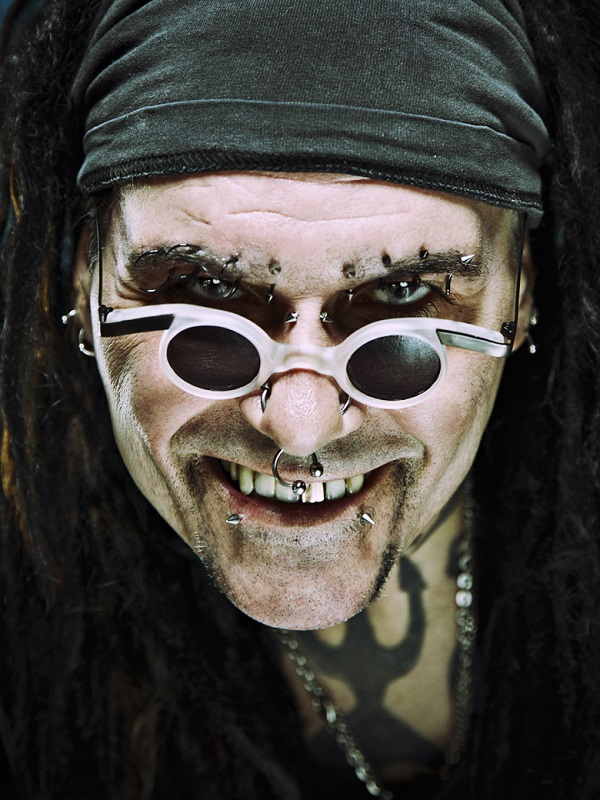 "Yeah, this is it man, people who are fans of the band and see we're playing or haven't seen us yet, or want to see us for the last time, this tour is definitely one to attend."
From Bio: From the schizophrenic opening cut, the sarcasm-dripping, sound effect-laden "Hail to his Majesty" to the thrash-punk riffs and booming bass reverberations of "Punch in the Face," MINISTRY'S new record From Beer to Eternity pulls no punches, sounding at once familiar, yet completely fresh and inspired.
Like much of MINISTRY'S catalogue, From Beer To Eternity, takes on greed, hypocrisy, capitalism, and conservatism through barbed lyrics and immaculately placed samples that earned Jourgensen the title godfather of industrial metal. While many of the songs are biting and thoroughly provoking, others are sneering and sardonic.
We had Sin from Ministry fill us in on all that is going on in camp Ministry and well… tells us that they won't be around much longer… so check out what he had to say…
Now of course we're here because you've joined the massive Soundwave bill, how pumped are you to be a part of that?
I am beside myself, I can't even express how excited I am to be a part of this and to be in Australia, for me for the first time.
Besides the shows, what's the number one thing you're looking forward to doing in Australia?
Women… there you go. All kidding aside, I've heard nothing but great things about Australia, I've never been, I'm looking forward to seeing it, I hear it's beautiful, I hear the weather's great, I hear everybody is friendly everybody's great down there so I'm just really looking forward to just being down there.
Is there anyone you're excited to be sharing the tour with?
Soundgarden and Faith No More, huge fan of both those bands, have been for years, so I'm very much looking forward to it and to be playing on the same bill as those guys.
It's been a long, long time since Ministry have been down here, so tell us what people can expect from a Ministry show circa 2014 / 2015…
We're working on a very different, very cool stage production for our 2015 tour, so I would say expect the unexpected with Ministry because we're just that band, we're that band that you just never know what we're going to do, but definitely some cool stuff in the works, we'll be doing stuff off the new record and we'll be doing stuff that hasn't been played since the early nineties.
After only being in the band for a couple of years, a hiatus hits… during that period, was there a time that you thought Ministry wouldn't play together again?
Yes… I've been with them now close to ten years and we did what we called our 'C-U-LaTour' in 2008 and that was supposed to be our last tour. So yeah I thought OK that was it, luckily we came back 2012 but it's been a lot of health issues man, that's been the main reason Al wanted to stop back in 2008, he was just not doing well health wise, he had bleeding ulcers and there was just no way to be touring like that, so he was pushing himself and so there are those times when you think it's not going to happen anymore, but I always say never say never, but I do think that this 2015 tour that we're doing, I think it will be the last one…
So Al has stated that your last album was in fact going to be the last Ministry album, is that statement still true?
Yeah, I mean as of today that is true *laughs* that this is the last album. I honestly don't think we'll be doing another Ministry record, I don't… we are working on other projects, we're actually currently right now in the studio working on a new Lard record, so there'll be other things that we'll doing, but I don't think Ministry will be around past 2015…
So we better make sure we come and see you at Soundwave…
Yeah, this is it man, people who are fans of the band and see we're playing or haven't seen us yet, or want to see us for the last time, this tour is definitely one to attend.
So let's talk 'From Beer to Eternity' it's been out for a year now, it also saw you take on a much greater role in terms of song writing, what was it like for you having this amount of input into the album?
It was great, man. I've got to say that since I came into the project, Al has always given me a lot of freedom in the studio, the first record that I collaborated on and co-wrote with him was 2007's 'The Last Sucker'  I co-wrote four of those songs on that album and played guitars on pretty much most of that record, and then on a slightly side note, I wrote the two Revolting Cocks albums, 'Sex-O Olympic-O' and 'Got Cock?' wrote pretty much most of the music on both of those albums as well, so on 'Relapse' I had one song that was actually left over from 'The Last Sucker' sessions, but 'From Beer To Eternity' it was just the same type of thing, it was the same kind of freedom that Al has always given me in the studio, but was documented more on this record *laughs* so I think this is why people are now sort of realising that I did have a decent amount of input on these songs.
Were you the one that came up with the awesome name 'From Beer to Eternity'?
No, I wish I could take credit for that, but that was our fearless leader Al who came up with that one… *laughs*
I know it's been out for a while, but in terms of the creation of the album, how did it compare to previous releases you'd been a part of?
Well I'm an old, old school Ministry and Revolting Cocks fan, and I always was influenced by the electronic side, and I'm a guitar player by trade because it's my main instrument, but I play a lot of electronics as well, I play keys or what have you when I'm in the studio. So from my end I wanted to bring in a slightly more electronic record, and you know if you listen to 'The Last Sucker' it's very guitar driven, very fast, very heavy, as was 'Rio Grande Blood', 'Houses of the Molé' then the previous album 'Relapse' also very fast, heavy, guitar stuff. So on 'From Beer to Eternity' you can definitely hear more of the electronic influence brought back, and actually Al and I were talking about this just a couple of days ago, just how electronicy that record is, so that's probably the main difference I saw.
Yeah and as I was listening to it, to me it's one of those albums where you can't just pick a song, you have to listen to it from start to finish and it flows.
Exactly, and it's very cool that you say that because somebody told me that about a week or so ago, I'm glad that we made an actual album, it's not just one track or two tracks, I mean we did consciously go in there wanting to have that sort of flow, we wanted it to be you know how you would listen to a record back in the day, you would put the needle down and you would play the whole thing and it was something as a whole as opposed to just one or two tracks.
Plus if you're going to go out on an album, it's a good one to go out on…
I think so, man, I appreciate that and I  think so, I'm very proud of this record, I think we all did a great job on it, and I'm extremely proud of it.
So what is next for Ministry and is there a picture of what the future looks like for the band or does it change daily?
*laughs* Yeah, it can change daily, but I mean we've talked about this being the last run and I really do think that's the case. Al loves being in the studio and creating and he's more of you know feeling the production side of things as we always has, so as of today that's how it looks. Will things change? Who knows? Could they change? Possibly… but as of today that's where we stand.
Well in February when you're here, if we get a chance to catch up then I'll ask you the same question and see what you say…
Awesome man, it'll probably be a completely different answer by then *laughs*
What about you personally, what have you got going on outside of Ministry?
Well I'm doing a movie, called 'The Bridge – The movie' and it stars Joe Elliott from Def Leppard, Eddie Ojeda from Twisted Sister, Ricky Warwick from The Almighty and Black Star Riders and Thin Lizzy, and Joey Santiago from The Pixies is also in it, and I also got Al Jourgensen in it, so we'll be working on that movie sometime early next year in between breaks from the tour. So that's something big and something I'm excited about working on apart from the band. I started DJing on my own, so I fly to different events all over the world to DJ and that's something new to me, so I'm excited about doing that, but other than that, it's just me being in the studio and doing a lot of session work and that kind of thing. I'm still going to be doing music in some capacity, hopefully still with Al, we've got some projects up our sleeve, probably not Ministry but it will definitely be stuff with myself and Al Jourgensen.
Lastly, I have had everyone I've spoken to this year predict what their year will end up like, so if you can finish this sentence for me, by the end of 2014, Ministry will…
Ministry will… actually be looking forward to touring in 2015, as opposed to other years where we are dreading going on the road *laughs* so that's a big change us, man, if you know anything about us that's a big change for us, so that's definitely a positive thing.
I guess if everyone's head is in the game of this will be the last one it could almost be a renewed excitement about going out would you say?
Very much so, and that's something that I have to say hasn't necessarily been there on the last few tours. I personally love touring, I can be out all year round, but I don't know, there's something about this upcoming tour, we're all just really, really looking forward to it.
Catch Ministry on Day 1 as part of Soundwave 2015 at the following dates:
SATURDAY 21 FEBRUARY & SUNDAY 22 FEBRUARY, 2015
BONYTHON PARK, ADELAIDE
SATURDAY 21 FEBRUARY & SUNDAY 22 FEBRUARY, 2015
FLEMINGTON RACECOURSE, MELBOURNE
SATURDAY 28 FEBRUARY & SUNDAY 1 MARCH, 2015
OLYMPIC PARK, SYDNEY
SATURDAY 28 FEBRUARY & SUNDAY 1 MARCH, 2015
BRISBANE SHOWGROUNDS, BRISBANE
For tickets and more information head to
soundwavefestival.com / facebook.com/soundwavefestival / twitter.com/soundwavefest
Essential Information
From: Los Angeles, CA, USA
Band members: Al Jourgensen – Vocals, Sin Quirin – Guitars / Bass, Aaron Rossi – Drums, John Bechdel – Keyboards, Casey Orr – Bass / Keyboards
Website: http://www.alfuckingjourgensen.com
Latest release: From Beer to Eternity