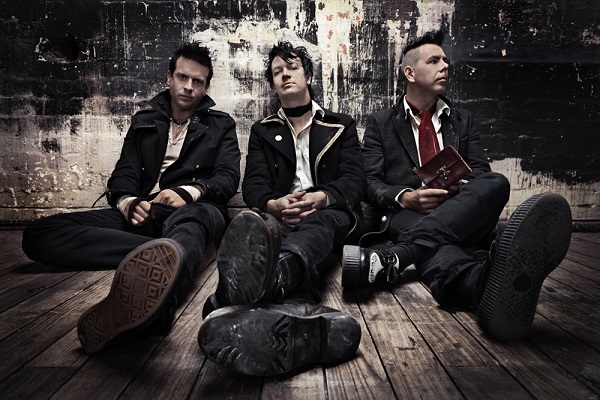 "…we've all got plenty of ideas of our own, but we haven't even really shared them with each other, we've just booked all time and said let's just get into a studio for the next couple of months, we'll come out and do these Barnesy gigs and just keep going back to the studio and keep working on new shit and just see what happens.…"
From Release: After dropping hints here and there, THE LIVING END are stoked to announce they are performing 3 very special shows in the general NSW area this October and November because, well, they bloody feel like it. TLE fans in Canberra, Wollongong and Sydney will be treated to very intimate, loud live shows featuring all of their biggest hits.
These are THE LIVING END's first headline shows since the unprecedented Retrospective Tour in December 2012, where they performed each of their six albums in full over seven nights in five cities across the country, with an enormous 11-show streak at the Corner Hotel in Melbourne, breaking the venue's record. THE LIVING END stopped press in January this year after they were announced as last minute headliners on Soundwave 2014, performing their highly anticipated sets to raucous crowds at each stop.
Ahead of their intimate headline shows, we caught up with The Living End's Scott Owen to fill us in on these shows, the beginnings of a new album from the band and also a great insight into a project close to his heart that you can help with…
So to start us off, tell us about these three shows starting this week, what was the idea behind this intimate set of shows?
Well we have a tour booked for the next almost eight weeks with Jimmy Barnes, he's going out and doing a tour of the wineries at the 'Day on the Green' tour and he's promoting a record that he's put out for the thirtieth anniversary as a solo artist since Cold Chisel split up where he invited a whole lot of his favourite bands and artists and stuff to play on this tribute record doing songs from his back catalogue, and he's trying to get as many as the bands that appeared on that album as he can to be part of the tour as well. So we're doing about ten or twelve shows with him at the wineries, and we just thought that we haven't played a hell of a lot this year *laughs* so we just thought we'd chuck a couple of gigs on the front. If we're all going to be sitting around looking at each other, we may as well be up on stage doing it…
What can we expect at these shows set wise?
I don't know, we always try and approach gigs from the perspective if the people that are coming to see us play basically, the people that are making the effort to come and see us play, we try and figure out what they would expect us to play, we figure they'd mostly like us to play the singles, play the songs that they know. So and we don't like to disappoint, so that's the majority of the set, and there'll probably be a few other more obscure songs thrown in for good measure, but the idea is to give people what they want… or what we think they want…*laughs*
Speaking of not disappointing, you played about 400 shows on the Retrospective tour, although some time ago, how much fun was that tour for you guys?
That was an amazing experience, man. When we were in the rehearsal studio, we rehearsed for a long time for that tour because we figured that we had a lot of songs to learn, it was somewhere between eighty and ninety songs that we had to have in the forefront of our minds to pull the tour off. A lot of them are songs that were either never played since recording, or only a few times since recording and we sort of buried them years ago. So we went in there thinking this is going to take us a long time *laughs* particularly Chris who had to remember all those lyrics and stuff like that, but it was amazing how quickly it all came back, once you sort of launch into a sing from the past, I don't know, there's some sort of muscle memory or some brain cells way back there in the dark regions of the brain that hung on to the information *laughs*and it was surprising how physically how easy it was. The really amazing upshot of that whole experience was all the memories that came back from songs that we hadn't played for over decade or something, the images of when the songs were recorded, what tours and countries we were in when we were promoting those records, like all those memories came back and it was an actual nostalgic experience *laughs* it was really cool.
So the obvious question is; can we expect some new music from the band in the near future?
Yeah, well the Barnesy tour is basically only gigs on the weekends because they're those winery shows, so rather than go our separate ways during the week, we've just got a whole lot of time booked in a recording studio in Melbourne, and with no preconceived ideas, because you must understand that we are geographically nowhere near each other anymore *laughs*, Chris is living in Los Angeles, and I'm living up in northern NSW and Andy is down in the south of Victoria, so we've just booked all this studio time to work on new stuff but none of us know what it's going to be *laughs*. We've all got plenty of ideas of our own, but we haven't even really shared them with each other, we've just booked all time and said let's just get into a studio for the next couple of months, we'll come out and do these Barnesy gigs and just keep going back to the studio and keep working on new shit and just see what happens.
I was going to ask about that, with you guys all spread out now, have you had to record apart or do you still make sure you all get together to make the magic happen?
Nah we've always been in the room together, we've always mapped out big chunks of time where we can just spend, actually it's a bit like a day job, getting to the rehearsal room for however many hours a day, and just nut it out between us and just work hard, I hate using the word work *laughs* because it's a pretty good excuse for work…
Play hard?
Play hard *laughs* exactly yeah! So this is a new set up for us to have no preconceived ideas and just sort of go and get in there and do it.
OK, so you know it's twenty years you've been in this band, right?
Holy shit? Really? Bloody hell I thought it was only two years ago that we started…
So, what is it that you still enjoy about being part of The Living End?
Well I really enjoy the fact that we're still really good mates… we still love each other, we still care about each other a lot *laughs* we still get along really well, no big fights or anything, no major drama and we really appreciate each other a lot. I don't know… I guess the obvious thing that I really appreciate is the fact that I haven't had to go and get a day job since I was like twenty years old or something, and that's pretty cool, we get to go out and live that lifestyle, play hard and tour and take in all these incredible experiences of travel and playing shows and meeting people and stuff like that. Then to come home and afford the luxury of not having to go to work every day, it feels like you're living a little bit of an alternative lifestyle, and I'm glad we've pulled it off *laughs*… so far anyway… *laughs* It's made life interesting…
Outside of the band, you've been busy, can you tell us a bit about your 505050 project and how people can get involved…
Yeah right, so it's a project that was cooked up by a couple of guys in Byron Bay a few months ago where they set up an organisation where they're building houses for a small island in the Philippines called Malapascua island, where in November last year there was a big typhoon. It came across from the east coast of Thailand and hit a city called Tacloban really, really badly, there was a lot of devastation there and a lot of people died and it was a typhoon that they had to create a new rating for because the planet Earth had not seen one that bad before, and a lot of the international relief went to Tacloban to help rebuild obviously as that's where it was needed and the relief from the Filipino government as well, but the island of Malapascua which is a little bit more central Philippines copped it pretty badly as well and they only got a little bit of relief from the Red Cross, there was only one drop there and this was November last year, that was some tents and some tarps and stuff, then there's been nothing since. There's still a lot of families that are homeless and sort of just living under little makeshift shelters on the island, so these guys just decided that a few of our dollars goes a hell of a long way over there so they've cooked up a way to build a house for a family of anywhere of six or seven or eight or even up to ten people for a thousand dollars by the time you get the lumber and hardware from the mainland and get it across there on a boat, and pay the builders and blah, blah, blah… so it costs about a thousand dollars to make it typhoon proof, as another big problem there is that there's regular typhoons coming through the area, I think it's a bit of a global warming issues and the ocean is so warm there that there's air pressure issues that keep causing typhoons, so these homeless families are building shelters and then every couple of weeks a typhoon will come through and blow their place apart and they have to rebuild again. So yeah, it's pretty desperate over there, I went over there about a month ago and we built a couple of places while I was there and I was able to check it all out and see all the places that the project has built so far and also meet a whole lot of the families that are on the waiting list for houses. So I have taken it upon myself since I got home to try and contribute to raising the money to get the project to its goal, which is to build fifty houses, it's at about twenty eight at the moment, so yeah, just trying to rally up a bit of awareness for the project and if anyone out there feels obliged or feels the need to support us, there's a website called www.itaintnothing.org where there's facilities there to donate, or people can do as I did and just get on board and fly over there and have a look and help out. There's plenty of ways to help. There's selfish motivation behind it as well, it's a really rewarding experience, it's a beautiful part of the world and a wonderful place to visit, it's pretty sort of idealic as far as the landscape goes, it's a little paradise island and the culture of the villages and the people that live there is really rich and really amazing to experience, but yeah, you can also do something to help to help them as well which makes the trip a whole lot more meaningful.
Lastly, let's look ahead, let's predict the future, so finish this sentence for me, in 2015, The Living End will…
Be one year older… *laughs*
Oh come on *laughs*
No that's a bit lame isn't it… The Living End will release their seventh studio album which will change the face of music for the rest of time…
That's much better than be a year older…
Well… as one year older than we are now… *laughs*
Catch The Living End at their intimate headline shows:
THURSDAY OCT 30 – ANU BAR, CANBERRA
1300 GET TIX (438 849) www.moshtix.com.au /
Ticketek 132 849 www.ticketek.com.au
FRIDAY OCT 31 – WAVES, WOLLONGONG
1300 GET TIX (438 849) www.moshtix.com.au
THURSDAY NOV 06 – THE METRO, SYDNEY
Ticketek 132 849 www.ticketek.com.au
THE LIVING END are also appearing at A Day On The Green with Jimmy Barnes this summer.
Essential Information
From: Melbourne, Australia
Band members: Chris Cheney – Guitars / Vocals, Scott Owen – Upright Bass, Andy Strachan – Drums
Website: http://www.thelivingend.com