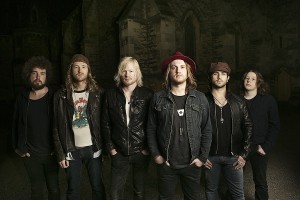 Purveyors of quality rock'n'roll, Melbourne rock band Palace Of The King is set to release their debut album in April 2015.  Ahead of this, they will whet the appetite with their riff-heavy brand of psych-blues rock n' roll, releasing a new track each month from November 2014 through to March 2015. Five months, five singles, all to be unleashed on the first day of each month.
Having already announced a launch show for the first single, No Chance In Hell, on the 7th of November at Ding Dong Lounge in Melbourne, Palace Of The King is pleased to unveil details of the launch show for the album's second single, set to take place at Cherry Bar on Saturday the 6th of December 2014.
From three minute funk-infused rockers through to seven minute
Sabbath-esque crushers, Palace Of The King has seized the opportunity to explore every intricate corner of their influences and craft a debut album that captures a band at a point where 'scratching the surface' isn't nearly enough'.   Standby for an album that tears apart the 100-year history of the blues, adds a distinctly modern edge and smothers a 'no holds barred' attitude across 40 minutes worth of riff-a-minute, hook-laden rock n' roll.
The 'freight train' metaphor may be overused and stale. But you'd be hard-pressed to find one that is better-suited to a band that has played over 170 live shows, released two EPs plus a vinyl LP and is preparing the release of their debut full-length album – all within two years of their first show.
Strap yourself in for the ride … the Palace Of The King train is leaving the station!
Check out 'No Chance In Hell' here
KEY PALACE OF THE KING DATES:
1st November 2014 – Single 1 'No Chance In Hell'
1st December 2014 – Single 2
1st January 2015 – Single 3
1st February 2015 – Single 4
1st March 2015 – Single 5
10 April 2015 – Debut Album

'No Chance In Hell' Launch:
Friday 7th November – Ding Dong Lounge – Melbourne VIC
w/ Fuck The Fitzroy Doom Scene & Darcee Fox
Tickets: http://www.oztix.com.au
2nd Single Launch:
Saturday 6th December – Cherry Bar – Melbourne VIC
w/ White Summer & Legs Electric