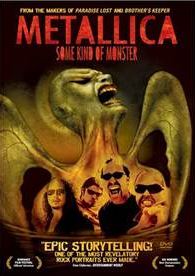 AWARD-WINNING DOCUMENTARY WILL BE AVAILABLE FOR THE FIRST TIME DIGITALLY AND ON VIDEO ON DEMAND.
Metallica will be releasing a ten-year anniversary 2-disc Blu-Ray and DVD of their out of print, groundbreaking movie, METALLICA: Some Kind of Monster on November 28, 2014.
Originally released on July 9, 2004, METALLICA: Some Kind of Monster follows the band through three of the most turbulent years in their over three-decade long career. It gives viewers an incredibly raw and intimate look into the lives and psyches of the members of one of the most successful rock bands in music history as they battle their way through addiction, domestic life, backlash from their fans, and near-total disintegration during the making of their St. Anger album. The documentary, directed by the award-winning team of Joe Berlinger & Bruce Sinofsky (Brother's Keeper, Paradise Lost 1-3), won the Independent Spirit Award for Best Documentary Feature.

"Entertaining, moving and historically significant" – New York Times
"This is an extraordinary film about a multiplatinum supergroup running headlong into a mid-life marital crisis….a hugely entertaining film" Uncut
"Fantastic portrait of a band in freefall…what a ride!" Time Out
"An absorbing insight into how difficult it can be to stay at the top of your game after over 20 years in the business" Film Review
"Surprisingly subtle, honest and well crafted" Independent
"Engrossing and uplifting human drama" Q
"Cinematic Gold." Peter Travers, Rolling Stone
"Essential viewing" Total Film
"Captivating" Empire

This ten-year anniversary release marks the first time METALLICA: Some Kind of Monster will be available digitally and via Video On Demand. The updated version will contain an additional bonus feature, "Metallica: This Monster Lives," a 25 minute follow-up piece filmed at Toronto International Film Festival 2013 during the release of the band's second film, Metallica: Through the Never, which features interview footage with the band and Berlinger & Sinofsky that looks at the decade since the release of the documentary film.
RELEASED 28 NOVEMBER VIA UNIVERSAL MUSIC.