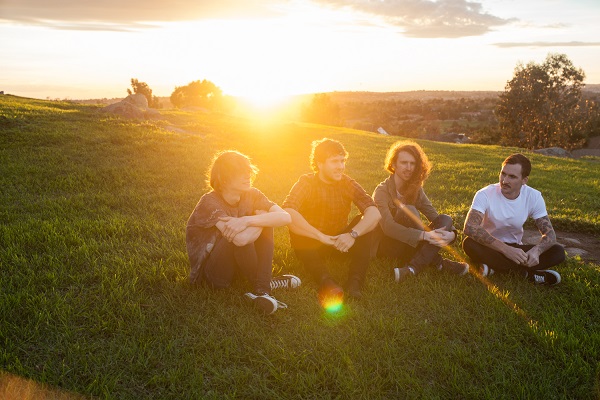 "I would say if there's anything that I can give away about the new stuff is that it's a lot more raw and a lot less polished than our older stuff, we just kind of have decided to step away from the over produced thing as much as we can this time around and just sort of make it as real and as straight from the heart as possible."
From release: Acclaimed Melbourne quartet The Getaway Plan are prepped and poised to clock up their third longplayer, and this time, the band are eschewing traditional label ties and embarking on an independent album project. Considering the length and breadth of their illustrious decade long career, it seems like The Getaway Plan have far more than three albums in their arsenal. Formed right out of high school, they were lauded as one of the nation's most exciting bands, notching up staggering radio and television exposure, an ARIA Chart Top 20 debut and touring relentlessly, pulling impressive crowds. A surprise return from retirement in 2009 was greeted by ecstatic fans, and followed by LP #2 'Requiem', which delivered the band further successes and another Top 20 ARIA debut. To make this new record, already titled 'Dark Horses', The Getaway Plan are calling on their always dedicated fans to participate in a crowd funding campaign via www.pledgemusic.com. Pledges will not only allow the band to enter the studio pronto, they will allow fans to become immersed in the creation of the album, thanks to some seriously well considered incentives…
At the rehearsal studio chipping away at new songs we chatted to Matthew of The Getaway Plan about the band's new album being created by a pledge campaign, what we can expect and the future…
I'm a huge fan of the crowd funding projects and your new album is being made this way, what was the decision behind using pledge music for what will be your third album?
Well every record that we've done, u[ until last year, we put out a little EP independently, but all of our full lengths have been with the funding and backing of a record label and we have just found from past experience that when people are investing money into something that they sort of feel that they have the right to get involved in the creative process, and we are very much a band especially these days about having complete creative control over the things we do and we just saw this as an opportunity to be able to go and make the record exactly the way we wanted to. We've seen some other bands do it and it seemed to work out for them so we just took the plunge and did it.
I love the items you have available such as the private shows etc, but did you ever think of throwing something in there really corny to see if someone would grab it?
We did… we did try to think of some crazy stuff, but I think we're kind of verging on corny already with some of the things we've put in there but we just tried to keep it as exciting and as fresh as possible. We definitely used some other bands pledge examples but we also tried to throw in a couple of things that were a little bit out of the ordinary.
So what are you setting out to do on this new album compared to previous albums?
I would say if there's anything that I can give away about the new stuff is that it's a lot more raw and a lot less polished than our older stuff, we just kind of have decided to step away from the over produced thing as much as we can this time around and just sort of make it as real and as straight from the heart as possible. As far as song style goes, there's way too much going on right now and way too much diversity in what we're doing to be able to pinpoint anything in particular but yeah…
So there's a possibility of an electro dance pop record coming?
Yeah that's it man, jazz fusion, electro dance, metalcore… *laughs*
It's called 'Dark Horses' what's the meaning behind the album name?
A dark horse is something or someone that unexpectedly comes up and wins the race, so it's a pretty optimistic title in that sense as we just kind of see this record as people not really expecting much from us at the moment. We've tried to stay pretty quiet over the last couple of years, and I think naming the record that title just sort of pushed us to take the approach that we cannot fail this time around and we have to make this the biggest and best thing that we've ever done.
Did you have that title going into it?
It was decided pretty early on, it's the name of one of the tracks from the record as well and it just really stuck out to us as well, and as soon as we started to question whether or not we wanted it to be our title, within a week everyone was just like 'yep, perfect, we're going with that.'
You hit 63% in the space of just over two weeks, are you stoked with the response so far?
Dude, it's been insane man, we're overwhelmed *laughs* just watching it tick over every day has just been insane, we're so, so grateful and so appreciative that it's worked out. It was pretty scary making the decision to do it, but that there just dissipated it instantly as soon as we saw how amazing the response was and it's been having such a rad effect on our song writing so we're stoked.
When are you looking at a release?
We're looking to release early to mid 2015… we don't want to put a date on anything just yet because we just want to make sure that the record is going to be the best possible thing it can be before we show anyone, but we don't want to drag it out too long. I would say the latest that it will be out is mid next year.
And just for those that aren't pledging right now, will it be available for everyone to buy after release?
Yeah for sure man, we'll be putting it into stores and getting it onto iTunes and all the regular way that you will generally buy a record. Definitely.
Touring wise you just finished up on the Anberlin tour, how were those shows for you?
Those shows were awesome man, they were really good. We've sort of been quiet on the Australian touring front for the last year and a half and to be able to get back out and play in front of some big crowds and do some of those venues again was wicked dude. We love the Anberlin guys, it was kind of sad because it was their farewell tour which is always a pretty sad thing to be a part of, but the vibes were wonderful, man, they're all lovely people and it was just overall a wicked experience dude. We didn't really have any expectations of whether Anberlin fans would be our fans too, but it appeared as though a lot of people were digging what we were doing and we're always stoked on that man.
I know you said you just had a break, but you last time made somewhat of a comeback only to go off again, was that intentional?
Yeah, we kind have been through a bit, we lost a drummer and a bass player in the last year and a half and we parted ways with our manager and our record label and we just have decided that we need to step back, get things in order and just make sure that we're ready to do this without too many potential fuck ups along the way. We don't want to go back and release a record and then wait four or five years before we put out the next one, we just want to make sure that we're in a place where we can consistently keep the ball rolling and do a lot more touring than we have and just keep it going man.
Can we expect to see you out on tour again soon?
Well we're hoping to do a tour just before the record is out, but at that point we also will be planning to have at least one song out to the public, so it will sort of be in between the single and the record just as the record is being released we'll be doing the Australian tour, and hopefully those dates will be announced sometime soon which will be good.
Are you somewhat nervous about doing it all this way by yourselves?
Oh dude, absolutely, there's so much more pressure involved when you have to run the business as well you know? Then doing the crowd funding thing was a pretty scary thing for us to do to put faith in our fans, but it's paid off instantly. The gratification has been so, so great. It gives us the opportunity to connect with our fans that maybe we haven't before and do some things for them and give back to them what they're giving to us, and it's wonderful, we have no complaints.
In terms of growth and evolution within the band, what do you see as the biggest hurdle you've had to overcome to be who you are today?
I would say the last year and a half, man, losing two members, because we apart from very early on in our career when we became a four piece after having an additional guitarist, we've had the same lineup for that whole period up until last year and we lost a bass player because he was having a kid, and we parted ways with our drummer because we weren't seeing eye to eye, and just losing members can be a real kick in the teeth, but we were very lucky to have two dudes that are absolutely stoked to be doing this and we just clicked instantly as musos and they brought so much to the table creatively and have made the transition so much easier. So we're definitely in the best place we've ever been right now.
So was there any thought of giving it all up?
Oh that's always in the back of your mind dude, but we can't do anything else in this world *laughs* we're born to do this, we're born to be musos and we tried to do the other band thing before, during our hiatus we went off and did a couple of other projects but we just found that there's something that we have when we work together and when we're working on The Getaway Plan that just can't be beat. We're not going anywhere dude, we're in this for the long haul.
Lastly with 2014 on the downward end, let's predict the remainder of it, so finish this sentence for me. By the end of 2014, The Getaway Plan will…
Have hopefully completed the best record that we've ever made to date, that's all I can say, that's the immediate goal for us, to just kick ass in the studio
Essential Information
From: Melbourne, Australia
Band members: Clint Owen Ellis, Dan Maio, Jase Clarke, Matthew Wright
Websites: www.thegetawayplan.com , www.facebook.com/thegetawayplan , www.twitter.com/thegetawayplan
Forthcoming release: Dark Horses (coming 2015 – PLEDGE NOW!!)