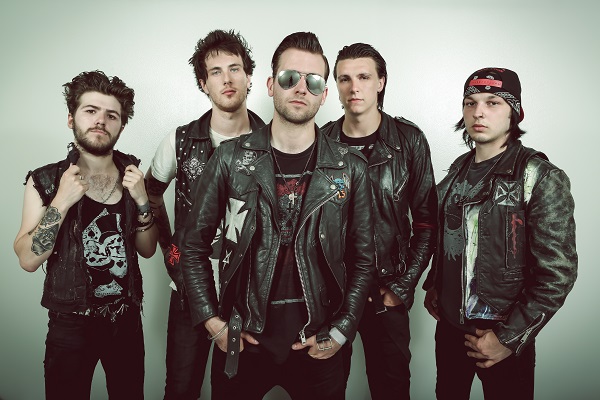 "…we're just a good time rock and roll band so we come along and bring the noise and bring big riffs and big shows and stuff like that so we're just all about having a good time and having fun, so we'll come on stage and get everyone involved, get everyone's hands clapping, having a drink and just having a good time, that's what it's all about."
From Bio: At a time when so much rock music is defined according to a specific genre or sub-genre, it's refreshing for a new band to come along who are both happy and proud to be called simply 'rock'… and when that band are just 18 years old, then the project becomes very exciting indeed: classic sounds filtered through young hearts an' minds.  Combining the drive of early Def Leppard with the song-writing ability of prime UFO and Thin Lizzy, the whole thing underpinned by the sort of low-slung riffing redolent of early Aerosmith or G n' R, The Treatment are unashamedly inspired by an era when rock bands looked like rock bands and were generally intent on causing a stir (both onstage and off); an era when the lifestyle was important, when music was everything and when vinyl was king.
We dig this band and we had the opportunity to chat to front man Matt about the band, their new album and upcoming Australian debut at Soundwave…
Now of course we're here because you've joined the massive Soundwave bill, how pumped are you to be a part of that?
Oh man we cannot wait, absolutely cannot wait, it's going to be amazing.
This will not only be your first time on the festival but your first time to Australia, what if anything have you heard from other bands about touring in our fine country?
yeah we toured with Airbourne last December, so we've heard a lot about you guys and that you really love your rock and roll music so it sounds good to us and we can't wait to come and see you.
Is there anyone you're personally excited to be sharing the tour with?
Yeah, me and the bass player are big fans of Faith No More, so Faith No More is pretty cool, Mike Patton is one of my favourite singers, he's an amazing singer so definitely looking forward to seeing them.
So, as we haven't had the pleasure of seeing you here yet, time to sell yourself and talk your band up, can you describe a typical live show from The Treatment and what we can expect when you hit our shores?
Yeah we're just a good time rock and roll band so we come along and bring the noise and bring big riffs and big shows and stuff like that so we're just all about having a good time and having fun, so we'll come on stage and get everyone involved, get everyone's hands clapping, having a drink and just having a good time, that's what it's all about.
Your newest album 'Running With The Dogs' is out now, tell us about the title, how it came about and what it means to you…
The second album is just going along as the same thing as the first album, we write about things that happen in our lives, and now that the second album is out we're a bit more experienced, worldly *laughs* that's a better word for it. So it's just about going out as a bit of a gang, going out and playing rock music and experiencing this whole ride really.
What if anything did you consciously do different in making this album compared to your debut?
I think we just took our time a bit more, like I said we've gotten a bit older and hopefully better in our song writing and hopefully better musicians… I think we were a bit more relaxed about our second album than we were the first, so I think we just took our time a bit more and kind of went over it a bit more and made sure it was exactly how we wanted it to sound and just tried to take our time over it and not force it, and let it happen naturally because we live all together, we live at our managers house, he's got a studio in his house, so for us it's pretty easy to do because we can write a song and literally go and record it straight away, we didn't have the kind of pressure of like we had two weeks to record the album, two weeks to write it, it was all very gradual so it worked out really well I think.
So you could just go down and record in your pyjamas…
Definitely, every day *laughs*
What about in terms of song writing, did you find it easier this time around after being so active for the years in between releases?
Yeah from the first album we did a lot of touring, so for us going out and playing live is the biggest thing to help to hone your craft, so for me I think after going for something like three years *laughs* my voice got a lot stronger for the second one, so I found it a lot easier to get through takes quicker, so definitely.
So let's talk about the album opener, if you do in fact bleed rock and roll, if we were to cut you open which band or bands would spill out?
Bands that spill out would be AC/DC, The Cult, Sex Pistols, Thin Lizzy, Deep Purple just to name a few, I mean we've all grown up listening to classic rock genre so all them kind of bands would be it, yeah.
Now we featured you guys as one of our 'Best Things You've Never Heard' back at the beginning of 2011… it's amazing to see how far you've come! Has the last few years been somewhat of a blur for you?
Yeah kind of, like you said we've been lucky with some of the tour slots we got and some of the experiences we've had, so for us we don't really think about it while we're doing it as obviously our main focus is to get out there and play really well and do our job right. So when we look back and see what we've done over the years we have to pinch ourselves, it's a bit of a dream really. Like I said, it's what we do, we don't really think about it, but when you do go back and think about it, it's like really, is that us? So it's definitely a bit of a blur but it's a good time as well.
Even your press photos you all look so different now compared to a few years ago…
We've grown up man, we were all seventeen, Dan was even younger, he was sixteen when we first started, so we're all in our twenties now so it's all changed, definitely.
Playing with bands like KISS, Motley Crue, Alice Cooper, Slash, Thin Lizzy and Steel Panther, did being out watching these bands night after night help you to shape the band into what we hear today?
Definitely, definitely… one of main things we do when we go on these big tours with these massive bands is to try and learn as much as we can, so we go and watch their show every night and we say 'ok, they're great at doing this, how can we make our shows like that?' not steal stuff, but more like how can we do that to our band and make it different and make it more exciting, so seeing all these exceptional bands do what they do has definitely  been crucial for us and I think why we've come along as a band as we've had so much experience now and so much learning from these bigger bands, so yeah, it's been really, really helpful for us.
What about you personally as a singer, watching people like Paul Stanley, Vince Neil and Ricky Warwick, did you learn a lot from them that you now use?
To me it is more of a front man thing, I've been lucky I've had a decentish voice from the beginning *laughs* but my front man skills were not that good, so that's the thing I struggle most is with performing. So watching people like Paul Stanley like you say and Vince Neil and Nikki Sixx, they're such amazing performers, and it taught me to become a bit more animated, so that sort of thing I took from them is more sort of performance.
What's your favourite part about being in The Treatment?
Just the kind of going out and having a good time with my mates, I mean we're all such close friends now, to me every day I'm able to hang out with my best friends, make music and just having a good time, what else would anyone want to do you know? I mean I'm really, really lucky, so every day I'm just thankful for where I am.
Lastly, let's predict the remainder of the year, so if you can finish this sentence for me, by the end of 2014, The Treatment will…
be on tour again, finishing a tour and then having Christmas off, time to relax and then thinking about the next year and how we're going to make our band even better.
Catch The Treatment on Day 1 as part of Soundwave 2015 at the following dates:
SATURDAY 21 FEBRUARY & SUNDAY 22 FEBRUARY, 2015
BONYTHON PARK, ADELAIDE
SATURDAY 21 FEBRUARY & SUNDAY 22 FEBRUARY, 2015
FLEMINGTON RACECOURSE, MELBOURNE
SATURDAY 28 FEBRUARY & SUNDAY 1 MARCH, 2015
OLYMPIC PARK, SYDNEY
SATURDAY 28 FEBRUARY & SUNDAY 1 MARCH, 2015
BRISBANE SHOWGROUNDS, BRISBANE
For tickets and more information head to
soundwavefestival.com / facebook.com/soundwavefestival / twitter.com/soundwavefest
Essential Information
From: Cambridge, UK
Band members: Matt Jones – Vocals, Dee Dammers – Guitar, Tagore Grey – Guitar, Dhani Mansworth – Drums, Rick 'Swoggle' Newman – Bass
Website: Official Facebook Page
Latest release: Running With The Dogs (Spinefarm / Caroline Australia – out now)