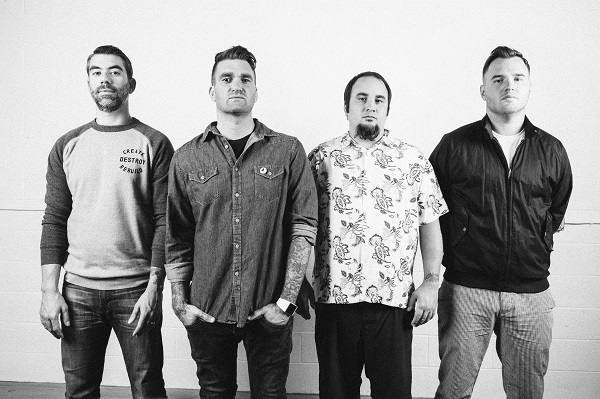 "I feel like we have kind of this new beginning in a way, I feel like the band is closer than we've ever been, I also feel that one of the biggest things why I also love being in my band is that we can be who we are without having to worry about anything."
From release: New Found Glory walked into the studio to record Resurrection with the all of the album tracks already written, which was a new and invigorating starting point for the band. After selling millions of records, interacting with countless fans and touring the world, New Found Glory feel a responsibility to their audience to bring something new and fresh to the table with every single release.
We caught up with Jordan of New Found Glory to talk 'Resurrection', both the album and meaning behind it as well as their upcoming Soundwave appearance and much more…
Your newest album 'Resurrection' is dropping early October, how would you sum up the record for the listener out there?
This record is I feel the most focused record, like we had a goal in mind and I definitely this it's the most sort of open lyrically, where it's very, very heart on our sleeve sort of record, and our most positive record I feel even though there are songs that are sort of brash and mean, but it's more on the side of hey you fucked up and you did shitty things and shitty things are happening but we're coming up stronger because of the situation, I think that's the biggest thing.
So it's fair to say is that where the title of the album comes from and what it represents to you?
Yeah for sure, I mean resurrection is more like a statement with a resurrection, where it didn't really go anywhere to begin with, it's just more of coming back and it's not saying, oh, we're making a comeback, it's sort of like saying we never went anywhere but we're back and stronger than we were.
What are the feelings like for you coming up to release time?
I mean there's definitely a little bit of nervousness, a little bit of wonder, I really wonder what people are going to think of the record because obviously we do this for our own personal selves but we do it mostly for the people that listen and the people supporting our band. So I'm always curious of what people want and what they are going to say and think, so there's that, I mean that's the biggest thing, I just want to know what people think as we've worked on it for so long *laughs* and we've worked really hard on it, and we were very open with everything, kind of laid everything out on the table lyrically with everything that's been going on in the past year and so…
Did you go into making this album any different to previous releases?
Yeah, it was the most prepared we've been for a record I think ever, I would go to Chad's house at least once a week and we would just sit around the dining room table and demos on the computer with fake drums and that sort of thing and just sit around and talk about the direction that we wanted to go and what we wanted to day lyrically. Then we all went into the studio with it all pretty much done which was a really good feeling not having to worry about lyrics or melodies or things like that.
It's also been a while since the band was involved in the producing of one of your albums, so in the time since 'Coming Home' what do you feel you've learnt in terms of producing that helped make this record what it became?
I mean I definitely think one of the biggest things is learning that less is more. In our earlier records and growing up in the hardcore scene and being a band that had toured with hardcore bands and things like that, we had to put all these guitar layers on to make the band sound heavy but over the years we've learned, especially in the past few records, musically we've learned that you don't need all that stuff to make a record sound heavy or big sounding, I think that musically that's been the biggest thing. Then lyrically I think the more honest you are, the more people can relate you know, I mean people can relate to embellished songs too, we do have some songs that are kind of made up stories that are taken from real things that happened, but I think the majority now is I think the more honest you are, the better off you are.
You were here in Australia for Warped Tour last December, and now returning for a third time on the massive beast that is Soundwave in February, how pumped are you to be a part of it again?
Yeah man *laughs* I mean Soundwave is awesome, when we've played it in the past it's great because we play a show and then you have like three days off to hang out and fuck around which is the best part about it *laughs* and obviously the size of the show is insane too.
OK, you've been here more times than I can count, do you have a favourite memory of a previous visit here?
I think probably was one of the first times we ever went out there and I like to surf and there was a tour that I brought my surfboard with me, and it was kind of a pain in the ass as it was a seven foot board and I had to pay for it on every flight I took it on *laughs* but besides that I can't describe the experiences in a couple of minutes because just surfing in these spots you've heard of your whole young years, Bells Beach and Currumbin and all these spots and I was able to get picked up in the morning super early and get out to these spots and go surfing and to me that was like one of the coolest experiences of being over there.
Now tell us the truth, did you go to Bells Beach purely because of the movie 'Point Break'?
*laughs* That and I've heard about it for so long, I live in San Diego so I'm friends with people that surf professionally and they have always talked about it.
What do you still enjoy about being in New Found Glory?
I think especially now, I feel like we have kind of this new beginning in a way, I feel like the band is closer than we've ever been, I also feel that one of the biggest things why I also love being in my band is that we can be who we are without having to worry about anything. We've always been a band that just does whatever we wanted to do regardless of radio or MTV or whatever the case may be, and for my I think that says a lot the fact that we can be that kind of band and have that mainstream success, but also there's been times where there's been records that didn't do so great but we'd still go out on tour and have sell out shows and things like that and I think to me that's the best things about being in the band.
I did enjoy your newest video too, that was quite good, what was the idea behind making it that way?
*laughs* thank you, yeah that was fun and honestly *laughs* it was just because we didn't want to be in a music video *laughs* we thought it would be fun to just have these young good looking dudes in the band that kind of looked like us and sort of making fun of ourselves about starting a band and not really knowing what you're doing and then becoming a popular band. That's really what we wanted to achieve making that video was more just making fun of ourselves more than anything. *laughs*
Lastly, let's try and predict the future, so if you can finish this sentence for me, by the end of 2014, New Found Glory will…
*laughs* hopefully have a skinnier bass player *laughs* he's trying, he's trying… *laughs*
Catch New Found Glory on Day 1 as part of Soundwave 2015 at the following dates:
SATURDAY 21 FEBRUARY & SUNDAY 22 FEBRUARY, 2015
BONYTHON PARK, ADELAIDE
SATURDAY 21 FEBRUARY & SUNDAY 22 FEBRUARY, 2015
FLEMINGTON RACECOURSE, MELBOURNE
SATURDAY 28 FEBRUARY & SUNDAY 1 MARCH, 2015
OLYMPIC PARK, SYDNEY
SATURDAY 28 FEBRUARY & SUNDAY 1 MARCH, 2015
BRISBANE SHOWGROUNDS, BRISBANE
For tickets and more information head to
soundwavefestival.com / facebook.com/soundwavefestival / twitter.com/soundwavefest
Essential Information
From: Coral Springs, FL, USA
Band members: Jordan Pundik – lead vocals, Chad Gilbert – lead guitar, Ian Grushka – bass guitar, Cyrus Bolooki – drums
Website: http://www.newfoundglory.com/
Forthcoming release: Resurrection (Unified / Hopeless Records – October 10)