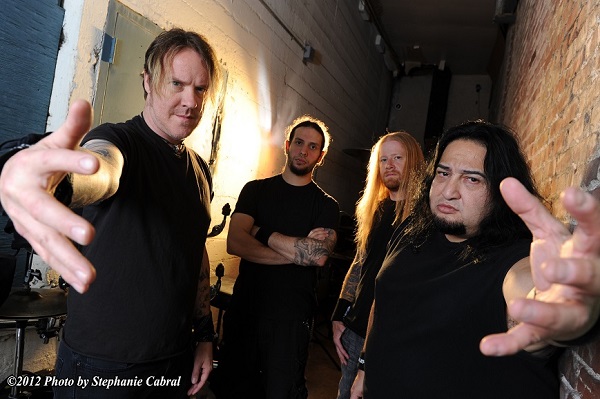 "…it's been a roller coaster that's for sure, it's evolved into a business machine that's really kept up with the times, managed to stay relevant, managed to mostly put out good music, you can't always hit a home run, but we've always put out the music we believe is right and pertinent to the times…"
From Bio: The shadow of the Los Angeles born band has loomed large, writing the book of industrial metal that has gone on to influence the likes of Rammstein and inform such stalwart noisemongers as Ministry. FEAR FACTORY also merged the idea of melodic vocals erupting from death metal screaming long before it became modern metal's de-riguer. Over the course of a many storied career that's seen the success of five critically acclaimed albums plus a remix EP and album, FEAR FACTORY has had a career of creative and commercial success, selling over three million records worldwide: they've also been plagued by bitter infighting and have emerged from it all in 2012 with a new alloy of aggression.
We gave Burton C. Bell a call to chat about Fear Factory's upcoming debut performance at Soundwave, their new home at Nuclear Blast and much more…
Now of course we're here because you've joined the massive Soundwave bill, how pumped are you to be a part of that?
*laughs* pretty fuckin' pumped man, you know we've been asked to join it a couple of times, but due to scheduling conflicts we weren't able to do it, but now we found that when we were asked to do it, it worked out that our schedule could make it happen, and I'm totally stoked because man, and I'm actually even more stoked because the line-up is fucking incredible, I'm a fan of most of these bands on the tour so hell yeah I'm fucking pumped.
On that, is there anyone you're specifically excited to be sharing the tour with?
There's four bands I can name… Faith No More, Soundgarden, Ministry and Godflesh. It's going to be fucking amazing man, I can't wait.
This amazingly will be your first time on the festival, what if anything have you heard from other bands about Soundwave?
Actually not much really, some of the bands I know that have done it said it was a good time but they didn't really elaborate… so I'm looking forward to it, I don't have any expectations but that's good.
You were only here last year on your 'Demanufacture' tour, how was that touring experience?
It was really cool, we've never in our history just played one record all the way through except for the first tour 'Soul of a New Machine' when that was our only album, we did that tour in 1993 in Australia and we did most of the songs from that record, and now since then we never played one record all the way through. It was really good, had a lot of fun, the fans were psyched, they knew the words and they were just excited to hear 'Demanufacture' all the way through, it was really cool.
Is it something you'd maybe continue down the road for different albums?
I would love to do it for 'Obsolete' I think that would be really cool, one day, it came out in 1998 so it would have to be 2018 like kind of an anniversary kind of show.
So what can we expect set wise at Soundwave this time around?
When it comes to festivals we really just try and keep a high energy show going on, so it'll probably be like Fear Factory's greatest hits, high energy songs, just keep that energy level going for the fans, so that's what we'll probably do. I would expect to hear at least one new song in the song.
What about the possibility of Side shows?
Nothing that is worked out yet, but it's something that we're planning to do. We'd like to at least get out to a couple of different places and play some small club shows, it would be worthwhile.
In other big news, you've also just signed a new deal with Nuclear Blast, why were these guys perfect for Fear Factory?
They approached Fear Factory, it was Monte Connor, he was the one that signed Fear Factory to Roadrunner a way long time ago, so between him and Mark Palmer who works in England, it was like a family reunion with Roadrunner, and it felt right and so they gave us the contract we wanted and it all felt good, so that's where we're at.
So in terms of a new album, has the new signing lit a fire under the band?
In a way yeah, we sure do have a strong label that supports us and that's what we need 100%, so yeah, it has created a bit of a fire like wow if we do this right it could do great things for Fear Factory.
Is there a set idea of how you want it to come together or are you letting it evolve as you create it?
We're letting the creation process develop it, but we are trying to come up with concepts, we have a title, we're sitting on the title right now but just to make sure that it's the right one, but the title is the way that really helps develop the concept for us and then everything just falls into place. It's going to have the Fear Factory elements, futuristic sci-fi, man vs the machine or vice versa, how technology is taking over and social issues so it will have all the elements that make for good concepts.
When can we expect to hear something do you think?
The label expects to have an album out by the end of February.
Soundwave time…
Yeah, exactly… perfect timing actually.
As a band now for close to twenty five years, how have you personally seen the band evolve into what you are today?
*laughs* it's been a roller coaster that's for sure, it's evolved into a business machine that's really kept up with the times, managed to stay relevant, managed to mostly put out good music, you can't always hit a home run, but we've always put out the music we believe is right and pertinent to the times. We managed to keep experimenting with the sound, so hmmm… we've grown older *laughs* we've had some line-up changes but that happens to a lot of people, but I think there are a lot of bands that get a 'story of' on lifetime or biography, and Fear Factory should be one of those bands that has 'The Story of Fear Factory' we should get one of those because I guarantee you it's more exciting than some of the other bands I've seen.
Well what about doing something like a massive retrospective collection?
Yeah we think about it, it would be really cool but no one is really coming to the plate and offering to do it for us, it's a huge undertaking. Definitely one day.
What do you still enjoy about being part of Fear Factory?
I actually enjoy a few things, I still enjoy the creating process and I still enjoy the touring process, you know I love playing live. It makes everything more exciting, it's a good time.
Lastly, let's predict the remainder of the year, so finish this sentence, by the end of 2014, Fear Factory will…
*pauses* be twenty four years old… I want to say will have completed its ninth, wait is it tenth studio album… I'm trying to remember how many albums we have *laughs* oh wait, by the end of 2014 Fear Factory will have perfected their sound.
Catch Fear Factory on Day 1 as part of Soundwave 2015 at the following dates:
SATURDAY 21 FEBRUARY & SUNDAY 22 FEBRUARY, 2015
BONYTHON PARK, ADELAIDE
SATURDAY 21 FEBRUARY & SUNDAY 22 FEBRUARY, 2015
FLEMINGTON RACECOURSE, MELBOURNE
SATURDAY 28 FEBRUARY & SUNDAY 1 MARCH, 2015
OLYMPIC PARK, SYDNEY
SATURDAY 28 FEBRUARY & SUNDAY 1 MARCH, 2015
BRISBANE SHOWGROUNDS, BRISBANE
For tickets and more information head to
soundwavefestival.com / facebook.com/soundwavefestival / twitter.com/soundwavefest
Essential Information
From: Los Angeles, CA, USA
Band members: Burton C. Bell – Vocals, Dino Cazares – Guitars, Mike Heller – Drums, Matt DeVries – Bass
Website: www.fearfactory.com