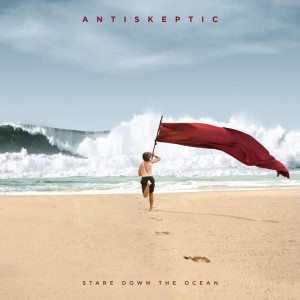 It's always funny to me when I know of a band but have never actually heard anything they've done, and after I do listen to them I kick myself and think why did I take so long to listen?! Why? So here I am today with Antiskeptic and their new album 'Stare Down The Ocean'… you'll see after reading this why I now have bruises from kicking myself, and even I'm impressed at some of the places I could reach, I mean how did I kick myself in the shoulder? I digress…
From the opener 'The Kids Aren't Scared' it's on, great hooks, great vibe and an all-round good way to start this album, this is going to be the rock that this country is missing I feel, missing as in filling a bit of a void that has been left by many bands that are no longer with us. My first taste of this album was via their amazing video for 'Hey Dissident' which is a Back to the Future inspired slab of goodness, and the song itself keeps those hooks in and shows  us how it's done. This was a great introduction for me and now being able to hear the rest of the album makes me happy, and 'When The Night Comes In' isn't letting the album down at all, this was the second single lifted from the album and a great choice in that, the video is one to see (below) and the arrangement on this one is the real winner for me, a well thought out song with perfect structure, and aside from that, it rocks.
'New Horizon' slows the vibe down a little from the initial onslaught that was the opening three tracks, then 'I'll Follow' follows on from that, with a chorus destined to see fists thrust towards any stage the band is playing on as it warrants it. The guitar tone here is pristine, and it shines in the solo and in really listening to this song with its layers and parts, they have done well in not making this one too muddy. What a kick ass track! The title track is worthy of its place, as this one is a stand out both lyrically and musically and I fear that sometimes I gush too much over some albums but I can't help but continue to love this album, as it's just delivering, maybe I'm loving it so much as it is filling that void I mentioned above but when an album resonates, well, that to me is what music is all about. So when we're six tracks into an album and I haven't got a bad word to say we're onto a good thing.
Up next we have 'Play In Reverse' which is a cool title, also a cool song, it's a lot slower than the up tempo rockers from up above but this works, it's perfectly placed on the album and just an all-round good song, and the simple lyric in the chorus really makes you think, as I can think of many moments I'd like to play in reverse… oh man, they faded it out, one of my favourite things ever, an extra three points for that. 'Empty Lungs' is a bit of a slow starter for me, but damn, that chorus reminds me of that real old school Aussie rock sound, it just has a grip and groove and it works, as does 'Suffering In Silence' and as all the others above, these songs are really well produced, and this one has it down in terms of hook in the chorus, build in the verses and overall concept and structure. An enjoyable track this far in and with only one to go, it's pretty fair to say that I'm enjoying the shit out of this album. Closing us out is 'Reach For The Sun' and a great way to go out, as we began, a rocker that does the band proud, does the listener proud and just makes me proud to be an Australian knowing that good music can still be made in this country!
So I must say that I've had this album since early September, well before release and after a number of listens it was finally time to tell you all what I thought about it, so to sum it up, not only in my opinion is this the best Australian release of the year, but I'm going to go as far as to say that this has potential if not THE potential to take album of the year for me. I've loved every second of this album and you should be listening to this… now… seriously, go and get 'Stare Down The Ocean' you won't be disappointed and if you are, well then you're listening to it wrong!
Check out our interview with Andrew of Antiskeptic HERE

Essential Information
From: Melbourne, Australia
Release date: 19th September (Independent)
Website:  https://www.antiskeptic.com.au
Track Listing:
The Kids Aren't Scared
Hey Dissident
When The Night Comes In
New Horizon
I'll Follow
Stare Down The Ocean
Play In Reverse
Empty Lungs
Suffering In Silence
Reach For The Sun