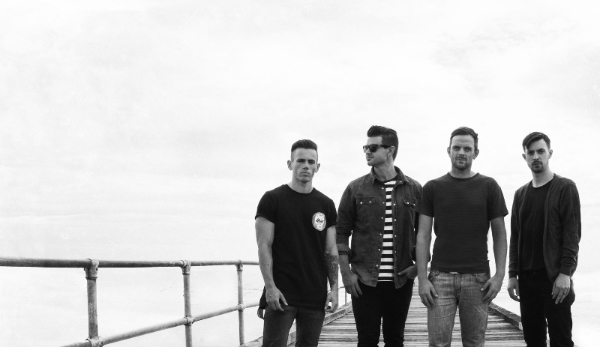 "After you've been in the studio for a long time … you're itching to play live. When you've been playing live for a long time, you're itching to get into the studio!! I love being in front of people. It just feels right and I get a real kick out of it."
From release: Formed out the back of a record store in 1999, Antiskeptic shot to the forefront of the early naughties' rush of exciting Australian rock bands like Gyroscope, Kisschasy and Parkway Drive. Their impressive 9 year run saw the band release two albums, tour relentlessly and gather a hugely dedicated fanbase. In 2008, the band drew the curtain on this dream run, with a sold out Melbourne Hi Fi Bar show filmed for a gorgeous DVD release.
Adored for their famously exciting and energetic live shows, Antiskeptic's fanbase have stuck with them since the act's disbanding, so much, so that they assisted in funding 'Stare Down The Ocean' via successful Pozible campaigns that raised over $20,000. Working closely with admired producer Forrester Savell (Karnivool, Dead Letter Circus), Antiskeptic have crafted their most cohesive and anthemic release to date, highlighting singer/guitarist Andrew Kitchen's signature soaring vocals, catchy melodies and emotionally resonant songwriting.
We had Andrew Kitchen, vocalist for Antiskeptic answer some questions for us about the band, their new album 'Stare Down The Ocean' as well as what the future holds…
Thanks for taking the time to answer some questions for us… now, six years between drinks is a long time, why was now the right time for Antiskeptic to grace us with your presence once again?
We actually reformed in 2011, and did a successful run of the country. After sorting out the line-up, and getting the songs together, successfully securing an Arts Victoria grant, renovating our studio, writing the songs, managing a few fan-funding campaigns, doing random show etc etc … here we are in 2014 with a great finished album! These things take time.
Your forthcoming album is called 'Stare Down The Ocean' can you tell us about the title and what it represents to you?
I guess there's been a bit to sort of over-come to get the band rolling again. You don't want to come back as a shadow of your former self, and with finishing up in 2008, we started with $0 in the bank at the outset!! So to me, "Stare Down the Ocean" is about facing your fears, or concerns as they come in … wave after wave, and learning to over-come them together as a band.
Well I've heard the album and it sounds bloody amazing, now when you heard the finished product for the first time what went through your mind?
That I'd made the right decision! Half an hour before receiving and hearing the finished mixes, I'd decided to quit my full-time job and just take some time out of the work force. Hearing the album settled it in my mind – I'm a musician first and foremost, and it is time to take it more seriously than ever before! On a mix level, I was blown away … Forrester had taken the songs to an amazing place, and they just sounded world class.
In terms of the songs on the album, were any of these ideas you'd had for a while or was it a case of starting fresh with everything?
Several actually. Kids Aren't Scared (track one), nearly made it on the Monuments EP in 2006!! It's always been that way with Antiskeptic albums. There's ideas that float around for years before the find a home and make it on an album. Hey Dissident (the first single), I actually wrote for another band that Nick and I were talking about forming after we wrapped in 2008, but when we decided to do kick off the band again, it just felt like and Antiskeptic track anyway.
So did you have an idea of what you wanted to do with this album or how you wanted it to sound or did you just let the album happen?
We talked a bit about wanting it to sound high energy, with really good production values (but not over the top). We tracked the drums with Forrester, but everything else at my studio … which meant we had all the time in the world to explore ideas and try things for each song. I guess we wanted to give each song individual treatment, and allow each song to have a character and a clear reason that it was on the album … but also wanting the album to flow and sit together well (which I think we've achieved).
In this day and age the crowd funding campaigns seem to be the best way to do anything, and yours was a massive success, is there a bit of pressure then on you to deliver for those that have put their complete faith in you? (Side note, trust me, they will be happy)
Yeah in some ways it is massively freeing … and immediate. You can start a fan-funding campaign, and all going well, get on with what you are wanting to do. There's not waiting for labels to create a schedule and then fit in with their release roster. But it did occur to me … that we weren't just trying to please one or two record company people … we actually had (initially) 120 supporters who had forked out to make it happen. I was confident with the songs, and the product, I just wish we hadn't left them waiting for so long. But, all good things right?
I loved your video for 'Hey Dissident', and I have to ask so who's idea was the awesome Back To The Future homage?
Nick (drummer) came up with the concept and it was developed from there by Ryan from Robot Army (video production company in Geelong). It was a real team effort that clip … I made the flux capacitor, a Geelong company printed the 'Enchantment under the Sea' banner, we found a guy nearby with a Delorean, a friend of one of our Facebook followers had a hover board, and a guy who owns a PA company in Geelong lent us a rad Shure Super 500 (classic old-school looking mic). That's just to mention a few things that fell into place to pull it off. It was a real blast.
Other side of that, you're just about to drop your new video for 'When The Night Comes In' what can we expect from this one? Maybe a BMX Bandits homage this time around?
Oh BMX Bandits … that would be amazing. Great idea – we're totally doing that. No, that one is a zombie-inspired video clip. Same production crew and a rad setting at an abandoned farm. It has come up really well actually, and another great idea by Nicko.
Touring wise, you're out in September for some shows, what can people expect at a typical Antiskeptic show?
Some old stuff, some not so old stuff and some new stuff … lots of smiles, lots of laughs and a good time rocking out together.
Are you pumped to be out there playing shows together again?
Yeah definitely. After you've been in the studio for a long time … you're itching to play live. When you've been playing live for a long time, you're itching to get into the studio!! I love being in front of people. It just feels right and I get a real kick out of it.
So is it safe to say that Antiskeptic is back to stay?
Yes … back for good, until we get old and more deaf.
Lastly, grab your crystal ball, gaze into it and let's predict the remainder of the year. So if you can finish this sentence for me… by the end of 2014, Antiskeptic will…
.. have released an album that we're really, really proud of, that pays for itself and opens a few new opportunities up to the band.
Seriously, congrats on the album guys, thanks for your time and May the Rock be with You!
No worries … And May the Rock be with you also!!
Catch Antiskeptic on tour at the following dates:
Thursday September 25th
Sydney – Newtown Social Club
with Special Guests Young Lions + Cambridge
Tickets via www.newtownsocialclub.com or 1300 724 867
Friday September 26th
Newcastle – The Small Ballroom
with Special Guests Cambridge
Tickets via www.oztix.com.au
Saturday September 27th
Adelaide – Enigma Bar
with Special Guests Young Lions + All Year Round
Tickets via www.moshtix.com.au
Saturday October 4th
Brisbane – The Brightside
with Special Guests Young Lions, Alibrandi + Beth Lucas
Tickets via www.oztix.com.au
Saturday October 11th
Melbourne – The Evelyn
with Special Guests Young Lions + Portraits of August
Tickets via www.oztix.com.au
Essential Information
From: Melbourne, VIC, Australia
Sounds like: Rock
Band members: Andrew Kitchen, Nick Coppin, Jarrod Salton, Tavis Wardlaw
Forthcoming Release: Stare Down The Ocean (Independent – out September 19 – review coming soon)
Website: http://antiskeptic.com.au/