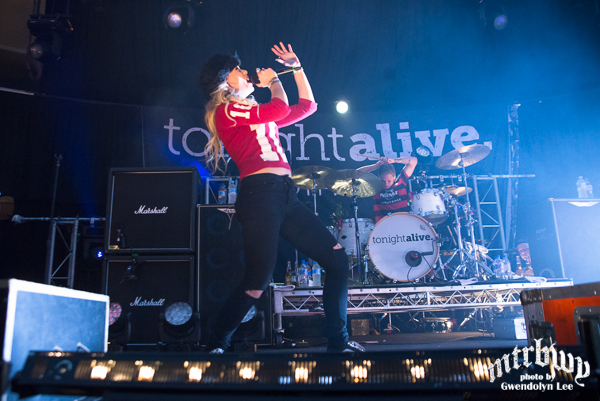 Even well before the doors open at The Roundhouse tonight there are so many people lined up, eagerly waiting to get inside to this sold out show staring the perfect pairing of You Me At Six and Tonight Alive. I know that I'll be standing at the back tonight as there's no way I'm getting anywhere near this pit tonight. They even just cheered when the doors opened. That's funny.
Opening the night tonight is With Confidence and their pop punk stylings. This is a band with catchy songs, they play well and the crowd seemed to enjoy what they were doing which is always a good sign. Oh man… OK so it's cover time, they announce this one is called 'No Scrubs' and hmm… Interesting… Did I hate it? No. Would I listen to it again? Maybe… A couple more originals that we're quite good and back to cover town and I got a little excited when I thought he said 'Mr Brownstone' but alas it was 'Mr Brightside' sad panda. Mind you, I kinda liked their version of it tonight. Truly warming the crowd up by their last song and had the floor waving along, so well done guys, great slot, hope to hear more of you soon. Maybe next time we'll get Mr Brownstone… an old rocker can only hope…
Tonight Alive are back in Australia playing shows for the first time since last December's Warped Tour, and on the one year anniversary of the release of 'The Other Side' I think tonight will be pretty damn cool. Opening with latest single 'The Edge' and wow, that sounded amazing, and for a new song, the entire crowd singing along was killer. Straight into 'The Ocean' from 'The Other Side' and talk about powerful, that one was amazing. Next up a song about not being second best 'Don't Wish' just lets the band shine and showcases the powerful vocals of Jenna. So from not being second best, we head to a song about moving on and 'Hell and Back' and Jenna commands the crowd amazingly as I watch a sea of hands wave back and forth, it looks so good.
Holy shit, it's so good seeing how far Tonight Alive have come and how much better they have gotten every time I've seen them. From 'The Other Side' is the big rocker 'Bathwater' and after each song the roars get louder and throwing it back to 'Wasting Away' for the old fans, Jenna heads down to the crowd to interact and they love it. Staying old school from their first 'What Are You So Sacred Of?' was a favourite, then as Jenna says "When we made this record in 2010 we didn't have 2,000 people there to sing it back, now we do"… and boy did they tonight. That must be such a buzz for a band. I need to make much mention of the guys too, they are one tight band! Musically they are nailing it, oh ha ha just as I give them kudos, they leave the stage and leave Jenna solo with an acoustic guitar to play 'Amelia' and it was so emotional and powerful.
Back to the newest album and where it all started with the title track 'The Other Side' and what a song in this environment, it's a song perfectly written for the live scene and it shows as that was the best song of their set so far in my opinion, if not the best song the band has ever written. 'Listening' killed it, as did 'Complexes' man her voice is fucking amazing. Sydney gets their 'bounce on' for the fast paced 'The Fire' and with only one song left, it had to be 'Lonely Girl' and all guns were a blazin' for this one and they played the shit out of it.
Tonight Alive are easily one of the best bands in Australia at the moment and it's kinda sad that they have more success overseas as this band should be owning Australia, and here's hoping one day they will, but for now it's great to have them home and playing for these fans that have been chomping at the bit to see TA live again. Bring on Soundwave.
Normally I wouldn't comment on the music in between sets but right now the majority of the roundhouse is belting out 'Don't Stop Believin' and that rules!! As it fades as do the house lights.
You Me At Six were last here with Paramore and owned the place, now tonight here on their co headline with Tonight Alive they're bound to win over even more fans. "We're not young anymore" is the opening line from 'Too Young' and they sound amazing as they begin their set of 'anthems' and I say this because every YMAS song is made for the stage and they use that to their advantage! No sooner was that done do the drums kick off 'Underdog' the crowd erupts and right now are all jumping as one during the chorus with special mention to its rock ending. I get the feeling this is going to be a huge set…
'Loverboy' followed by 'Stay With Me' kept the tempo up and the rock a rockin' and it sounds superb and I must say I don't just mean the band, the mix in here is perfect tonight. Oh as the riff for 'The Consequence' kicks in, the band just went into overdrive, then back to 'Kiss & Tell' From 'Take Off Your Colours' with its hooky chorus is a favourite as is 'The Swarm' as red lighting cloaks the band to bring this darker, heavier song into perspective and I tell you what, it kicks ass. They are on fire tonight! With the old 'everybody get down on the floor and jump up when I say' trick, they just keep wining me over (I'm a sucker for that kind of stuff)
Anthem alert!! With a 'whoa oh' screamed by those here, it's time for 'Little Death' and boy howdy, don't they love this one, even the band say 'wow' at the end of this one. Time for a few from the bands newest album 'Cavalier Youth' with 'Forgive & Forget' up first and I love the arrangement of this song with the drums in particular throughout the chorus. You can really hear on this newest album how much the band have grown musically as these songs are so well created and feel matured as shown by 'Room To Breathe' that rocks the hell out of the place.
With many a person now on someone's shoulders due to Josh's request, they dive into 'Cold Night' and surprise surprise, it sounds great. Although all the other songs have just paled in comparison to 'Reckless' that sees clothes removed and swung in the air which from up here on the balcony looks amazing, what a song! I don't want this to end!!! Oh no they've left the stage… But… But…
The chant for 'one more song' begins and of course it worked… The pit opened up for 'Bite My Tongue' which was intensely tight and heavy then 'Fresh Start Fever' has them jumping once again as we all know it's close to the end… But is that it? No… 'Lived A Lie' has more hooks than a bait and tackle shop and is the perfect choice to close out this spectacular set. A set that could've only been made better with the inclusion of 'Crash' (due to my love for a huge power ballad) but you can't win 'em all…
You Me At Six are a band I wish more people knew about, they, much like Tonight Alive should be absolute megastars and I guess it has to start somewhere, and the time is now… Check these two bands out if you don't know them. Stat.
Check out our full photo gallery from the show HERE
Essential Information
Venue: The Roundhouse – Sydney
Date: September 6, 2014
Supports: With Confidence
Presented By: Soundwave Touring
Website: www.youmeatsix.co.uk & www.tonightaliveofficial.com
Set Lists:
Tonight Alive:
The Edge
The Ocean
Don't Wish
Hell and Back
Bathwater
Wasting Away
What Are You So Scared Of?
Amelia
The Other Side
Listening
Complexes
Lonely Girl
You Me At Six:
Too Young
Underdog
Loverboy
Stay With Me
The Consequence
Kiss & Tell
The Swarm
Little Death
Forgive & Forget
Room To Breathe
Cold Night
Reckless
Bit My Tongue
Fresh Start Fever
Lived A Lie