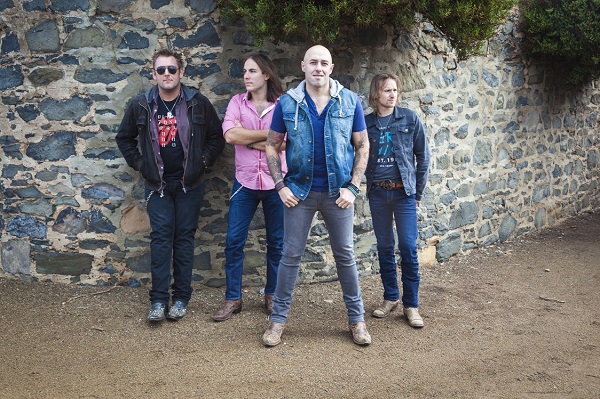 "I'd say our 'chops' came from playing rock and metal as teenagers, as is the case for a lot of people. We were exposed to a lot of country as youngsters, had our hi gain metal phase in high school, mellowed out a bit in college and eventually came back to country – but with rock ideals so thoroughly ingrained they're never going away."
From release: The Wolfe Brothers are the real deal. Like so many before them, they are the product of the Aussie pub and club scene, working hard for years, honing their craft and eventually breaking through to become……an "overnight success" ? Hardly overnight, certainly a success – with a great future ahead of them.  The Wolfe Brothers have cut their teeth over the past 18 months, touring nationally with Lee Kernaghan as both his support act and backing band, hitting every far-flung corner of Australia. After placing second in the 2012 series of Australia's Got Talent, The Wolfe Brothers, comprising brothers Nick and Tom Wolfe, along with childhood friends Brodie Rainbird and Casey Kostiuk, were signed to ABC Music and scored a deal with Lee Kernaghan's management company. The rest is history.
We had front man Nick Wolfe answer some questions for us about the band, their music, touring and why their answer to my question about a cover song makes them go up a hundred points in my good books…
Let's start with the basics; for those that aren't aware of you, can you please give us the abridged version of The Wolfe Brothers story, how you all came to be and the what seems to be a somewhat easy decision on the name of the band?
We're a group of fun lovin' Tassie lads, two brothers myself (Nick) and Tom, and two lifelong mates, Casey and Brodie that have had enough dinners at Mum's place to qualify as brothers. We've played together in one form or another for most of our lives. From our teenage angst metal phase, to the glam rock phase of our college years, a million cover gigs and everything in between we've done it together. Things really went to the next level in 2012 when we came runners up on Channel 7's Australias Got Talent series. Since then we've signed with ABC/ Universal Music, toured the country with Aus country music icon Lee Kernaghan, released our debut album "It's On" and our brand new album "Nothin' but Trouble" just hit shelves last week. It's been a busy couple of years and we've loved every minute.
Can you now please introduce each band member including yourself, and give us a rock 'n' roll fact or myth about each of you?
Ok, let's start with Tom: He's loud…like really loud. Even in his sleep he creates noise. We call him the walking definition of ADD. He's a terrible driver and is only allowed to drive the van if theres absolutely no other option. He's fine with this by the way. He's a great bass player and really is the front man of the band – even though not the lead singer.
Then there's me. I'm a lot quieter than Tom, whereas Tom lives for playing live and making a big scene of things, the best part for me is the recording, writing and creating. It's not that I don't like playing live, I love it. But just not as much as Tom.
Brodie is our own photogenic version of Angus Young, while every live photo of me comes out like I'm having a stroke on stage, Brode always pulls off rock shapes that can only be described as epic. Brode is a dedicated guitar nerd, he practices probably more often than I sleep and even builds his own pedals and amps. He also is the mediator in brotherly arguments that inevitably happen between Tom and I.
Then there's Casey. Being the only parent in the band one might think that would make him the most mature. Not so. But I'm happy to put up with the range of ridiculous noises he creates as we drive around in hire cars because the guy is a seriously good drummer… like world class. And his on stage vibe and energy puts most drummers to shame.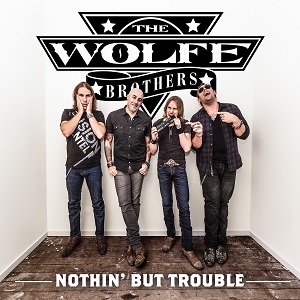 You have just released your newest album 'Nothin' But Trouble', so instead of giving us a standard review, let's say if you had to give us your best door to door sales pitch to try and convince someone to listen to it before they slam the door in your face, what do you say to them?
Hi! You like pub rock, classic rock, new country, traditional country, hair metal and irish drinking songs?! Great you need this album in your life!
In terms of your song writing, what do you consider to be the most important ingredients that make up one of your songs?
Where the subject lends itself, I try to write lyrics that are really visual because I personally love songs that take you some other place in the mind. That's what really floats my boat as a listener, and a big part of why I love country so much. I just connect with a song a lot more if there's a detailed picture being painted in my head. It's a hard thing to do sometimes as there's only so many words in a 3 or 4 minute song, gotta make each one count.
With your debut album 'It's On' out in 2013, did you set out to do anything differently this time around with your newest release?
Recording 'Nothin' But Trouble' was very different to "It's On" Whereas our first album was recorded at home, nights after working dayjobs, tracked in lounge rooms and bedrooms and mostly self-produced. This album was done at 301 Byron Bay, with Luke Wooten, a guy with over ten US no.1s to his name. To simply be in such a world class facility, with great people around and for two solid weeks, no distractions (well, ok the local nightlife was a bit of a distraction..) was just like a dream to us! Our manager Steve White who's been in the game his entire life said it was the most stress free album he's ever been involved with.
I've seen 'That Kinda Night' all over CMC of late and due to its amazing catchiness I find myself humming it randomly, so is there a story behind this song you can share with us?
The opening line "It's a roll down your windows, Night Moves on the radio…" obviously refers to the Bob Segar song. As fate would have it our producer Luke ran into Bob Segar himself in a Nashville studio recently and showed him the track. Thankfully, Bob absolutely loved it and may have got a little emotional! Absolutely crazy to think Bob Segar has even heard our music let alone had that reaction!
Lyrically and musically, currently what or who inspires/influences your music the most?
I'm serious when I say George Jones to Pantera and everything in between. We're all big fans of good music, regardless of genre. I get pissed off when I see people having this on perpetual argument about new country not being 'real' country and blah blah bloody blah.   Truly good songs cut through all the bull shit.
On the other side of that, who did you grow up listening to and how did they help create the style of music that can now be heard throughout your music?
I'd say our 'chops' came from playing rock and metal as teenagers, as is the case for a lot of people. We were exposed to a lot of country as youngsters, had our hi gain metal phase in high school, mellowed out a bit in college and eventually came back to country – but with rock ideals so thoroughly ingrained they're never going away.
In terms of touring, where can people catch you playing, and for those that haven't seen you, how would you describe a typical Wolfe Brothers live show?
You never know where we'll turn up, we've done every state bar the N.T but are heading there soon which'll be great. As they say on Wayne's World "Book them, and they will come…" We try to make our shows somewhere that people can leave there troubles at the door and just get loose for a couple of hours, regardless of age or walk of life. Fun, big energy, entertainment.  
You've been out with Lee Kernaghan for the last year and a half, has this experience of playing with and watching a veteran like Lee helped and shaped the band further in terms of your live show and presence?
Playing with L.K has been the best apprenticeship we could have asked for. Lee's very particular that the songs are played true to the album, the show runs tight and every fan gets their money's worth. He's been a great role model for us and proud to call him a great friend.
For a bit of fun, say you get the chance to open for any artist or band in the world, who would they be and why?
Any of the big US country guys, Eric Church, Jason Aldean, Luke Bryan or Florida Georgia Line. I think we'd fit like a glove on that bill so guys if you're reading this I'm waiting by the phone and our bags are packed…
If you could cover one song in your live set that no one would ever expect, what would it be and why?
Ok, gonna get a bit self-indulgent here. Warrant – Uncle Tom's Cabin. Yes. It's hair metal, but to me it's got it all – a great story, dynamic light and shade, and just some all-out energy. Kind of what we try and do with our band in a nutshell.
Lastly, with 2014 coming to a close, here's a chance to gaze into your crystal ball and see the future.  So, by the end of 2014, The Wolfe Brothers will:
1. Play a heap more shows in new places.
2. Make a heap more friends and fans.
3. Most likely get very hungover several times in the process.
Thanks for your time today and May the Rock be with You!
And also with you!
Essential Information
From: Neika, Tasmania. Australia
Sounds like: Country Rock
Band members: Nick Wolfe-Guitar, Vocals, Tom Wolfe – Bass, Vocals, Brodie Rainbird – Guitar, Casey Kostiuk – Drums
Latest Release: Nothin' But Trouble (ABC Music / Universal – Out now)
Websites: http://www.thewolfebrothers.com & official facebook page