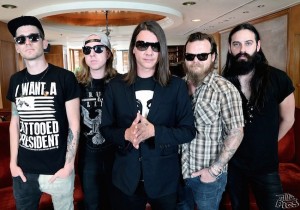 American Post Hardcore/ Pop Punk outfit 
The Red Jumpsuit Apparatus 
are gearing up to grace our shores once more, following sold out shows around the country last year.
The U.S five-piece will once again bring crowd favourites 'Face Down', 'Your Guardian Angel', 'False Pretense'and 'Am I The Enemy' down under, alongside a set of exciting new material from their recently released fourth studio album '4' which, which will be given out to ticket holders for free through a digital download.
Despite the last tour almost completely selling out, the band wish to get up close with their fans through playing more intimate venues around the country, whilst ensuring their younger fans have a chance to see the group through playing some All Ages shows.
This time around RJA will be bringing out friends Hawthorn Heights (US), who will be celebrating the ten-year anniversary of their breakthrough album 'The Silence in Black and White'.
Since their inception in 2001, the band made heads swivel with their brand of melodic post-hardcore heightened by the interplay between front man Woodruff's 'clean vocal' and the late rhythm guitarist Casey Calvert's screaming.
Their 2004 debut, The Silence In Black And White was not only a benchmark for the band (the release was certified gold-status), but also for the attendant 'screamo' aesthetic both critics and fans credit the group with bringing into the forefront. 2006's 'If Only You Were Lonely' repeated gold-selling success for the band, further establishing them as one of the worlds best dynamic live outfits.
Fresh-faced Pop-punk legends Mixtape for the Drive will be joining the two internationals on this run whilst, RJA are giving the opportunity for two local acts in each city to open up their night through the GiggedInplatform. Interested bands should head over to giggedin.com/red-jumpsuit-apparatus-tour-2014 to apply.
Tickets to The Red Jumpsuit Apparatus Australian Tour 2014 will be limited due to popular demand & venue size, and are set to sell out fast.
Various Artists, Blunt Magazine and KillYourStereo present:
The Red Jumpsuit Apparatus Plus Hawthorne Heights AUSTRALIAN TOUR 2014
Tickets on-sale Friday 26th September || 9AM AEST.
W/ Special guests Mixtape for the Drive 
Thurs Dec 4 – The Brightside, Brisbane – 18+
Fri Dec 5 – The Lab, Brisbane – AA
Sat Dec 6 – Expressive Grounds, Gold Coast – AA
Sun Dec 7 – The Coffs Hotel, Coffs Harbour – 18+
Thurs Dec 11 – Studio Six, Sutherland – 18+
Fri Dec 12 – The Small Ballroom, Newcastle – 18+
Sat Dec 13 – UTS Underground, Sydney – Lic. AA
Sun Dec 14 – Baker St. Gosford – 18+
Thurs Dec 18 – Uni Bar, Adelaide – Lic. AA
Fri Dec 19 – Evelyn Hotel, Melbourne – 18+
Sat Dec 20 – Arrow on Swanston, Melbourne – AA
Sun Dec 21 – Amplifier, Perth – 18+ **
Mon Dec 22 – Cockburn Youth Centre, Perth – AA **
** Mixtape for the drive not performing
Information and tickets available from: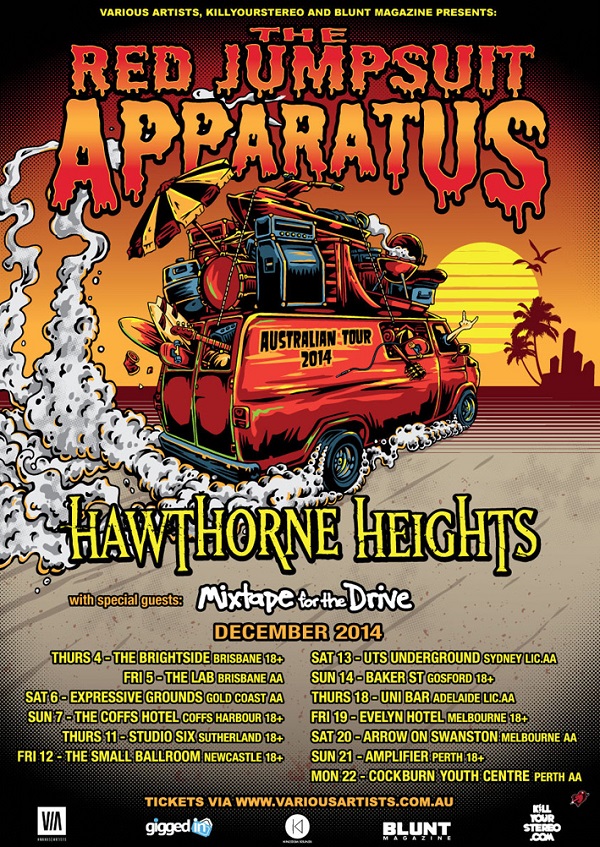 Comments
comments