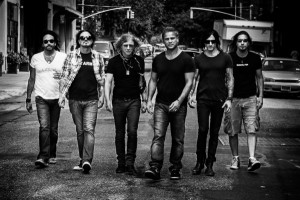 Contemporary classic rockers, The Dead Daisies, have released their new video for "Face I Love" – a tribute to their fans from around the globe.  
The video features photo submissions from more than 5000 fans globally via the "Face I Love" App, which launched the single and invited fans to upload pictures of themselves, or any face they love, to participate in a series of events as well as a contest which included a trip to join the band on the road.  The photos from the App were also uploaded to a photo-mosaic portrait for the digital version of the EP.
"For Face I Love we really wanted to make a video to honour our fans because we really appreciate them. They make it so much fun for us and we wanted to make a cool video that featured the faces we love seeing at our shows. We worked with a talented director who came up with the concept –  a CGI tornado and our skull logo made up of fan photos later… we had our video!" – David Lowy
Directed by Israeli filmmaker Gil Elkrief and Israeli Animator Moshe Zilbernagel, "Face I Love" was pieced together during a very tumultuous time for the filmmakers as they are currently in hostile territory.   The video includes live performance footage, more than 80 video clips, 200 tour photos and quite a bit of modern technology to bring it creatively together with a tornado!
"Face I Love" is the first single from their current EP, which was released in August, already receiving more than 5,000 spins in just 7 weeks, across the USA.
The Dead Daisies have spent most of 2014 on the road playing to more than 600,000 music fans across the globe, including festivals, as well as recent tours over the summer with Bad Company and Lynyrd Skynyrd, and in August with KISS and Def Leppard, with more dates being routed now!
The Dead Daisies were formed by singer-songwriter Jon Stevens and guitarist David Lowy in 2012. The 2014 lineup includes Jon Stevens (Noiseworks/INXS) on vocals, David Lowy (Mink/Red Phoenix) on guitar, Richard Fortus (Guns N' Roses/Psychedelic Furs) on lead guitar, Marco Mendoza (Thin Lizzy/Whitesnake) on bass, Dizzy Reed (Guns N' Roses/Hookers & Blow) on keys, and the new addition of Brian Tichy (Ozzy Osbourne/Billy Idol) on drums.  The Dead Daisies sophomore effort, Face I Love, was released on August 1, 2014 – the four-song EP includes the current single "Face I Love" and a cover of the Beatles classic, "Helter Skelter."
Proven a haven for creativity amongst the rock community, The Dead Daisies have an open membership policy and revolving alumni include Frank Ferrer (Guns N' Roses/Psychedelic Furs), John Tempesta (The Cult/White Zombie), Charley Drayton (The X-pensive Winos/The Cult), and Darryl Jones (The Rolling Stones).
The Dead Daisies eponymously-titled debut (released August 2013) has sold more than 20,000 downloads and features the single, "Lock 'N Load" (ft. Slash) and was voted #15 in Classic Rock Magazine's Top 100 songs of 2013! In 2013, they played more than 100 dates including headlining the Festival Stage on the 25-city Rockstar Energy Drink Uproar Tour, opening for ZZ Top, touring with Aerosmith, and winding up the year with an epic sold-out show at The Barby in Tel Aviv, Israel.