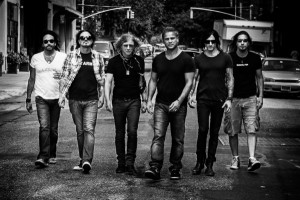 Contemporary classic rockers, The Dead Daisies, are set to hit the road again and do a number of huge shows across Australia and New Zealand in November and December, along with releasing a second single, "Angel In Your Eyes", from their Face I Love EP.  
The Dead Daisies will headline shows in Melbourne, Adelaide, Brisbane, and Sydney, as well as a much-anticipated performance in Perth for all their West Aussie fans, playing one show in each city.  The band is also excited to announce that they will be playing some dates with the legendary Jimmy Barnes as special guests on the NZ leg of his upcoming tour.
After a mind-blowing couple of months touring across the USA and performing to massive crowds in excess of half a million people over the summer, with KISS and Def Leppard in August, and Bad Company and Lynyrd Skynyrd during July, The Dead Daisies are looking forward to getting over to New Zealand with Jimmy Barnes, in late November, before heading home back across the Tasman to play 5 shows in Australia, adding to what has already been an extraordinary year for the band.
"I'm super excited to head back to Australia and to visit some new places!  Playing shows with Jimmy Barnes is always fun and it's always really inspirational. I enjoy touring with those guys…it's a real family vibe.  Can't wait to be back in Australia and play some new songs for our fans there!" – Richard Fortus
Set for release in late October is "Angel In Your Eyes", the second single from their latest EP, Face I Love.  "Angel In Your Eyes" is an epic, guitar-fuelled song, accompanied by Stevens powerful vocals, with drums and keys also hitting the mark.
"When the drums kick in you can't help but start nodding your head to the beat, just before the heavy hi hat rolls in, making the song feel much louder as the vocals ride over the top. The vocals are superb on this EP and Jon Stevens has a naturally soulful voice with a broad range.  Again the keyboards are instrumental in this song providing that subtle melody which is becoming a trade mark of this band." – Rock'n'Load review of "Angel In Your Eyes", Sep 15
AUSTRALIA & NZ TOUR DATES
# with Jimmy Barnes
Tue, Nov 25 – Hamilton – Claudelands Arena #
Wed, Nov 26 – Auckland – ASB Arena #
Fri, Nov 28 – Christchurch – Horncastle Arena #
Sat, Nov 29 – Dunedin – Town Hall #
Sun, Nov 30 – Melbourne – The Corner
Wed, Dec 3 – Adelaide – Governor Hindmarsh
Thu, Dec 4 – Perth – Rosemount Hotel
Fri, Dec 5 – Brisbane – The Triffid Bar
Sun, Dec 7 – Sydney – Oxford Arts Factory
Australian tickets on sale Monday, September 22
NZ tickets on sale from midday Monday, September 29 #
Visit The Dead Daisies website for more info