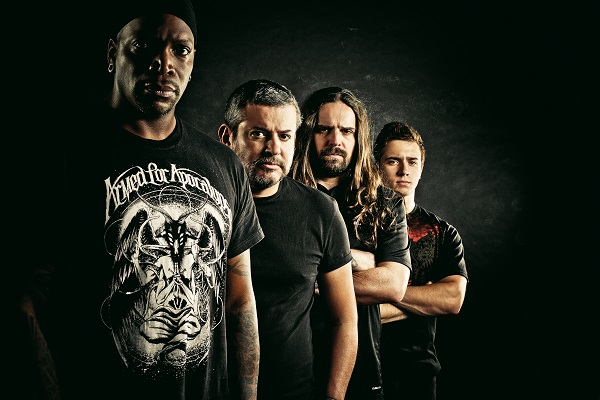 "…definitely we can come up with some surprises, but we definitely go through the history of the band, you know we're coming back around the time we're about to turn thirty as a band, so we've been trying to play a little bit of everything, a bit of the whole history of the band."
From release: It was the city of Belo Horizonte, Brazil that launched the ascent of their native sons in SEPULTURA (Portuguese for "grave") in 1983 with a trajectory unsuspectingly aimed at the worldwide metal music scene.  A band with humble economic beginnings whose musical identity was forged in the context of living through Brazil's authoritarian military dictatorship, SEPULTURA would go on to become Brazilian ambassadors to the metal world, revered master architects of the death/thrash genre, and the most successful and influential heavy metal band from the Federal Republic of Brazil.
We skyped in with Paulo Jr in Brazil and he filled us in on the band's upcoming Australian tour, as well as touring in general, new music, old music and the Brazilian metal scene…
This is your first time to Australia since 2003, what's taken so long for you to come back?
I don't know you'd have to ask the local promoters from Australia, we've been waiting for a long time now *laughs*.  I'm sure that it's going to be easy to adjust in Australia, it's a very great country and I have great memories from it and great friends that we made through the years touring and I'm glad we're going to have the chance to see them all after so many years, it's going to be a great one.
Have you decided on how you'll shape the Set list for the Australian tour?
I'm sure we can think of something, even for the fact that we haven't been there for a long time, definitely we can come up with some surprises, but we definitely go through the history of the band, you know we're coming back around the time we're about to turn thirty as a band, so we've been trying to play a little bit of everything, a bit of the whole history of the band.
What can people expect from a Sepultura show in 2014? 
Lots of music, and lots of energy and I think together with the Australian crowd it will be a pretty good concert.
How about giving us one word that you feel would sum it up?
Metal… *laughs*
You've also got Eloy on drums now, how has he settled in after a couple of years in the band now?
He's broken in for sure, you'll have the chance to see 'The Kid' we call him The Kid, he's out of control, he's amazing, you're going to see that we're going to be really blown out by his power behind the drums.
Do you have a great memory of a previous trip to Australia?
Yes it was great man, every time that we went to Australia, all the shows, I have great memories, we're very excited about it, we have high expectations for this run and I hope that we can do it the best we can to make it as strong as possible so we will have the chance to come back there and not taking another decade, I would be very pleased about it *laughs*.
What do you remember about the metal fans in Australia from your last trip?
Yeah the fans, I hope to see all the old blokes there and the new ones, I want to see the new generation of metal heads in Australia, which I'm sure there will be a lot of, I'm sure it will be a good one.
Hard to do, but do you have a favourite song to perform live?
No, I like all of them, it's very hard to pick one song, they all have a meaning behind it so it's good to perform all of them, each one represents a type of period on the history of the band, so it's good to play a little bit of all of them.
Being there from day one, what's been your own personal highlight of your career thus far?
I think the first time that we came out of Brazil, the first time we came to Australia, to places that we never thought we would be playing or seeing, but every time that we come back, even the places that we come every time, it's a renewed feeling and it's great, and I'm sure it's going to be the same when we hit the Australian ground and I think it'll be great.
Also, from the start means thirty years you've been a part of this band, what do you still enjoy about being in Sepultura?
The stage and the chance to travel the world, to see the different cultures, I think that's the best part of it all you know? Of course if you don't make a good record and put out a good record then that's never gonna give you the chance to do all the stuff that we have been doing for the past thirty years, but I can assure you and most of the musicians will tell you that the best part is the travel part and to be on stage in different countries. That's where it really pays back.
Is there anywhere that you want to tour that you haven't been able to get to yet?
Yeah there is still places that we need to go, even places in Australia that we haven't been, every time that we come back in Europe there's a new city that we never thought would exist, even the places we play the most, when we get back it still surprises us, so I'm sure there is places in Australia I would love to go and around Australia, we can go and still make this worth it.
You released your thirteenth album last year, is the band constantly writing and any chance of some new music sooner rather than later?
No, we usually don't write on tour but of course when you have an idea you keep your recording device close to you, this way we can try to use for the next writings, but we usually don't write on tour, what you can expect maybe is for us to play some songs we've never played before, maybe some surprises, we can see to it because it probably will surprise me too *laughs* sometimes I forget it's been too long.
When do you finish up touring on this run?
We finish this part in December, I don't know exactly when as there are still some sows to be added then we have the break at the end of the year, then we pick it up in the new year and we basically still have another year touring for this record, so we should go back some places and I hope that we can, to me I'd back to Australia anytime they call us *laughs*
It'd be fair to say that Sepultura were the major force behind Brazilian metal, how have you seen the scene come up around you since you started it?
Brazil nowadays has a lot of new bands, it's a very strong metal scene, it's not a very big country, but there are a lot of places that we never had the chance to play, and when we do play there it's very nice to see there's a local metal scene. So I would say that it's a country still young on this segment, but it's a strong country and it has grown throughout the years and I think there are many bands that come here to play and Brazil has been added to the world heavy metal circuit, so a lot of bands have come to play and I think Sepultura really helped that to happen.
As well as being an influence on a lot of those bands too I'd dare say…
Yeah I think so *laughs* I hope so… *laughs*
What are you listening to these days?
I'm still an old rock and roller, I still listen to the old stuff, but I like to listen to some new people, but I always listen to especially when I'm travelling or driving, and after this interview is over I'm getting into my car and driving back to San Paulo and probably be listening to my old favourite, Rush and some Black Sabbath and it keeps me on the road *laughs*
Do you have a message for your Australian fans?
Basically we are very happy to have this chance to go back and we're very excited and ready for it and we hope everybody will be pleased after the concerts and bring us back as soon as possible *laughs*
Lastly, let's predict the future, so finish this sentence for me, by the end of 2014, Sepultura will…
Will be thinking of 2015 *laughs* I hope so… then at the end of 2015, hopefully 2016 will be good for us
Catch SEPULTURA at The Mediator Within Australia and New Zealand October 2014
Wednesday 1ST – The Studio – Auckland
Friday 3RD – 170 Russell (Ex Billboard) – Melbourne
Saturday 4TH – Hi Fi – Brisbane
Sunday 5TH – Manning Bar – Sydney (Labour Day Eve)
Tickets only $59 + booking fee's available HERE:
Essential information
From: San Paulo, Brazil
Band members:  Andreas Kisser – Guitars, Derrick Green – Vocals, Eloy Casagrande – Drums, Paulo Jr. – Bass
Latest Release: 'The Mediator Between The Head And Hands Must Be The Heart' (Out Now – Nuclear Blast)
Website:  http://www.sepultura.com.br