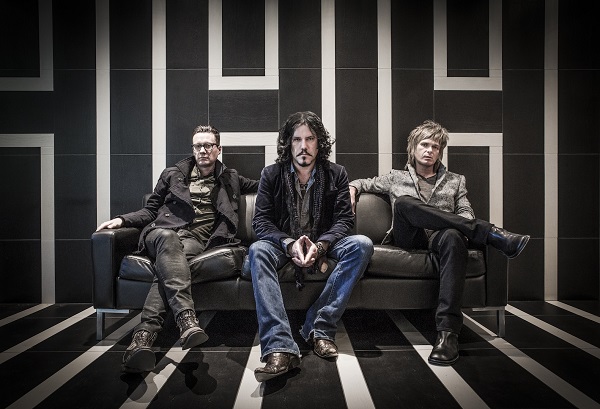 "…So going back to what I said about me being the captain of the ship is that I wouldn't let that record become public consumption if I didn't feel that it stood up to anything that we've done, the best of what we've done and here we are… The Ocean At The End…"
From release: Canadian purveyors of rock THE TEA PARTY will return to Australia for a National Tour this October.  The Ocean At The End Tour marks The Tea Party's fourteenth Australian visit and coincides with the release of the beast, that is, The Ocean At The End – the trio's first studio album in ten years. Throughout The Tea Party's 2012 sellout Australian 'Reformation Tour', after 8 years apart, it was clear to see that the on-stage magic between Jeff Martin, Stuart Chatwood and Jeff Burrows remains as strong as it ever was. The reunion sparked a calling for the band to return to the studio and lay down songs for a new recording, much to the delight of TTP's longstanding devotees.
We can tell you that we're excited to have The Tea Party back and making new music, so we gave Jeff Martin a call to chat about the return of The Tea Party and their new album 'The Ocean At The End' as well as their upcoming Australian tour and more…
Thanks for your time again, Jeff. Always a pleasure… and I guess first off now that we can talk about The Tea Party, was it an interesting experience after ten years between releases to get together to create this album?
Absolutely, well here it is in a nutshell… when the three of us decided and we came to the realization that after seven years of being apart our differences that seemed so important in the beginning of our hiatus, in seven years it has dissipated to the point that it was almost petty you know? We decided to get back together and when we did that, I think the three of us were in agreement that it was almost like a criteria that we had to be able to tick off the boxes, and there was a three stage affair. Basically the first box would've been, ok, can the three individuals get back on a stage and be that band again, be great, powerful, all of that, magick with a k and everything else. So the reformation tour here in Australia was like yes, we can tick off that box, we can be that again. Second thing just as important would've been, the three of us, and Jeff and I, I've known Jeff since I was five years old, so you hear other bands say 'oh we're like brothers' and stuff like that but with this band there's weight to that statement because we've just known each other for such a long time, basically all of my life I've known Jeff Burrows and I've known Stuart since I was twelve years old, and so what was important  is that yes the band is rockin' and the magick exists but can that brotherly love, that respect, that trust for one another, can we get that back? It took some time, it did take some time because without going into detail, truth be told in the halcyon days of The Tea Party I was the captain of the ship, but towards the end for reasons that I don't really want to go into, I wasn't that anymore for the band, so Jeff and Stuart lost their captain, and so I had to basically prove to myself and to Jeff and Stuart that I could be that captain of the ship again and that box was ticked off, I proved that as well. Then it was like ok, we have to do music now, we have to, because now we love this again, it's back, we're in control, it's back in our hands, we have to make a new record, now that being said for The Tea Party to make a new record, we're dealing with a legacy, we're dealing with this these big musical statements 'The Edges of Twilight', 'Transmission' and all that stuff right? And because the three of us demand the best out of one another together so if we were going to make a new record it just had to stand up alongside of the best of our work or there's no point in doing it at all because we don't have to make a record, we want to, we should, but there was no pressure from record companies or anything like that, we do it for the sake of art and the labour of love and can we do this and we took our time, we did it over a year and a half in spurts, there was four recording sessions, perhaps two weeks at a time, then we took months off we just let the record organically grow and we sat back and looked at it and listened to it and all that. So going back to what I said about me being the captain of the ship is that I wouldn't let that record become public consumption if I didn't feel that it stood up to anything that we've done, the best of what we've done and here we are… The Ocean at the End…
Of course the album is called 'The Ocean at the End', where does that come from and what does that represent to you?
Well, it comes from this, right now I'm standing in my home here in Perth which is also my recording studio, it's also an art gallery for my business partner and business manager and this building was built in 1902 in Fremantle just outside of Perth, literally from my window here I'm at my console and I can see the ocean and Perth is the most isolated city in the world. I was living in Byron Bay for the last five years up until March of this year, I was in a relationship and that ended and I've always had a connection here with Perth because my ex-wife Nicole and son Django being here and lots of family and everything, so I decided to come back here to be closer to Django and truly, this is the ocean at the end, I found my home again, spiritually and physically and all that, it's just I have everything here I need to create anything that I need to do.
What was the feeling like when you heard the finished product for the first time?
It's kind of bittersweet that it's just such an enjoyable process that you don't want it to end *laughs* but of course every journey has its destination and we arrived at the destination and I'm quite satisfied with the result. It's cathartic maybe, that's the one word to describe it because The Tea Party's music is so emotional and it's heavy, it's not like music you can put on to clean your house to *laughs* when you put on a Tea Party record you have to listen to it, and especially because these songs and these lyrics that I've written, and the band absolutely equals in writing the music, but the responsibility of writing the lyrics has to fall on my shoulders because I have to sing it, so I have to own it and have to believe in it and it's come from experiences in my life, so it's heavy to listen back to because I'm telling the truth in every single song, it's real, these are no stories, these are not fables, it's real.
One song I was extremely pleased to hear was 'The Maker' a song I know you've been playing for some time, why was this song so important to make it onto the album?
Oh just because we wanted to make Daniel Lanois some more money *laughs* I don't know man… of course ever since we did The Messenger and since actually I'd heard Daniel's work, his solo work I am so much a fan of his solo work even more so than with his production with other bands, I think Daniel Lanois truly taught me how to write great songs, and the proof is in the pudding, you listen to his solo material and it's just so engaging like it grabs your heart. What The Tea Party does to it is that Daniel's production of it is very ethereal would be the best way to describe it, the way that he does it, whereas The Tea Party we bring it more into a rock and roll things and it does have our signature on it. One of the greatest compliments I've ever received came from the man himself, it would've been in the early 2000's maybe 2002 at the Toronto film festival where for one night The Tea Party was Daniel's backing band, it was Daniel singing and the three of us were his backing band, and he said to me that he loved our version of 'The Messenger' which was a big hit in Canada and elsewhere and all that, and he said to me and Jeff 'I think I should just keep writing songs for The Tea Party' *laughs* and he's a hero, he's a mentor, as far as people and when it comes to once again being the captain of the ship and the recording console and I'm the producer of The Tea Party, there's really only three people I could name right now that I would step away from the recording console and say 'yeah you take over' and that would be Daniel Lanois, it would be Jimmy Page or like George Martin, that would be it.
You mentioned before that it had to feel right for you, but were you in a way surprised by the amount of love that there was for The Tea Party during that reformation?
um, no, I was not, obviously with me living here and all of the solo stuff I had done before that, I knew how much Australia wanted The Tea Party again, where I think Jeff and Stuart were really taken aback by how it all came about and just the response because they weren't here for seven years and I was and they didn't know what to expect and it's humbling in the best possible way.
Of course you're also hitting the road again for some club and theatre shows, after the big run in 2012, what's the idea behind hitting these smaller venues?
Well basically we're doing, it's still early days and we're probably going to end up doing multiple nights in some places, like we're doing The Palais, we're doing The Enmore Theatre and whatnot, but basically what it comes down to in a nutshell is that Jeff and Stuart want to stick around longer *laughs* they don't want to just come here for a couple of weeks. So, well, you know if you guys wanna stay longer, why don't we go back into the B Markets like we used to in the early days and give fans like a more of a close up experience, it's The Tea Party and The Tea Party in a club that only holds eight hundred people and that's full on, as it's usually three thousand, five thousand or six thousand people, but you play like the Coolangatta Hotel or something like that, we're just going to blow that place apart and it's going to be fun *laughs*.
Much like the promo show you did at The Vanguard which was amazing…
Yeah exactly and its great, Jeff and Stuart have the attitude of they like Australia and they want to stick around so let's make the most of it and give the fans as much as we can you know?
There was the perfect pairing of yourself and Sarah McLeod out earlier this year, now Sarah is jumping on the tour with The Superjesus, it's almost like the singers now bring their bands out, was this an easy call to have The Superjesus out with you?
Well listen, Sarah to me is family, she almost my adopted little sister *laughs* and I just have all the time in the world for her, I think that in the absence of Chrissy Amphlett, Sarah is Australia's female rock vocalist hands down, no one better than her, that's it. She deserves as recognized as she is, I feel she needs to be more recognized and so I think this support is going to do great things for her and for the boys in the Superjesus, and without going into too much detail as we have to focus on The Tea Party, but next year there is a collaboration that Sarah and I and Mick Skelton who is currently the drummer in the Baby Animals, we've done a full album and that's going to come out next year and will turn some heads as well.
'Waters of Fire' was probably my favourite song on the album, and there was an acoustic version I got to hear  to go along with it giving it such a different feel almost a reinvention, so could we possibly see a Tea Party acoustic album of reworks in the near future?
I think that anything is possible, The Tea Party for the three of us is our priority and we've only just scratched the surface since we got back together of what we want to achieve, we have very, very lofty ideas and goals and there's no reason we can't achieve them, so anything can happen my friend.
Then maybe a little acoustic tour thrown in there…
*laughs* yeah, why not…
So is there a plan as to what the future looks like for The Tea Party?
Basically my job is to be the producer of The Tea Party and the main songwriter but not really because I think that Jeff and I and Stuart have all equally put in, but my thing is the music, that's my job as the captain, that's what I do. We have great people that we've surrounded ourselves with now, even like as strange as it sounds to say, Sony Records here in Australia are so enthusiastic about this record and Sony is known more here in Australia for being a pop thing, but Denis Handlin, the president of Sony is a rock guy, he's a rock and roll guy and he gets this record, like when I met him he was talking about the songs and individual parts of the songs that I didn't even remember you know what I mean? *laughs* so it's going to be great, man!
When we spoke earlier this year you predicted that in 2014 Jeff Martin was going to make a lot of people happy, it's working so far, so, let's change it up and predict the remainder of the year, so by the end of 2014 The Tea Party will…
The Tea Party will… I've got it, it's on the tip of my tongue… The Tea Party will… rekindle your belief that rock and roll can move you.
Essential Information
From: Toronto, Canada
Band members: Jeff Martin – Vocals / Guitars,  Jeff Burrows – Drums / Percussion, Stuart Chatwood – Bass / Keyboards
Latest Release: The Ocean at the End (Sony Music Australia) – Read our review of the album HERE
Website: http://www.teaparty.com
THE TEA PARTY – THE OCEAN AT THE END – AUSTRALIAN NATIONAL TOUR – OCTOBER 2014 with special guests THE SUPERJESUS
Tickets on sale NOW
Thursday 9 October – Crown Theatre, Perth
Tickets from ticketek.com.au
Saturday 11 October – Thebarton Theatre, Adelaide
Tickets from venuetix.com.au
Sunday 12 October – Palais Theatre, Melbourne
Tickets from Ticketmaster.com.au
Wednesday 15 October – The Enmore, Sydney
Tickets from ticketek.com.au
Friday 17 October – The ANU Bar, Canberra
Tickets from ticketek.com.au
Saturday 18 October – Waves, Wollongong
Tickets from moshtix.com.au
Monday 20 October – Panthers, Newcastle
Tickets from moshtix.com.au
Tuesday 21 October – Coolangatta Hotel, Gold Coast
Tickets from oztix.com.au
Thursday 23 October – The Tivoli, Brisbane
Tickets from ticketmaster.com.au