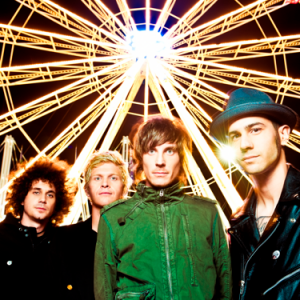 In 2004, a time when baggy pants ruled, Daryl Somers believed in comebacks and two loved-up swamp ogres starred in the year's highest grossing film, 4 friends from Perth known collectively as 
GYROSCOPE
 unleashed their first album on the world. Today, 
GYROSCOPE
 are proud to announce they are diving into the past and hitting the road to celebrate its 10th birthday with the 
Sound Shattering Sound (10 Years On)
 National Tour hitting Brisbane, Sydney, Melbourne, Adelaide and Perth this December.
Sound Shattering Sound was a certified game-changer, a culmination of 7 years of touring and 2 EP releases, released by fellow Perthlings Jebadiah on their Redline Records label in mid-2004. Spawning a mass of singles including earworms "Doctor Doctor" and "Safe Forever", which still cause air-drum-filled-sing-a-longs every time they appear on radio playlists to this day,Sound Shattering Sound was the ultimate debut album, sending Gyroscope out to the mainstream and setting the band up for a further 3 full-length albums, ARIA Awards, WAMI Awards, and tours with Blink 182, Thursday and Sparta, among others.
This is Gyroscope's first national tour since their "Choose Your Own Adventure" tour in 2011, also the first since guitarist Zoran "Zok" Trivic was involved in a serious motorcycle accident in 2012, which left him wheelchair-bound while he rehabilitated for many months to follow. As he recovered,Gyroscope hit pause and entered hiatus: drummer Rob Nassif relocated to New York City for 2 years after starting Perth rehearsal studios 'The Hen House', and Daniel, Brad and Zok remained in Perth, started families and played in local Perth bands, continuing to support the WA music scene.
Gyroscope will be performing Sound Shattering Sound in its entirety at each date, plus all the favourites from their later albums (Are You Involved? 2005;Breed Obsession 2008; Cohesion 2010) with supports  coming from The Love Junkies and Graphic Characters, fellow Perth bands hand picked by Gyroscopethemselves to showcase the best of West Australian rock to the masses.
Tickets to Gyroscope's Sound Shattering Sound (10 Years On) Tour are on sale 9AM local time this Friday October 3rd.
Sound Shattering Sound (10 Years On)
 – December 2014
THURSDAY 11 DECEMBER – THE BRIGHTSIDE, BRISBANE
Tickets available from oztix.com.au / 1300 762 545
FRIDAY 12 DECEMBER – OXFORD ART FACTORY, SYDNEY
moshtix.com.au / 1300 438 849
SATURDAY 13 DECEMBER – THE CORNER, MELBOURNE
cornerhotel.com / 1300 724 867
FRIDAY 19 DECEMBER – UNI BAR, ADELAIDE
oztix.com.au / 1300 762 545
SATURDAY 20 DECEMBER – THE ROSEMOUNT, PERTH
oztix.com.au / 1300 762 545
Gyroscope are: Daniel Sanders (vocals, guitar); Zoran "Zok" Trivic (guitar, vocals); Brad Campbell (bass); Rob Nassif (drums)