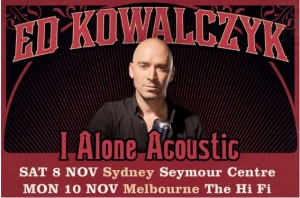 Live Nation is thrilled to present Ed Kowalczyk – the legendary songwriter and former lead-singer of the multi-platinum rock band, Live, in two very special performances.
Kowalczyk brings the "I Alone Acoustic Tour" to his Australian fans in Sydney and Melbourne. Stripped back, intimate and disarming – Ed Kowalczyk will appear onstage with an acoustic guitar, some of rock's most profound anthems and the voice that has attracted legions of fans for more than two decades.
Tickets for both shows go on sale at 10am Friday, 3 October, and are strictly limited.
My Live Nation members can secure tickets first during the exclusive pre-sale beginning midday Tuesday 30 September. For complete tour and ticketing details, visit: www.livenation.com.au
Kowalczyk has built one of rock's most impressive resumes.
His band, Live, became one of the most successful and enduring alternative bands of the last twenty years, with more than 20 million albums sold worldwide. Among this catalogue are some of alternative rock's most iconic hits, including "Lightning Crashes", "I Alone", "Selling the Drama", "The Dolphin's Cry", "Overcome" and "Heaven" – many of which have been responsible for shaping the musical landscape for alternative rock around the globe.
In 2010, Kowalczyk released his first solo album Alive, which spawned the hit single "Grace", which was followed in 2013 by The Flood and the Mercy, which featured the hit song, "Seven".
For his newest creative offering, the "I Alone Acoustic Tour" – a nod to one of his most famous lyrics – Kowalczyk will perform a breathtaking solo-acoustic set, drawing from his entire Live catalogue, as well as songs from his solo releases.
"I'm so very excited to be performing down under again this year!" Ed says.
"I absolutely adore my Australian fans, and look forward to being with you all in Sydney and Melbourne for these intimate, acoustic performances. See you soon!"
Earlier this year, Kowalczyk celebrated the twenty year anniversary of the release of Live's seminal album "Throwing Copper" with Australian audiences.
The "I Alone Acoustic Tour" will give Australian fans the chance to experience these beloved songs on a completely different level, stripped back, intimate and bare boned.
I ALONE ACOUSTIC TOUR – AUSTRALIAN DATES 2014
THE SEYMOUR CENTRE (EVEREST THEATRE), SYDNEY

SATURDAY NOVEMBER 8
THE HI FI, MELBOURNE
MONDAY NOVEMBER 10
TICKETS ON SALE
10AM FRIDAY OCTOBER 3
My Live Nation pre-sale:
midday Tuesday September 30 until midday Wednesday October 1
Ticket Agent pre-sale:
2pm Wednesday October 1 until 5pm Thursday October 2
For complete tour and ticket information, visit:
www.edkowalczyk.com www.livenation.com.au