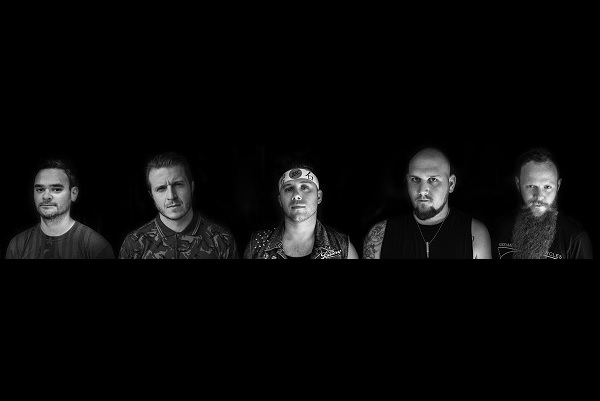 "So to take that much time off and come back and it's like wow, I can't believe people are so excited to see us, we didn't even know how things would be, we have no idea what to expect, so it's kind of like the unknown leaving us now knowing how to feel yet until we get there and get to experience it."
'The beast has risen' were the words issued by the metal world as the proclaimed kings of metal core ATREYU announced their return. They had accomplished a top 50 album by the time they released their debut 'Suicide Notes and Butterfly Kisses' in 2002 after signing with Victory Records. With their return to the live circuit imminent, the remainder of 2014 is set to be an exciting time for ATREYU. The band have already set their sights on a new album, one of which will maintain their legacy as 'the kings of metalcore'
Dan from Atreyu filled us in on the band's return and upcoming Soundwave appearance as well as new music and joining Bon Jovi…
Now of course we're here because you've joined the massive Soundwave bill, how pumped are you to be a part of that?
Oh I can't even tell you, everyone in our band is so, so excited, we've been touring as a band for eight years and been a band for fifteen and we've never played Soundwave and we just hear from all the bands on it how fun it is and just the way that it's booked is so cool, and this year it's done a little different where it's two shows over the weekend and then a week off and another two shows, so for us it's basically like a vacation where we get to play a couple of shows at the same time, so it's the most amazing opportunity we could ever have in terms of going down to Australia, we're super pumped, there line up is so insane this year, there are so many good bands…
Anyone you're excited to be sharing the tour with?
Actually this is kind of random, but I'm really excited to be playing shows with Aquabats and Gerard Way because even in particular Gerard Way is awesome, but the band, the guitar player for Aquabats is a buddy of ours that we went to high school with and he's also the guitar player for Gerard Way's band, and the drummer for Gerard Way's band is a guy named Jarrod Alexander who we also went to high school with, and the two of them, Jarrod and Ian used to be in the band Death By Stereo, they were the original members. So it's just kind of cool to come full circle and come to Australia with our friends from high school and play with them and where they're at and where we're at these days, it's just really interesting where life takes you. As much as I'm excited to see Slipknot or Judas Priest or Faith No More and all these amazing bands, the fact that some of these bands have our friends from high school is just a really cool experience.
This will be your first time on the festival, but not your first time to Australia, do you have a great memory of touring here?
Yeah, I mean two things, one to do with shows and one to now, and the one not to do with shows was the first time we ever got to Australia, we got off the plane and we have time to kill before we got to our hotel as we got there really early as we couldn't get into around 4 o'clock, so our tour manager said 'hey you guys wanna go play with some Kangaroos and Koalas?' and we're like 'fuck yes we do!' we didn't even know that was an option, so we got to go do that and that was just so cool, I mean everyone that goes to Australia the number one thing they want to do is go hang out with Kangaroos and Koalas. As far as shows, I think the first time we came over there too, we just had a lot of buzz around our band and we played the show, I think it is was in Melbourne, and you guys do a lot of the underage and overage shows like early in the day you do the younger kids, we did the gig and when we walked out the back of the venue to get in our van to go to the hotel, there was just all these people out there and when we were driving away they were giving us a standing ovation and clapping and banging on the van. We felt like we were The Beatles or something, we've never had anything like this before, this is insane! We didn't think that anybody would ever look at our band this way, this is just me and my friends playing music together, I never thought people would respect us like this and appreciate us like this, so it was just a very amazing experience and such a blessing and so cool. Especially in Australia, our first time there to be welcomed like that was just incredible.
Now, this is quite cool as you guys are about to in essence return to the stage, what are the nerves like at this stage?
It's been about four years… I think we're excited, but we toured as Atreyu for eight years and to take four years off it's in the path of our touring career as far as length wise, so getting back into it until we actually get back on stage and get to that first show, it's so surreal I don't think it's sunk in yet, I don't think anyone's got to feel the excitement until we get on and go for it. This Chain Reaction show, we put it on sale and within thirty seconds it sold out, we've never had anything like that happen to us in our career. So to take that much time off and come back and it's like wow, I can't believe people are so excited to see us, we didn't even know how things would be, we have no idea what to expect, so it's kind of like the unknown leaving us now knowing how to feel yet until we get there and get to experience it.
So I guess the question is, why was now the right time for the beast to rise?
I think the reason we stopped in the first place is we were getting a little burnt out, we were touring way too much and we weren't doing it because we wanted to anymore, we were doing it because we felt we had to and I think when you start touring when you're a teenager and you tour for eight years straight, I basically grew up on the road and in a van and you're in never never land all the time and you never really get to find yourself as a person outside of the band and I feel that was something we were all really craving as a band and as individuals. So we got to take a step back and do our thing for four years now and finally when everyone got hungry again and felt comfortable with themselves outside of the band it was like alright, now's the time for us to be in the band again, and go full throttle. It was the best thing we could've done for our band and we didn't even realise that's what our band needed, and by doing it we can feel the excitement again, the fans are excited and it was just good. It was really helpful, it was one of those too much of a good thing was becoming a band thing so we needed to kind of do it in moderation and have that ying and yang kind of thing and it's working out really good and it feels really good.
It's been quite some time since your last album, so obvious question is can we expect to hear some new music from Atreyu soon?
Yeah we're releasing a song called 'So Others May Live' it's a free download, but yeah on our website and facebook there's links to get it and for fans that like our record 'The Curse' it's kind of like 'The Curse' on steroids, it's really fucking heavy and it's just awesome, it's one of the best songs we've ever written and I'm not even just saying that, it's really good, and if you like Atreyu in general especially old Atreyu, well fans of old Atreyu are going to be really, really stoked and I'm so happy for them in particular to hear it.
In the five years since 'Congregation of The Damned' has it been an interesting exercise to collaborate after so long apart?
Yeah I think it was good and healthy to take this time apart and write with other people and with other bands just to round off your game, I feel in general to be the best song writer you can be and best musician you can be that your vocabulary has to be huge, you have to be very open minded to all styles of music and try to write all styles of music so that when you do want to come back to whatever it is you want to write you can be the best that you can be and your vocabulary is so much bigger that you can bring a lot more to the table and make things a lot more interesting.
Has it also lit a bit of a fire under you and made you realize that Atreyu had to come back?
Yeah we're basically about to bend this world over and fuckin' do it up the ass. It's about to get it pretty good right now…everything we've written is just heavy as shit, there's so much energy and we're all so excited that when the five of us put our minds together and do what we want to do and focus on the same goal, we're unstoppable and I just can't wait, I know the world… and like I said, anybody who is a fan of Atreyu is going to love what we're about to do.
So with the single coming, can we expect an album following?
Not for a little bit, if an album comes it will be next year, we don't want to rush anything, we want to make sure everything is done meticulously and strategically and I think for now to just keep that hunger for ourselves and more so for the fans, we're just gonna put out this one song for now, just in case you're wondering what the new stuff is gonna sound like, here's a little somethin', somethin' and it's gonna be awesome.
I do have to ask as I'm a huge Bon Jovi fan, but any chance you can bust out 'You Give Love A Bad Name' when you're here in Sydney?
There is a very strong possibility of that…
Good because you didn't do it when I saw you last time here…
Yeah in particular the shows we have coming up it's in our set list, and it's always a fun song, especially in Australia, I wish we could play it there more often, I mean Bon Jovi's big everywhere but last time we were in Australia Bon Jovi was playing like a week later and you felt like they were already there because everywhere you went there were banners up everywhere like Bon Jovi's in town for the next couple of days and people would see us in our hotel and say 'hey you guys look like you're in a band, are you guys with Bon Jovi?' and I'm like 'What? No…' *laughs* I'd love to be with Bon Jovi, that would be great, but we're not yet I guess… maybe one day we'll be part of Bon Jovi.
Have you got a message for your Australian fans?
Just prepare yourself because we're about to fuck some shit up.
Lastly, let's predict the remainder of the year, so finish this sentence, by the end of 2014, Atreyu will…
Have re-staked its claim as a badass worldwide metal band and is coming to take names.

Catch Atreyu as part of Soundwave 2015 at the following dates:
SATURDAY 21 FEBRUARY & SUNDAY 22 FEBRUARY, 2015
BONYTHON PARK, ADELAIDE
SATURDAY 21 FEBRUARY & SUNDAY 22 FEBRUARY, 2015
FLEMINGTON RACECOURSE, MELBOURNE
SATURDAY 28 FEBRUARY & SUNDAY 1 MARCH, 2015
OLYMPIC PARK, SYDNEY
SATURDAY 28 FEBRUARY & SUNDAY 1 MARCH, 2015
BRISBANE SHOWGROUNDS, BRISBANE
Catch their sidewaves with Of Mice & Men and The Devil Wears Prada
MONDAY 23 FEBRUARY: MELBOURNE, THE CORNER – 18+
http://cornerhotel.com/
www.oztix.com.au
WEDNESDAY 25 FEBRUARY: SYDNEY, THE FACTORY – Licensed All Ages
http://factorytheatre.com.au/
www.ticketek.com.au
For tickets and more information head to
soundwavefestival.com / facebook.com/soundwavefestival / twitter.com/soundwavefest
Essential Information
From: Orange County, CA, USA
Band members: Dan Jacobs – Guitar, Marc McKnight – Bass, Travis Miguel – Guitar, Brandon Saller – Drums/Vocals, Alex Varkatzas – Vocals
Website: http://www.atreyuofficial.com/
Latest release: So Others May Live (single out now – Download for free from HERE)