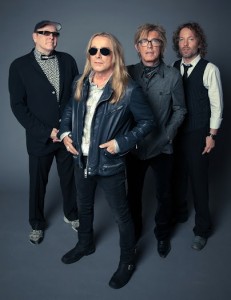 THE ANGELS & CHEAP TRICK RE-UNITE FOR 2015 NATIONAL TOUR
A Day On The Green Wineries & indoor shows in Melb & Syd.
An infectious power-pop rock band with a flair for the absurd and one of Australia's most treasured rock icons – that's the dynamic double happening when The Angels and Cheap Trick reunite for an Australian tour early next year.
They will co-headline a day on the green wineries nationally in a ripping rock'n'roll bill with Baby Animals, The Superjesus and the Choirboys, then get all hot and sweaty with intimate shows at Sydney's Enmore Theatre and Melbourne's Forum Theatre with the Choirboys opening (co-presented by Frontier Touring).
Cheap Trick and The Angels first crossed paths in 1980 playing some shows together in Europe and the U.S and a decade later, renewed their friendship on a huge Australian tour in 1990.  The bands had instant simpatico, occasionally joining each other on stage and from all reports, one helluva good time was had by all.  Not surprisingly they both jumped at the chance to re-unite once more for this tour. It will be Cheap Trick's first visit to Australia since 2008.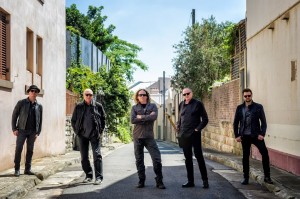 John & Rick Brewster from The Angels said:  "Our association with Cheap Trick began in 1980 when our truck was stolen in Chicago after supporting them in Detroit the night before. All our guitars, brand new PA and our tour manager's washing went with it. Rick Nielsen turned up at our gig later that same day at the Park West Club with a car full of guitars and offered them for the tour. The gig was a sell-out, we played with borrowed guitars, amps and drums and Rick stayed for the show, joining us for the encore jamming on 'Can't Shake It'.
"Since then we've toured England and France together in 1980 and Australia in 1990. Great band, great songs and great guys… can't wait to do it all again!"
Cheap Trick's Rick Nielsen adds: "We're really looking forward to the 2015 Angels Cheap Trick tour and being back in Australia again.  Maybe we can finally get back all the guitars, amps and gear I loaned them!"
Since CHEAP TRICK burst out of Rockford, Illinois in the late 70's, their irresistible blend of pop, punk and metal has resulted in classics like 'I Want You To Want Me', 'Surrender', 'Dream Police', 'If You Want My Love'' and the long-running #1 chart-topper 'The Flame'.  Along the way they've notched up more than 5,000 performances, 20 million records sold, appearances on 30 movie soundtracks and 40 gold and platinum recording awards. They have been cited as an inspiration for countless bands including Green Day, Pearl Jam, Foo Fighters and Urge Overkill.
Lead vocalist/rhythm guitarist Robin Zander, Rick Nielsen – he of the famous multi-necked guitars –  bassist Tom Petersson and drummer Daxx Nielsen are renowned for their energetic live shows and continue to play to adoring crowds around the world.   The band was recently honoured at the official Grammy Museum with a one-of-a-kind exhibit called 'Cheap Trick: I Want You To Want Me!' Artifacts, original lyrics, photographs, costumes, guitars and tour memorabilia were featured in the six month exhibition, which finished in July.
Nielsen also appears on the Foo Fighters' upcoming album and TV series 'Sonic Highways', which documents the recording of the album with special guests across eight US cities.
THE ANGELS have celebrated their 40th anniversary with the May release of two commemorative career-spanning albums; 'The Angels Volume 1 – 40 Greatest STUDIO Hits' and 'The Angels Volume 2 – 40 Greatest LIVE Hits', backed up with a predominantly sold-out tour stretching from May through August.
Since joining in 2011, frontman Dave Gleeson has totally re-energised the band, prompting two albums of new material 'Take It To The Streets' (2012 – their first studio album in 14 years) and 'Talk The Talk' (2014) and a renewed love of touring resulting in constant sold out shows around the country.   The Angels debuted on the a day on the green stage in 2012 and received what can only be described as an overwhelmingly raucous reception!
Stellar support at the winery shows will be provided by the Suze DeMarchi-led BABY ANIMALS. The band has been warmly embraced since reuniting and releasing 'This Is Not The End', their first album of new music since 1993.  Recent singles 'News Email' and 'Stitch' sit well next to fan  favourites like 'Early Warning', 'One Word' and 'Rush You' in the set list.
After an overwhelming reaction to their one-off reunion show in hometown Adelaide in February last year, THE SUPERJESUS hit the road for the first time in 10 years on their aptly named 'Resurrection Tour'.  Sounding better than ever, they're now working on new material and in October join the Tea Party on their Australia tour.   With platinum albums 'Sumo', 'Jetage' and 'Rock Music' and hit singles 'Gravity', 'Secret Agent Man', 'Shut My Eyes' and 'Down Again', The Superjesus are a live rock'n'roll tour-de-force – it's good to have them back!
Headed by rock belter Mark Gable, CHOIRBOYS charted a course from pubs to the charts with unflagging energy and commitment.  'Run to Paradise', 'Boys Will Be Boys' and 'Never Gonna Die' are some of the rock classics that helped put the Choirboys distinctive stamp on Aussie rock'n'roll – and will ensure the concerts kick off with a bang.
A DAY ON THE GREEN SHOWS:
The Angels, Cheap Trick, Baby Animals, The Superjesus, Choirboys*
Sat Feb 7                ANNIE'S LANE, CLARE VALLEY SA
Sun Feb 8               KINGS PARK & BOTANIC GARDEN, PERTH WA  *no Choirboys
Sat Feb 14              ROCHFORD WINES, YARRA VALLEY VIC
Sat Feb 21              BIMBADGEN WINERY, HUNTER VALLEY NSW
Sun Feb 22             SIRROMET WINES, MT COTTON QLD
A Day On The Green presented by Roundhouse Entertainment, AAMI & Sunsuper.
For event information: www.adayonthegreen.com.au
INDOOR SHOWS (co-presented by Frontier Touring)
The Angels, Cheap Trick, Choirboys
Frid Feb 13             FORUM THEATRE, MELBOURNE    18+
Thur Feb 19            ENMORE THEATRE, SYDNEY **      ALL AGES
For event information: www.frontiertouring.com
TICKETS ON SALE FRIDAY SEPTEMBER 19 AT 9am.
From ticketmaster.com.au & 136 100
**except Enmore Theatre from Ticketek.com. au & 132 849