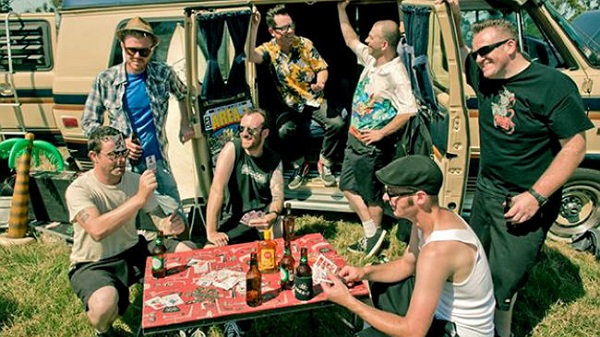 "…when we first started playing festivals, we almost found it more natural to us than some of the smaller venues because our form of music is so upbeat and has a lot of audience participation, so when you actually get a big crowd into it, it's kind of a magnified effect, so we never had troubles with it in the past and I'm just stoked to be able to give it another whirl on the Soundwave stage."
AREA-7 are by far Australia's most successful Punk / Ska band. Their career over the last two decades has seen some amazing highlights – they've hit the main stage of all the major festivals of their time, being a major player for festivals like Van's Warped Tour, Pushover, Big Day Out, Offshore, Falls Festival, Homebake and many more. AREA-7 earned a reputation for being one of Australia's hardest working bands, touring the length and breadth of the county dozens of times, including tours with their peers and major overseas acts and whilst AREA-7 has never "officially" split, the last few years has seen them taking a far more relaxed approach to shows, with the band playing "when they feel like it" or as they put it, "for special occasions".
We chatted to Chucky (he said I could call him that) of Area 7 about the bands return to the stage and more importantly, their upcoming appearance at Soundwave… and much more!
Now of course we're here because you've joined the massive Soundwave bill, how pumped are you to be a part of that?
Oh it's astoundingly exciting, from my point of view it's the biggest show in town and you know we're really excited to be on board, and I've gone to the last couple and really enjoyed them so it's obviously a new format with the two days per city and flipping them with paired city, so it's going to be really interesting to be on that tour, but yeah, we're mega excited. It's so mega, you just have a look at it and it's hard to keep track of how many bands are on there, for myself every day that I'm there I think I'll get something different out of it, so it's fantastic.
Anyone you're excited to be sharing the tour with?
To be honest it's hard to get past the fact that we're on the same day as Faith No More and Soundgarden, given I know we're a very different style of music but it's our generation, I'm a 90's teenager and I've never actually seen either of them live so I'm really excited to see both of them as headliners, but some bands that you might say are a little left field to someone like myself, I've heard a lot of Atreyu but I've never really seen them or gotten that deep into their music, so I'm really interested in seeing them as they have a great reputation. Then obviously the other similar band, local band The Bennies, they're a fantastic ska punk band and we've got a great relationship with them so they're probably the handful I can think of.
Playing pretty much every festival in Australia before, will this be an easy slip back onto the big stage?
It's a really good question, as while we've done every festival that I can think of in the time we have been active, it has been a while, so we've played a lot of big shows in the last few years, we did The Living End tour which was to some big audiences but it's different to the festival thing, when we first started playing festivals, we almost found it more natural to us than some of the smaller venues because our form of music is so upbeat and has a lot of audience participation, so when you actually get a big crowd into it, it's kind of a magnified effect, so we never had troubles with it in the past and I'm just stoked to be able to give it another whirl on the Soundwave stage.
I saw you guys open for The Living End in 2012, which were your first shows back in a while, was that the main catalyst for this resurgence of Area 7?
Well it's kind of just been good timing with where our lives are at… a couple of us have had kids over the past ten or so years and with the early stages of having kids you really can't do a lot. So our kids over the last few years have just been getting to an age where we can tour and go forth a bit more and we were really hungry to do a tour and The Living End opportunity came up and that sort of sparked us into action in terms of playing more live shows etcetera and we've been more active, but it's funny, just when the time is right to do it a lot of opportunities have come our way so we're very, very fortunate.
Have you enjoyed getting out there and playing shows again?
Oh yeah we love it. A lot of people have heard the recorded stuff on radio and they like it but it doesn't quite gel with them until they see us live and then they completely get it, so for us connecting with the audience is what we do.
Yeah and I noticed that at The Living End shows, it just seemed that you guys had so much fun up there…
Yeah we genuinely enjoy it *laughs* for Area 7 there's no real pretending, you can't really get up there and fake the fun that we have you know? *laughs* I think I've said before, our main mantra in no matter how well it's going or how badly it's going is just to focus on enjoying it, because rock and roll is s very hard industry to make money out of and make a living out of, so if you're not enjoying it even when things are going well it's going to make you pretty miserable. So you just focus on enjoying it and the rest tends to happen and we've found that to be true and that's why we've been together for twenty years mate, we just keep having fun and we're still really good friends.
In terms of the Punk / Ska scene in Australia and you guys as somewhat pioneers, where do you see the scene today compared to when you began in 1994?
When we were playing in '94 it was very much focussed on the past, it was focused on that late 60's early 70's two tone thing, and we were obviously heavily influenced by that and heavily into it, but we're always about doing our thing and taking it forward and not being afraid of being Australian *laughs* we didn't try and sing like we were American or English or anything like that. So when we first started we were a little bit of an outlie to be honest, and as time went by and bands like Goldfinger and Reel Big Fish and Bosstones were coming out of America, they'd sort of taken their own approach as well which was complimentary to what we were doing and we got swept up in a wave of that big thing through the last 90's and early 2000's, and now with all those barriers up of it all being to a specific style of music has just disintegrated and so obviously people are right into the ska punk and obsessed with it, but it's far more obsessed than people that are into Metal or hardcore or just mainstream music than it would've been in the 90's and I've really watched that evolve as it was quite a closed community when we started out.
Who do you see as the up and comers in Australia at the moment?
In our genre there are a few good ones, I mentioned The Bennies before, they are an absolutely fantastic band live and recorded and I think they're already getting huge and will only get better. Then some local talent like Resonators are a really string band, there are a lot of bands that play a little bit of ska but don't really specialise in it, but keep your eyes on The Bennies they're going to be huge.
So in the twenty years since the bands beginnings, has there been one highlight that stands out for you as one you'll always remember above all others?
Well probably not one event, but I think our first album, we did a couple of Ep's before then, but our first album 'Bitter & Twisted' and the tours that we did around that and everything about recording it, it was just one of those points in time where everything came true in 12 – 24 months and that period of time around 2000 was just a brilliant period of time, and the festivals we were doing were all just great fun , so I think that period was just great for us.
It's been almost ten years since your last album, so can we maybe expect new music anytime soon?
Um… the short answer is probably no… I think a couple of us are in other projects doing stuff, and it's a big effort for Area 7 to go in and record and if we're going to do it we'll have to do it properly. So we may look at doing just a couple of tracks, we've been talking about doing that over summer, but in terms of an album I think that's pretty unlikely, but our last album we did completely independently, I produced it, we arranged it all, we did it all on our own time and it was a great experience to do that and it took a lot of work, and I think we don't do things by halves and we don't want to put out something we can't dedicate as much time as we'd like to, but yeah we might do one or two songs and maybe cut a clip or something like that. I think it's unlikely to see an album released in the near future…
What about maybe filming The Soundwave shows and releasing a DVD or something like that?
Yeah we're actually pretty keen to do that and we've got a massive back catalogue of videos and obviously live recordings, we did a couple of Triple J 'Live at the wireless' but I don't know what the deal is with those if we can use those, but we've got a whole lot of stuff that will never get lost but would be great to just put together and put it out there as a bit of retrospective and be able to have that, so we may look at something like that.
In terms of touring, you're out on the Double Cross tour right now, you hit Sydney earlier this month, are you excited to be out again?
It's been awesome, it's actually been a good warm up for us for Soundwave in any case, we're actually pushing ourselves to do a whole heap of songs that we haven't done in a long time and obviously on those shows we're doing a longer set, but for Soundwave we're going to pump out the ones that people want to hear, but it's been outstanding to see how many people have stuck with us and also a lot of new young fans out there. We asked the question of how many people in the audience were younger than twenty and it was about a third of them *laughs* and this band is older than a whole bunch of its followers… and it seems like an odd concept but you look at a lot of bands on the festival, it's pretty much the majority of bands on Soundwave have been around longer than a lot of the fans going to see them, so it's great that it goes on through different generations…
Yeah, like me, I've got band T-shirts older than people I work with…
*laughs* yeah, I think it's great!
Lastly, let's predict the remainder of the year, so finish this sentence, by the end of 2014, Area 7 will…
write some new material… there you go, there's a commitment for you.
Well you've got to stick to that now!
*laughs* we do, we do…
Catch Area 7 as part of Soundwave 2015 at the following dates:
SATURDAY 21 FEBRUARY & SUNDAY 22 FEBRUARY, 2015
BONYTHON PARK, ADELAIDE
SATURDAY 21 FEBRUARY & SUNDAY 22 FEBRUARY, 2015
FLEMINGTON RACECOURSE, MELBOURNE
SATURDAY 28 FEBRUARY & SUNDAY 1 MARCH, 2015
OLYMPIC PARK, SYDNEY
SATURDAY 28 FEBRUARY & SUNDAY 1 MARCH, 2015
BRISBANE SHOWGROUNDS, BRISBANE
For tickets and more information head to
soundwavefestival.com / facebook.com/soundwavefestival / twitter.com/soundwavefest
Essential Information
From: Melbourne, Australia
Band members: Chucky T – Guitars, Dan – Drummin, Handsome Andy – Bassy, Pauly West – Trombone, Occa – Sax, DJ – Keys, Stevo – Vox.
Website: https://www.facebook.com/area7band