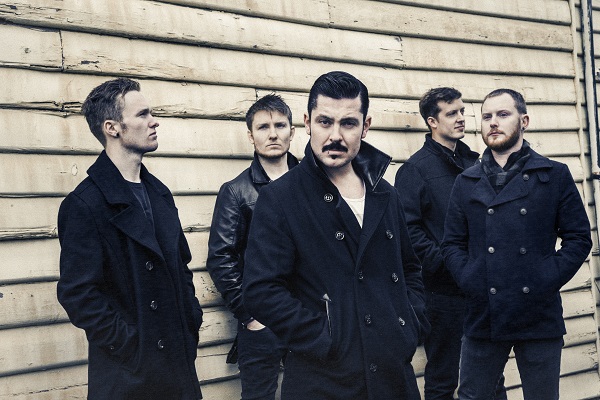 "With the first EP I guess we were still testing the waters and finding our feet a little as to what direction we wanted to take it in. We tracked all the band stuff live again and that seems to capture us better and gives off a more honest vibe which is something we always want in our music."
From Bio: We come from an island. Not your typical Caribbean type place surrounded with palm trees and coconuts, this is a convict island. In the 1840's somebody came up with a great idea to throw all the dregs of society onto a wooden boat and ship them off to the other side of the world. One hundred and seventy three years later and here we are; a punk rock 'n roll band by the name of "Captives". For a bunch Tassie punks called Captives, this crew are pretty insistent on not being kept in the one place.
We had Captives front man Aaron answer some questions for us about the band and gives us the best analogy of song writing ever… check out our newest Best Thing You've Never Heard… Captives…
Let's start with the basics; for those that aren't aware of you, can you please give us the abridged version of the Captives story, how you all came to be and the decision on the name of the band?
We were all playing in different bands on the North-west coast of Tassie since our early teen years, over time people came and went and somehow we all just ended up in a room writing devilish punk rock n roll. Finding a name for a band is one of the most painful experiences in the world.. We each chose about 20 names each..then short listed them. We wanted a name that represented us and where we are from. Captives came out on top of the list. Mind you the name 'Ghost Pants' got somewhere in the top 10 so i'm pretty happy how it all panned out
Can you now please introduce each band member including yourself, and give us a rock 'n' roll fact or myth about each of you?
Matt Damon – A mad Tigers fan, likes to introduce himself as Matthew so not to be confused with the Actor and always puts the sauce bottle deep into a meat pie for maximum flavour.
Marcus Wynwood – Has more guitars in his house than knives or forks, Can sniff out a big breakfast deal in any town, loves recording and making guitar pedals.
Mitch Damon – A Blue Belt BJJ fighter, Ramones enthusiast, was ran over by a car and trailer at the age of 1, the only guy I know to get thrown out of a country, loves to eat copious amounts of asparagus.
Michael Lord – Has an identical twin brother and a cat called Mcfluffins, Lives on a boat. After a brief encounter with a bat at a young age Mick now collects Batman memorabilia and says he has some kind of spiritual connection with Bats
Aaron Damon – Undefeated champion of UNO, doesn't mind a beer, previous job was delivering newspapers, was once arrested for throwing a plastic ice cream at a police officer
You're just about to release your new EP 'Butterflies, Diamonds & Lightning', so instead of giving us a standard review, let's say if you had to give us your best door to door sales pitch to try and convince someone to listen to it before they slam the door in your face, what do you say to them?
I would say 'Excuse me Sir/Mam, would you mind putting this disc in your player and turning it up to 11.. It's 15 minutes of heavy punk tunes that my band have just emptied our pockets and souls to create. I understand that you like to regularly listen to a guy with a laptop do a DJ set and drink Gin and tonics at TGI Fridays on your weekends off, but this could change your life. It has the hooks, it has the heavy, it brings sexy back, and if you still think it sucks then have no fear because its also shorter and cheaper than Miley Cyrus.
In terms of your song writing, what do you consider to be the most important ingredients that make up one of your songs?
I Don't think that there can be any one more important ingredient in song writing..  songs to me are built up of a mixture of musical hooks and lyrics and without one or the other then I guess you ain't got a good song. Take an egg and bacon muffin for example..if it's just egg by itself then it's a little bit shit..if it is just the bacon by itself then it is a little bit better but still quite shit. Put them together with a bit of sauce and bang..whos ya daddy. But generally we just get in a room and jam out the music and get that working for us..then add lyrics last. When everybody is happy and having a good time we know we have a contender.
With your previous EP out in 2013, did you set out to do anything differently this time around compared to what you did with 'Butterflies, Diamonds & Lightning'?
It is definitely heavier than the first. With the first EP I guess we were still testing the waters and finding our feet a little as to what direction we wanted to take it in. We tracked all the band stuff live again and that seems to capture us better and gives off a more honest vibe which is something we always want in our music. I think with the latest EP we had our live show in the front of our minds too.
So what bands did you grow up listening to and how did they help create the style of music that can now be heard throughout your music?
Everybody in Captives has a different taste in music and we listens to heaps of different bands, so I guess each person brings there little something to the table which together completes our sound.
We get told it's a bit like the Bronx or Rocket From the Crypt..both bands are rad so we can take that.
When I was growing up I listened to a lot of stuff like Silverchair, Hoodu Gurus, The Beatles, The Angels, Elvis, Screaming Jets then later on I got more into Social Distortion, The Clash, Ramones, New York Dolls and stuff like that. I like singers with a bit of character..not just the standard shit that seems to surface from those TV competitions where they all sound the same.
In terms of touring, you're out playing a few shows around the traps at present, so for those that haven't seen you, how would you describe a typical Captives live show?
Loud, in your face, punk. There is usually lots of spilt beer and sweat and we will always stick around for the after party hang outs or karaoke sessions ,so come and say hello anytime.
Can we expect any more shows in the near future hitting more of Australia?
Most definitely, we love playing live, touring  and meeting new friends. we have shows in the pipeline at the moment which we will be announcing very soon. Can't wait.
For a bit of fun, say you get the chance to open for any artist or band in the world, who would they be and why?
My Echo or Release the hounds..  putting us on a bill with either of those bands and all that beer i'd take the opening spot any day of the week
If you could cover one song in your live set that no one would ever expect, what would it be and why?
Africa by Toto. I just think we would fuck that up so bad that it would be hilarious.
What kind of movie do you think your music would be best suited to and why?
It's probably a little bit more Saw 5 or Jaws than the notebook. When I listen to our music I think its more hack off a limb, shark bite kind of swagger.
Lastly, with 2014 coming to a close, here's a chance to gaze into your crystal ball and see the future.  So, by the end of 2014, Captives will:
1. Release our 2nd EP 'Butterflies, Diamonds & Lightning'
2. Tour Australia
3. Eat Christmas dinner
Essential Information
From: Tasmania & Melbourne, Australia
Sounds like: Tasmanian Forest Horror (their words)
Band members: Aaron – Vocals; Michael – Bass; Matt – Drums; Marcus – Guitar; Mitch – Guitars
Forthcoming Release: Butterflies, Diamonds & Lightning (EP out October 3 – Independent)
Websites: www.captives.com.au
www.facebook.com/captivesmusic