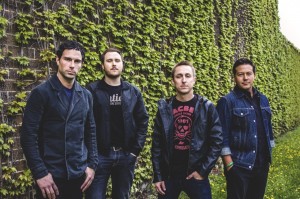 "We really feel like we got where we wanted to be, and made a proper rock 'n' roll record," says vocalist Ryan Key of YELLOWCARD regarding their seventh studio album LIFT A SAIL (Razor & Tie; release date: October 10, 2014). "We really changed lanes, I think. It's still a massive rock record, but there were a lot of choices made while we were writing the songs that were new for us. We continued to challenge ourselves throughout the writing and recording process."
"The day has arrived! We are so happy to announce that the pre-sale for our new record Lift a Sail begins today," he continues. "The album will be released October 10th but you can preorder it beginning tomorrow, Wednesday, August 20th. Also, there are preorder merch bundles with exclusive Lift a Sail items at www.liftasail.com.au" . The Global iTunes link is http://geni.us/yellowcard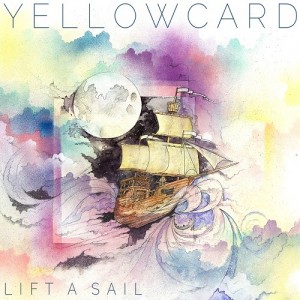 Kicking off with the majestic violin-only instrumental 'Convocation', a choice that heralds not only the first time they've done something as experimental as this, but also a brand new start for the band. Abandoning any binds that held them to scenes or musical styles, Yellowcard let loose and rattled their own cages.
The massively anthemic 'Transmission Home' shows a band unleashed and eager to start anew. With Ryan Mendez's muscular power chords and the sonic boom of guest drummer Nate Young (of Anberlin), Lift A Sail shifts quickly into high gear, upping the rock quotient with Sean Mackin's trademark violin adding extra texture. From the ringing 'Crash The Gates' to the driving 'Make Me So' which recalls the band's superb talent for huge singalong choruses, to the balladic 'Madrid', it's an album with more peaks than valleys, but also not afraid to show its vulnerability. Named after Moscow's time zone, 'MSK' is a testament to Key's growth as a songwriter. Sparse and soaring with atmospheric keys, electronics, and Mackin's swirling violin, it's a first in that it is completely devoid of drums and guitar – something they have never done before. "It's a bold leap for us," Key says confidently.
Written about the apartment that Key and his now-wife shared in Denver where she was receiving rehabilitation following a tragic spinal cord injury, the first single 'One Bedroom' stands closest to what many feel is classic Yellowcard. Over acoustic guitars that gradually give way to an anthemic power ballad, Key sings a tender love song, intoning "You're the one for the rest of time" in earnestness. Lyrically circling around Key's family and, most prominently, his wife, it's a very personal album and one that really pushes the band outside of their comfort zone.
As a preview of the new album, USA Today is premiering the new lyric video for the first single 'One Bedroom' today and can be viewed here.
Lift a Sail is a fearless album and one that sees Yellowcard really growing bigger and louder. The epic title track sums up the attitude of the album whose resilient lyrics "If a storm blows in on me / I am ready now" reflects the inspiring determination of not only Key's wife but also the band's unending creative strength in making music. "It's the one song that really encompasses this whole experience," Key declares, looking back on everything he, his family and his bandmates have been through over the past year. "It's saying, we're ready for anything now."
Yellowcard is Ryan Key (vocals, guitars), Sean Mackin (violins), Ryan Mendez (guitar), and Josh Portman (bass). Lift A Sail was produced by Neal Avron and will be released on October 10, 2014 via Razor & Tie / Cooking Vinyl Australia
Pre-orders available now at liftasail.com.au