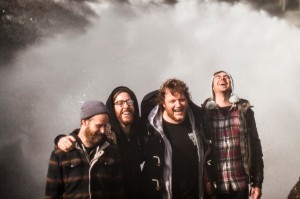 Throw Me In The River, the soon to be released third LP from Melbourne, Australia's The Smith Street Band is multidimensional. Full of their trademark earnest storytelling, it too serves as a snapshot of the last few years of their hectic lives. Often dark but always honest, the album is a virtual passport to their global rise, with songs written in Winnipeg, Salt Lake City, Calgary, London, New York and North Melbourne amongst other places.
Since their 2010 inception, the band has done things their own way and at their own pace: full steam ahead, with Throw Me In The River no exception.
Nestling down in a cottage in the pristine surrounds of Forrest, in The Otways, Victoria, the album saw the band team up with Bomb The Music Industry's Jeff Rosenstock as producer, Jonathon Low (The War On Drugs, The National) as mixer and once again work with close friends Matt Voigt (Don't Fuck With Our Dreams) and Sam Johnson (Sunshine & Technology) to engineer the record.
What would typically be a taxing time for any band, particularly following up the success of 2012's Sunshine & Technology, wasn't so for The Smith Street Band, as they momentarily stepped outside the makeshift studio to perform an inspired cover of Courtney Barnett's 'History Eraser' for triple j's Like A Version and completed a 9-date sold out Australian tour with Violent Soho.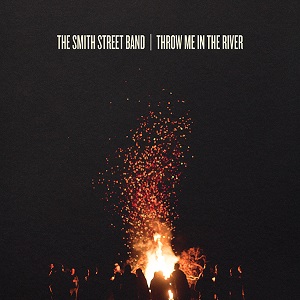 With a population of just 170 people, a surprise solo show from Wil Wagner at the local pub, The Wonky Donkey, had the entire town of Forrest talking. In near freezing conditions, the gig and the bonfire after party that followed united locals and was magically captured by photographer Andy Johnson for the album's cover art, a final thankyou to the small community that hosted the band for a month of recording. The personal connection between band and fans may change in its setting, but the unbridled feeling of joy and inclusiveness that echoes from their shows remains the same.
With universally praised live shows, a touring schedule penciled in almost a year in advance and a hunger to take on the world, The Smith Street Band have consistently been at the top of their game, becoming not only one of Australia's hardest working bands, but also most respected. On Throw Me In The River their musicianship and songwriting shines through, further enhanced by their travels and experiences.
Testament to their global appeal, Throw Me In The River will be released via Poison City Records (Australia/ NZ), SideOneDummy Records (USA/ Canada), Banquet Records (UK) and Uncle M Music (Europe).
As the buzz follows The Smith Street Band wherever they go, with the imminent release of their third LP and touring plans for new continents, it's only going to get louder.
THE SMITH STREET BAND –THROW ME IN THE RIVER CD/LP/DIGITAL OUT OCTOBER 31ST THROUGH POISON CITY RECORDS (AUSTRALIA/NZ)
Comments
comments