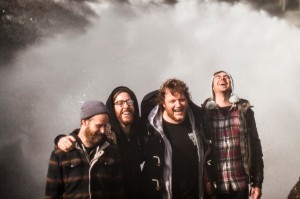 Melbourne's The Smith Street Band have announced they'll hit the road this November to support their upcoming third full length, Throw Me in the River. No strangers to hosting international guests, this time they'll bring along New Jersey's indie-folk-punk sweethearts The Front Bottoms and English comrades Apologies, I Have None to round out a triple threat tour de force.
Released on October 31 through Poison City Records, Throw Me in the River is the culmination of a heavy touring schedule and the trials and tribulations that come with it. Often dark, but always honest, the album is full of their trademark earnest storytelling and serves as a snapshot of the last few years of their hectic lives.
With songs written in Winnipeg, Salt Lake City, Calgary, London, New York and North Melbourne, it's only fitting The Smith Street Band take their soon to be released LP to all corners of the world.
In preparation for the Australian tour, the hometown heroes will spend October playing shows throughout Europe and the UK with friends The Menzingers, before jetting to the USA for a short East Coast tour, including a third straight appearance at The Fest in Gainesville, Florida.
Be it at Boston's House Of Blues, a basement bar in South West London, Groezrock Festival in Belgium or a secret show in the small township of Forrest where they recorded their album, The Smith Street Band have honed their live show with precision over the past 12 months.
With a sold out national headline tour earlier in the year and a recent run of sold out dates with Violent Soho under their belt, along with an appearance on triple j's Live At The Wireless, The Smith Street Band are certainly not to be missed on tour this November.
"Propulsive, wordy and inspiring… the sense of camaraderie and community they conjure is intense." – The Music (July 2014)
"The band's boundless energy on stage is matched only by their quality as songwriters; every guitar lead, drum fill and vocal hook impeccable." – Spaceship News (July 2014)
"It was sweaty, it was visceral and it was really really fun." – Huffington Post (May 2014)
THE SMITH STREET BAND
THROW ME IN THE RIVER ALBUM TOUR
NOVEMBER 2014
Supported by triple j, Poison City Records and Jackknife Music
Wed 19th – Brisbane Hotel, Hobart (18+)
Thu 20th – The Gov, Adelaide (Lic. AA)
Fri 21st – The Hi-Fi, Brisbane (18+)
Sat 22nd – Manning Bar, Sydney (18+)
Sun 23rd – Zierholz @ UC, Canberra (18+)
Fri 28th – Corner Hotel, Melbourne (18+)
Sat 29th – Rosemount Hotel, Perth (18+)
WITH SPECIAL GUESTS THE FRONT BOTTOMS (USA)
& APOLOGIES, I HAVE NONE (UK)
TICKETS ON SALE 9.00AM FRIDAY AUGUST 29TH
For details visit www.thesmithstreetband.com
Comments
comments