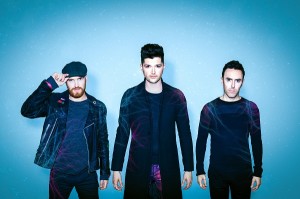 The Script have today announced that they will be back in Australia October 9th to 14th to celebrate the release of their new album, NO SOUND WITHOUT SILENCE and will play one very special show whilst here.
"Our Australian fans have been behind us from the very beginning," said Danny O'Donoghue on their upcoming Australian visit. "We can't wait to come back and see everyone again in one of our favorite countries!"
The Script are no strangers to Australia, having toured our shores every year since their first appearance in support of their #1 self-titled debut back in 2008, selling out venues across the country along the way.
Melbourne fans will be able to see the Dublin trio at the Caulfield Racecourse's famous Guineas Day on Saturday October 11th where tickets are now on sale from www.caulfieldcupcarnival.com.au
Earlier this month they premiered their video for 'Superheroes', their brand new single and the first to be released from their highly anticipated fourth album NO SOUND WITHOUT SILENCE.
Directed by Vaughan Arnell, the video was shot in Johannesburg, South Africa and premiered this week on VEVO. The three-piece were extremely thankful to all those they met whilst filming in one of the most beautiful countries in the world, and have left with some everlasting memories.
The Script's fourth album, NO SOUND WITHOUT SILENCE, is the sound of a band firing on all cylinders and channelling the momentum of their last, rocket-powered campaign. The trio of songwriters had so many ideas while touring last year, they were bursting out of the specially built mobile recording studio they'd taken with them on the tour bus. They finished touring #3 at the end of last year, took a scant couple of weeks off, then quickly re-entered their studios in London and Dublin to begin work on the highly anticipated NO SOUND WITHOUT SILENCE.
The Script have scored a huge amount of success globally – they have sold over 20 million records, and all three albums have been multi-platinum throughout the world. 'Hall Of Fame', the lead single from last album #3, was a worldwide #1 single with over 5 million sales, 133 million Youtube views, over 100 million Spotify plays and accredited a massive 6 x Platinum here in Australia. The Script have done especially well Stateside, where they have 5 Platinum singles and have sold over 1 million albums. Their #3 world tour spanned 11 months, and saw them play sold out arena shows in Europe, North America, Asia and Australia including two shows at London's O2 Arena.