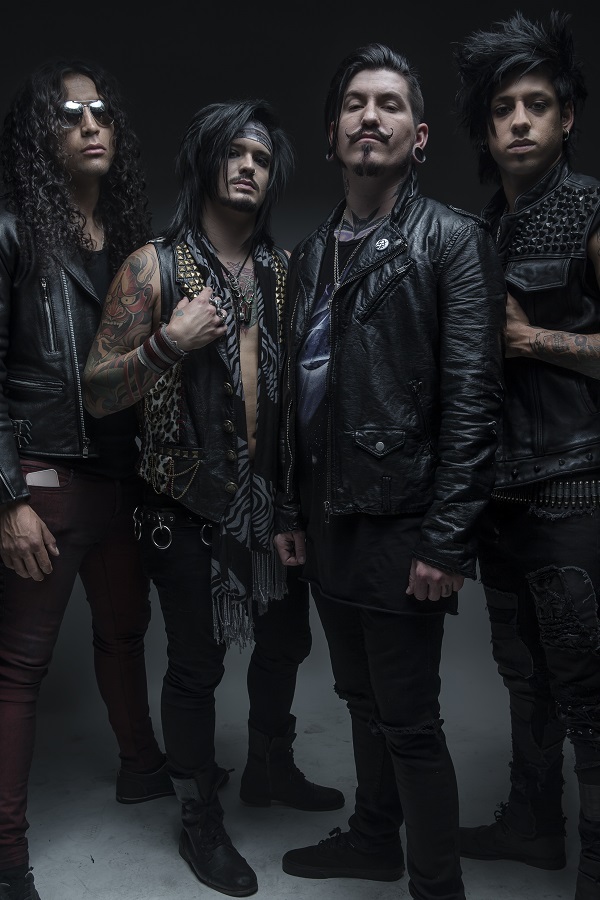 "…that's my favourite tour or festival show or whatever you want to call it, in the entire world, man. When we played there literally man that's a story I'm going to tell my grandchildren is when we played Soundwave, it's my proudest moment of being a musician…"
From Bio: Most recent album, 'Ungrateful' was a rebirth of ESCAPE THE FATE in many more ways than were originally intended when the album was being written.  "We spent 2 years coming up with excuses," says drummer Robert Ortiz " We were writing the record, rehearsing for a tour, never thinking we were 'ready' to get out there again."  Once the band finally took a step off the ledge, it separated those committed from those who were ready to leave the fold… They are going to tear Australia a new one next year and it seems apt that if I was to quote a lyric from 'One For The Money' from 'Ungrateful' well, "are you ready motherfuckers? Are you ready? Let's go…"
In the middle of his last set of leg reps so he can get ready to "go Down Under and bring some thunder…" we chatted to Robert of Escape The Fate about playing Soundwave both past and coming next year, as well as new music and more…
Welcome to the Soundwave bill! Are you pumped to be a part of this monster festival for 2015?
You're asking me how do I feel? Fuck yeah man, that's my favourite tour or festival show or whatever you want to call it, in the entire world, man. When we played there literally man that's a story I'm going to tell my grandchildren is when we played Soundwave, it's my proudest moment of being a musician, of being an artist, and playing that festival a few years ago was my proudest moment and it was very excited and I'm super, super excited to go back.
As you just said, you've played the festival before in 2010, do you have a fond memory of that tour you can share with us?
Absolutely, I'm reliving it right now as I was giving you the answer to your last question, it was in Sydney, it's amazing that with the chaos that goes on with the shows and the insanity of playing in front of how ever many thousands of people, and I have a vivid memory because back then I was carrying a camera around with me and for everything we did, now I have someone to do that for me *laughs* but at that particular time I had the camera with me and I'm backstage talking to Craig, cracking some jokes *laughs* and I'm thinking 'alright there we go, there's the office' and little did I know that just behind the curtain where I was standing that there was twenty to thirty thousand people out there waiting to watch us play and when I stepped out onto the stage, my mind was just completely blown and honestly dude, that's the moment in my life right there where you reach a point as an artist where you can say I made it, and that was the moment. Everything after that and everything before that it didn't matter because that moment right there was pretty much what I was searching for my whole life.
Anyone in particular you're excited to be sharing the bill with?
I know that Slipknot is on it and we have the fortune of sharing the stage with them a few years ago during Download and dude, you talk about influences and inspiration… that band deserves everything, I love that band, their show is hands down one of the best in the entire world, so obviously I'm excited to share a stage with them for sure. Then of course, I hear it every single day of my life that I look like this guy, so I'm very excited to be sharing the stage with Slash *laughs* but I might have to change my look up before we get out there. I met him twice, once as a teenage kid when it was cool for me to look like him because I looked like a fan, then once as a musician I interviewed him and that was the most embarrassing moment of my life, the most nerve wracking and I had to look him straight in the eye and ask him if anyone had ever told him that he looked like me *laughs* someone dared me to do it so I had to do it. I know I look like him, he's an inspiration, I won't shy away from that, I know I do, but he's fuckin' rad lookin' so I don't care. My mom blessed me with curly hair and I'm gonna keep it and see how that goes, but I'm excited to share a stage with him that's for sure.
So for those that haven't seen Escape The Fate before, can you give us your sales pitch to draw them to your stage?
Well here's the thing about Escape The Fate, it's a very chaotic being, you never know what to expect at a show and that's what's been really crazy to me as you never know what you're going to get out there, you get up there one day and it might be the best show you've ever seen then you go out the next day and everything's falling apart and there's guys falling off stage *laughs* so you never know what you're going to get and that's really the beauty of Escape The Fate. No matter what you get, it's going to be special.
'Ungrateful' has been out for a while now, have you guys begun working on new material at this stage?
Actually we're full into it right now, me and Thrasher last night right before a show and actually right after it as well, we were going over some new stuff and just jamming. It's in the very early stages right now, we have one song nearly complete, it's going to be a bit of a challenge this time around, lots of things have changed, so it's going to be different but we're very excited about it. We're definitely leaning more towards a straight ahead rock, like metal sound, it's awesome, like I think what we tried to do with 'Ungrateful' last time was kind of cut some of the B.S. from it, and this time around even more *laughs* just more straight forward, not in terms of structures and things like that, but it's really going to be centred around guitars and riffs and solos and more of that as opposed to trying do experiment. So whatever comes out of our heads I can assure you it's going to be a lot more of a band vibe, a lot more metal.
You just pretty much answered my next question which was in terms of evolution musically within the band, is there a clear set path on who you  are or do you find there still may be some experimenting to do along the way?
Oh there's always experimenting to do, there's always room for growth, there's always room for experimentation, it's whatever comes. I feel like I would prefer not to experiment too much with sounds and things because I'm a rock guy, I love metal, I love rock, I like guitars, drums and vocals but there's always room to try things out with different people, I'm not shutting that out at all. We may write an entire album that's comprised of different songwriters and singers that we just got in a room with and tried different things you know? We've talked about writing with different guys who are friends of ours because we just enjoy their style and that's just sounds like a fun thing to do and we've always been into doing that, we've always been into trying different people so we can learn more, but this time around it's something we may end up doing but we look forward to more about getting into a room together and just playing as a band and jamming and doing what you want to do when you start up a band because that's how it is. If we want to start fresh and to move forward we have to go backwards that's what Kevin or Thrasher as he likes to be called says, and if we want to write something on computer, we'll write something on the computer, I'm not putting any limits on what we do, whatever comes, comes, song writing there's no formula, it just comes but we have wanted to jam more, that's what we've been talking about over and over is just getting together and playing when we can feel the music out, instead of listening so much, we can feel it.
Well I can't wait to hear what's next…
It's gonna be scary to be quite frank, but it always is, every time we go on a new adventure we never know what's going to come, and we've gone through every up and down you can think of, this band has gone through nine lives nine times *laughs* so there's always a thing about going into a new chapter, but you keep going and look to what the future holds.
Lastly, as I've done with everyone this year, let's predict the remainder of it, so finish this sentence for me, by the end of 2014 Escape The Fate will…
Have most of a great album done… *laughs* hopefully all of a great album done I should say *laughs*
Catch Escape The Fate as part of Soundwave 2015 at the following dates:
SATURDAY 21 FEBRUARY & SUNDAY 22 FEBRUARY, 2015
BONYTHON PARK, ADELAIDE
SATURDAY 21 FEBRUARY & SUNDAY 22 FEBRUARY, 2015
FLEMINGTON RACECOURSE, MELBOURNE
SATURDAY 28 FEBRUARY & SUNDAY 1 MARCH, 2015
OLYMPIC PARK, SYDNEY
SATURDAY 28 FEBRUARY & SUNDAY 1 MARCH, 2015
BRISBANE SHOWGROUNDS, BRISBANE
General Public tickets on sale FRIDAY 29 AUGUST 9am local.
2 DAY FESTIVAL TICKET $188.00 + BOOKING FEES.
1 DAY FESTIVAL TICKET $132.00 + BOOKING FEES
For tickets and more information head to
soundwavefestival.com / facebook.com/soundwavefestival / twitter.com/soundwavefest
Essential Information
From: USA
Band members: Robert Ortiz – drums, Craig Mabbitt – vocals, Kevin "Thrasher" Gruft – lead guitar, TJ Bell – rhythm guitar, bass.
Website: http://www.escapethefate.com
Latest release: Ungrateful (Out Now – Sony Music Australia / Eleven Seven music)